I hate having the generic picture show up when I go to log in to my Ubuntu Linux desktop system. How can I add a profile photo or picture?
There are a lot of different ways you can associate a photograph, icon or other image to your account in Ubuntu Linux, as with just about every other modern Linux system that has a graphical user interface. And if you didn't have a window manager running and were living in OG Linux (that is, just the command line) then you wouldn't know you didn't have a photo associated with your account anyway, so we can rule that out!
Be aware, however, that as far as I know, the profile picture or photograph is only used internally for your Linux system, so it won't change anything about how other people see you online, how you use the Internet, etc. Nonetheless, I get the sense of completion that you seek; if there's a profile photo, why not set it all up correctly, right?
To start out, here's what I see when I go to log in to my own Ubuntu Linux install. It's pretty dull:

Of course, I might look like that generic white profile, but… I don't. Let's fix it!
Log in, then go to Settings and search for "user":
That's a fast and easy way to jump to the right spot. Now click on "Users" in the results.
As a more general comment, I find that search is invaluable when trying to find the correct settings or preferences, whether I'm on an Android phone, a Windows laptop or a Linux server. Much more efficient than trying to memorize everything.
The user profile info will immediately show you that you need to do a bit more customization:
To update the password, click on the password button. Change the account user name? That's a text box you can change. And to change the photo or account profile image, just click on the silhouette shown.
Here's what pops up:
If one of the included photos captures your essence, click on it and you're done. But perhaps you want to use a photo you've previously saved on the computer? Click on the "Select a File…" button and find it. Easy.
The most interesting of these is the "Take a Picture…" option, which requires that you have a webcam of some sort connected to your Ubuntu Linux computer. If you do, you'll suddenly see yourself!
It's a bit tricky to do this, but you want to position the cursor over the small camera icon on the bottom bar, then look at the webcam itself while you click. Hopefully you'll get something at least reasonable. It does then offer a crop/zoom box so you can fine tune the result: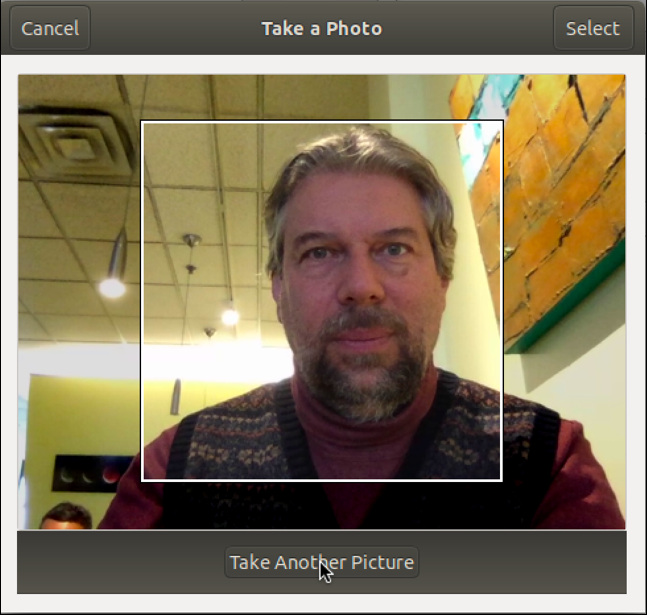 Looks a bit deer-in-the-headlights and backlight is terrible for selfies, but still, it's good enough for now. I move the box to center myself in the crop then click "Select" on the top right.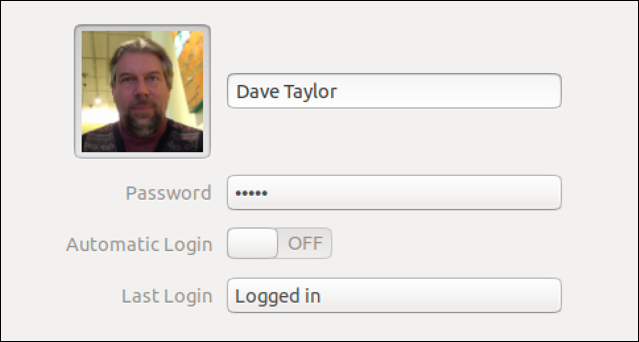 That's better! And that's it. Done.
Now if you log out and then go to log back in, you'll have a photo associated with the password prompt:

That's how ya customize your Linux account. Have fun!
Pro Tip: I've been writing about Unix and Linux since before Torvalds started changing and improving his PC computer, and have a lot of Linux help articles here on the site. Please take a few minutes to check 'em out.