I like to keep track of numbers both of friends and businesses with which I interact. Seems like that would be a great job for Contacts but is there some way to have it include photos or similar? I use it across an iMac and iPhone both.
I'm pretty sure that one of the original uses for a computer was to keep track of phone numbers, so you would think that address books and contact programs would be more evolved. They aren't, however, because I think it's just such a simple task: Name, address, phone number. Then again, how many different addresses do you have now between physical, email, social media, and phones?
The address book in the Apple ecosystem is Contacts and it's quite flexible, even if the user interface could perhaps do with a bit of polish. Good news is that it does support you adding photos and once you add a photo to a Contact, that's what'll be used when you get a text message from them, when they call you, etc. In particular, I really like having all my text messages incorporate a picture of the person or business too, I just think it looks a lot neater than circles with the first letter of the contact's name…
So let's go through the steps of adding a new contact and you'll see how you can include a photo.
HOW TO ADD A NEW CONTACT TO MAC CONTACTS
I'm going to add a Contact for Kung Fu Tea in Overland Park, Kansas, as I go there just about every time I'm in Kansas City. Handy to have the street address and phone number. From their Web site, all of the information is neatly displayed as part of a map overlay: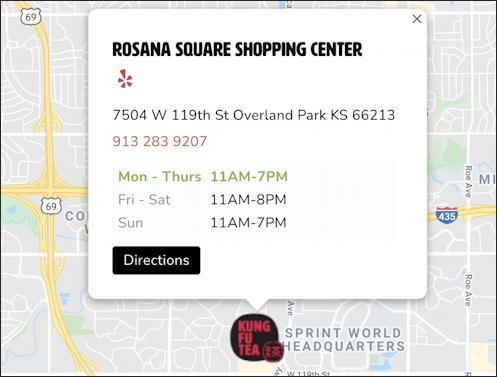 Address, phone number, even hours. I'm not going to add hours to my Contact entry, though I could as a "Note".
Launch Contacts (or, if you're on an iOS device, just go into Phone > Contacts) and you'll see something like this: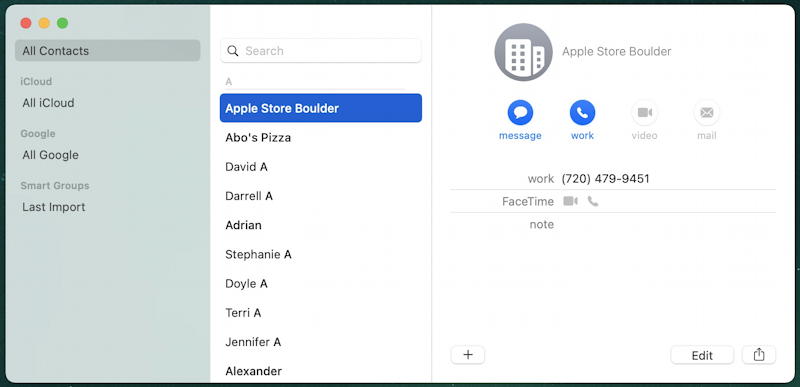 To add a new contact, click on the "+" on the lower portion of the right pane. You'll see a menu pop up with a bunch of choices: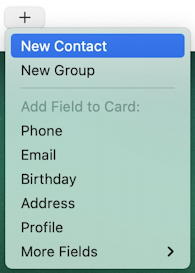 You can add additional fields to the current card (in this instance the Apple Store Boulder) but choose "New Contact" to proceed. A new, empty record will appear. Simply fill in the blanks: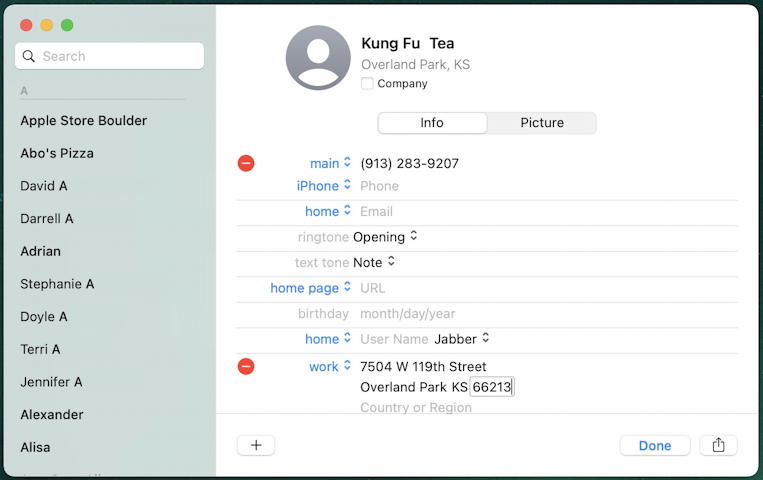 It might not be obvious, but I've entered it as first name = "Kung Fu" and last name = "Tea". This means it'll show up in the "T"s if I scroll through alphabetically. Now, how about that image?
I started by doing a Google Image Search for "kung fu tea logo" and found this: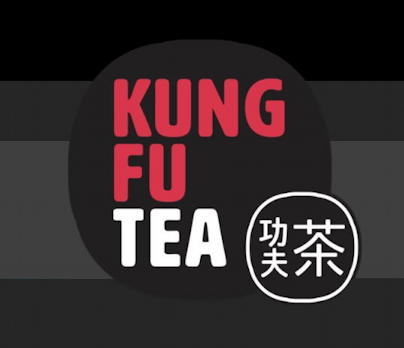 I used a graphics editor to make the margins much bigger since Contacts applies a circular filter against images, then filled in those margins with the same colors as the main logo. Pretty darn easy, really.
Now all I have to do is drag the logo file onto the tiny silhouette graphic in Contacts…

You can, of course, do the same with a person's photo or any other image you'd like. Once you drop the image file, it'll immediately pop up in a cropping window: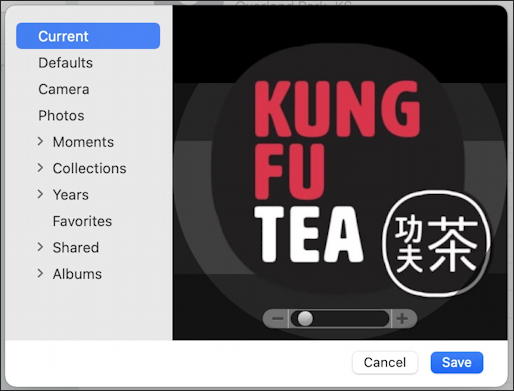 Now you can use the slider to zoom in as desired, and you can click-drag to recenter the image as desired.
Look good? Click on the "Save" button and…
You're done!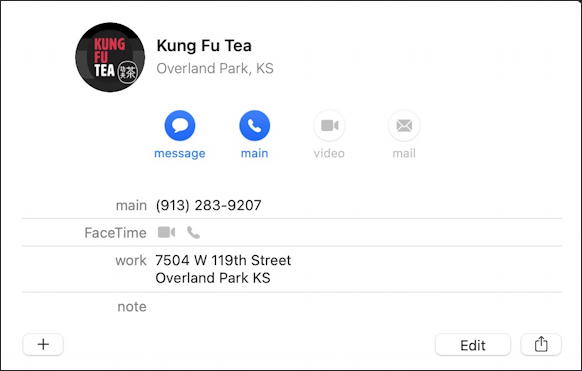 Now give iCloud a few minutes to sync and that should show up on your iPhone, iPad, other Mac systems, even your work computer if you have everything logged in to the same iCloud account. Easy. Time to go to Kung Fu Tea to celebrate!
Pro Tip: I've been writing about the iPhone and iOS since the very first iPhone was released. I have quite a few iPhone help articles here on a wide variety of topics, along with lots of Mac help articles too, so please check 'em all out while you're visiting. Thanks!