I've only recently switched from an iPhone to an Android phone and am wondering what the best way is to add new contacts to my phone? I usually use contacts just for email addresses too…
If we go back to the very beginning of mobile phones, they were, well, phones. You remembered phone numbers and tapped in the digits to call someone. Then the "dot one" release added a rudimentary phone book so you could look up friends, family and colleagues and call them with a stored phone number. A big improvement and one that still remains a cornerstone of smartphone usage. Nowadays, however, our phone book entries can store quite a bit of information, from addresses to IM handles, birthdays to children's names or job title. People also often have more than one phone number and that's supported too, rather surprisingly. Turns out smartphones can still make phone calls. For now, at least.
The contacts directory is pretty tightly integrated into the various features and apps on your Android phone, and even the voice system "Hey Google!" has access to your phone book and can find people. As a result, the smart way to add contacts on an Android phone or tablet is through the phone app.
So let's start there. It's the phone handset icon on your home screen, I expect:
See it on the above? white handle, blue button? 🙂
Tap on it and you'll see your digital phonebook if you have one: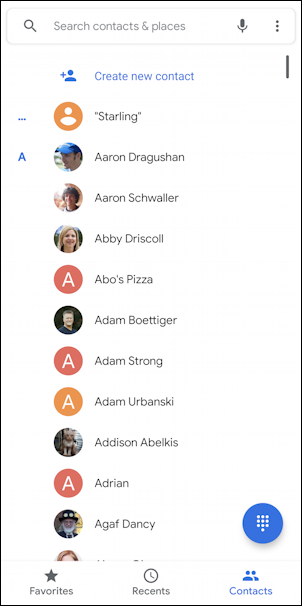 You can see that it's possible to assign photos to individual contacts which I think makes it a bit more fun to get text messages or phone calls from them: Their photo shows up along with the message or incoming call notification.
The most important link on that screen, however, is the top one in blue: "Create new contact". Tap on that and you'll get a big blank screen with a bunch of fields you can fill out:
This is important: You don't need to fill all of this information out. In fact, just fill out what you know and even if that's just a first name and an email address, Android knows what to do and will store it for later retrieval.
In this case, I'm going to enter contact information for my old friend Tom Sawyer of mythic Mississippi fame. I strongly encourage you to split first and last name as the fields indicate:
To add a photo you can tap on the blue circle and either take a photo of the person if they're standing in front of you or select – and then crop – a photo of them. Or of anything else you'd prefer, like a corporate logo, a frog or a baked potato!
Now swipe down a bit and you'll see there are more fields you can enter. In fact, there are a lot more fields of information you can enter, including their birthday. To do that, swipe down and tap on the blue "More fields" link: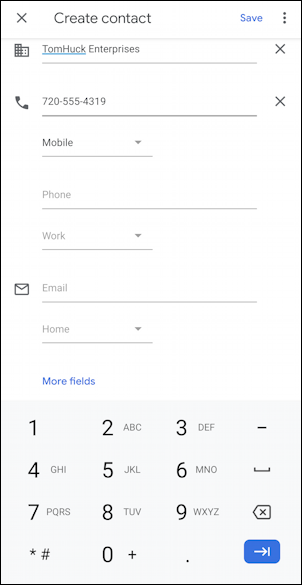 Once you see the new fields, keep swiping downward to reveal the field in question. Finally you'll see a field for entering birthday, as shown near the bottom of the below screenshot:
How do you actually enter their birthday? That's pretty easy, actually. Once you tap on the word "Date" just above the birthday pop-up (because you can select other dates to enter too, like hire date, wedding anniversary, etc) a calendar shows up and lets you quickly identify their birthday day and month or day, month and year: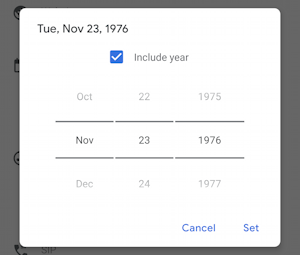 Turns out that Tom's really old: He was born way back in 1876, but Android doesn't let me go back that far with the dates, so I chose 1976 instead. Very patriotic, I suppose.
In any case, if you uncheck "Include year" then you can just focus on month and day, and get a reminder anyway when it's their birthday! Tap on "Set" on the lower right to specify the birthday, then "Save" on the top right of the main contact entry screen and… you're done! New contact added to your Android system.
Now I can look up Tom anytime I want and see his basic information:
That's how it's done. I believe it's also time well spent to go through and clean up your contacts occasionally, so if you have their full name in the first name field, for example, clean that up and things will work better!
Pro Tip: I've been writing about Android for years. Please check out my Android help area for lots more tutorials!