I would like to replace the racing car desktop wallpaper on my PC with something a bit more inspirational! What's the easiest way to download and install a good inspirational quote wallpaper on my Windows 10 computer?
There's a lot to be said for having an inspirational quote staring at you as you use your computer nowadays. And it turns out that with image search it's extraordinarily easy to find one that is both inspirational and beautiful. Not only that, but you don't have to pay for it: you can just download it and install it as your wallpaper.
All the major search engines offer an image search with constraints for image size, but let's go ahead and use Bing because we can get Bing points (Microsoft Reward Points) to0! You might prefer your quotes from a favorite book like The Bible or the Koran but I find my inspiration in great historical figures. As a result I'm going to look for quotes from Winston Churchill related to "success".
To start out, I'll just type in that search — churchill quote success — on Bing. Here's the result: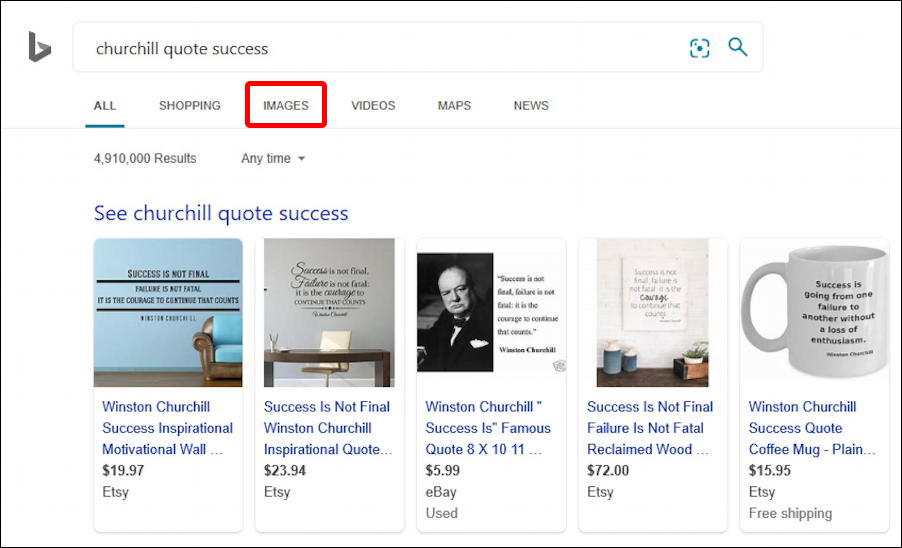 Except we're looking for images, not just the quotes themselves. To narrow things down, click or tap on "IMAGES" (as highlighted above).
Now a row of ads show up which is just a bit annoying: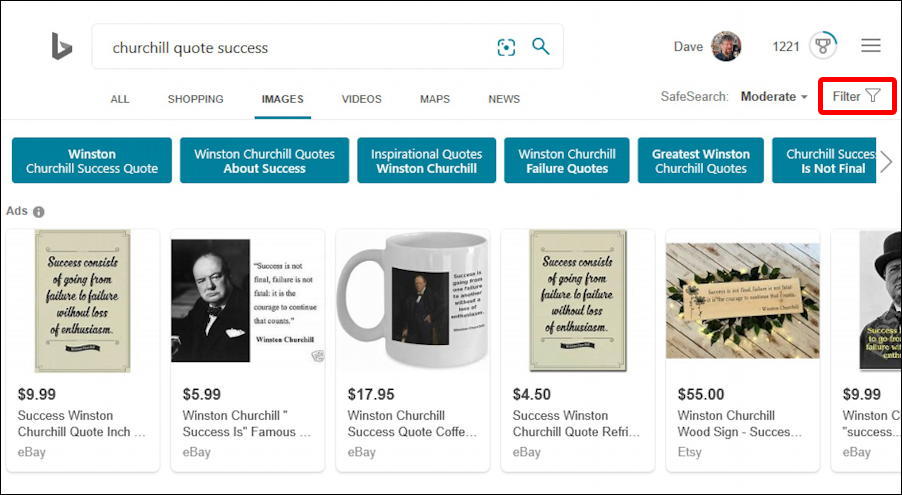 But we can ignore the ads. There's one more step before you can just browse; you want to constrain the results to just being really big images so that when they are stretched out as your Desktop wallpaper, they look clean and crisp. That's done by applying what's known as a "filter". Click or tap on Filter as highlighted above. Now choose "extra large":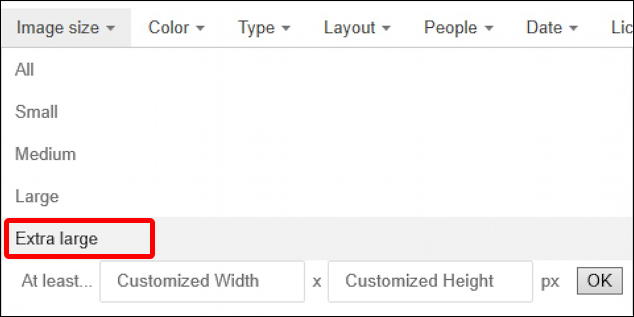 That's basically it. Now you're going to see thumbnails for lots of big graphical images, any of which would be a great choice for a wallpaper: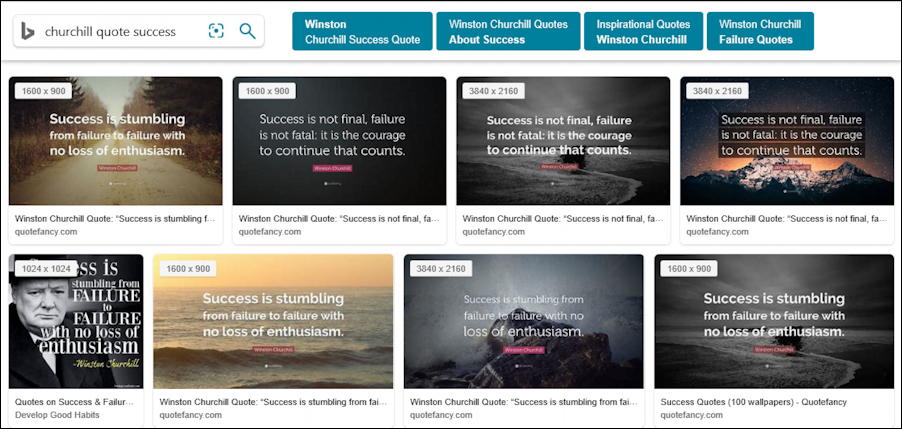 Now the fun part; scrolling down and looking for one that works really well for you. Also notice the dimensions on the top left: That's horizontal x vertical pixels and bigger is definitely better.
Finally, I find one I like and click on it: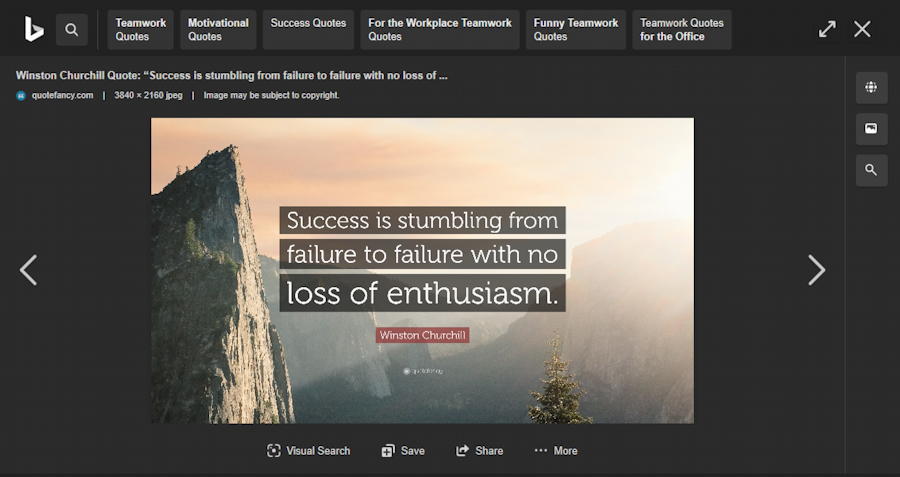 Nice, right? Okay, so to save it on your computer, simply right click on the image itself. In Microsoft Edge, the following menu pops up: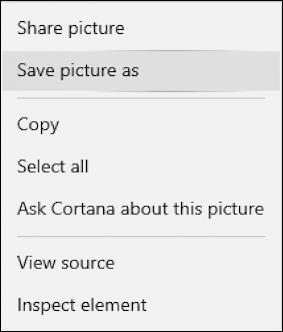 If you guessed that the choice you'll want is "Save picture as" then you're right!
Choose "Save picture as" and you'll get a file save dialog. Pretty standard. Pay attention to where you save it. For me, the Desktop itself is an easy location: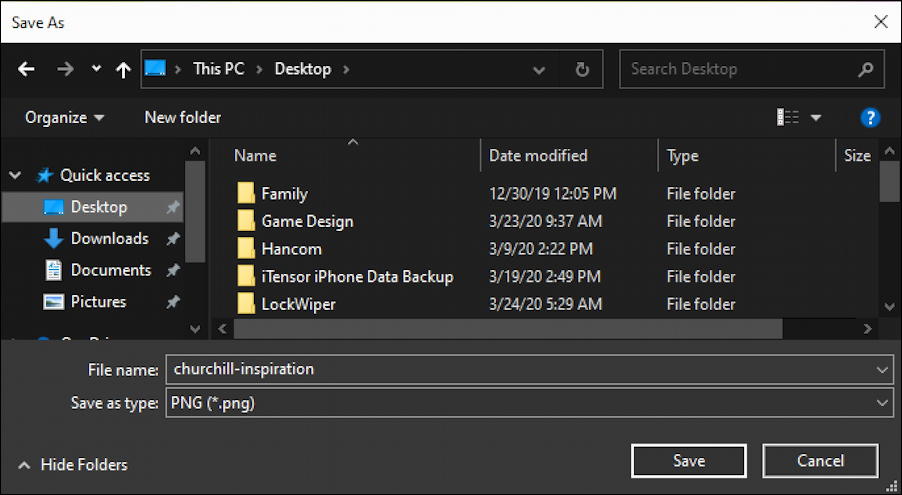 Look closely and you'll see that I've named this file "churchill-inspiration". Which is, after all, what it is!
Finally, find the newly saved photo file on your computer, then right click on that! Yes, two right clicks in a row. This time however it's from File Explorer and you get quite a few more options: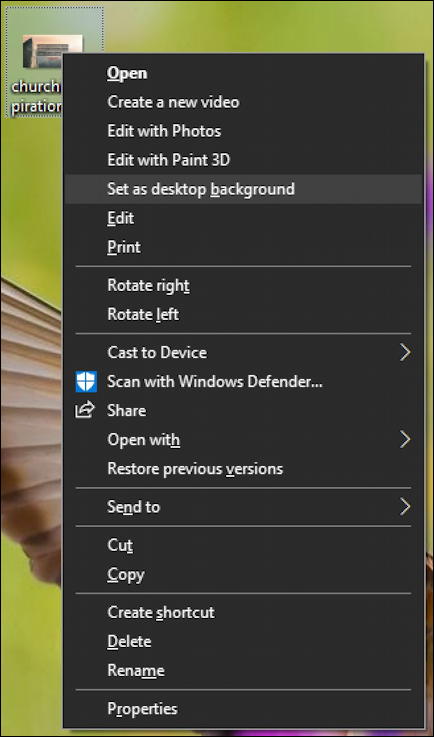 As highlighted, choose "Set as desktop background" and… done! Congrats, you've found an inspirational image online, saved it to your computer and set it as your new desktop wallpaper. Hopefully it looks as good as Churchill's quote does on mine: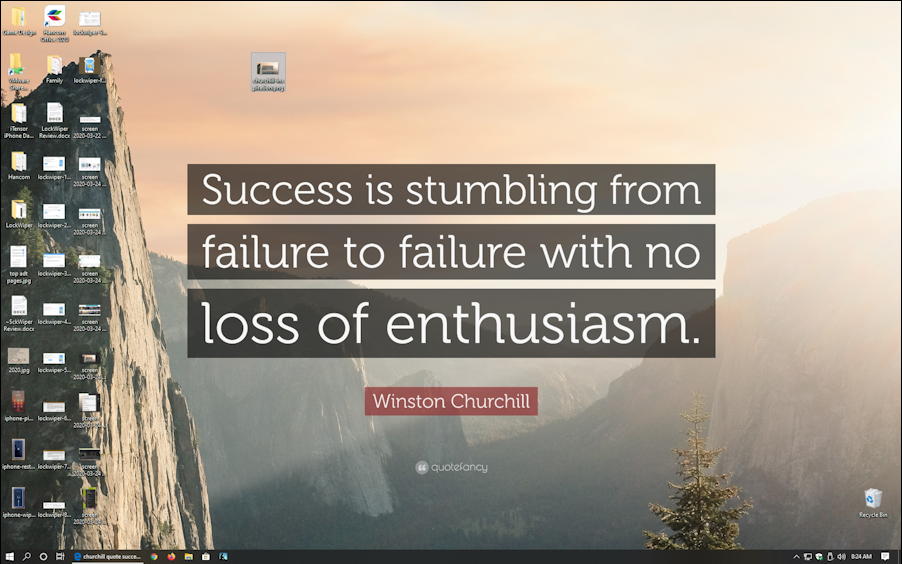 Definitely a fan of this one, and there are literally millions of similar beautiful photographs with superimposed quotes from famous people or documents. Much better than a green hill and blue sky, right? 🙂
Pro Tip: I've been writing about Windows 10 since the first day it appeared. Please do check out my extensive Windows help area for lots more tutorials while you're here.