I noticed a friend has a handy set of icons along the bottom of his Start Menu that are shortcuts to his commonly accessed folders. Downloads, Pictures, Movies, etc. How can I add the same to my own Win11 PC? It might make the Start Menu useful again!
Hold on, we have an official no-bashing-the-start-menu policy here at AskDaveTaylor! Actually, that's not true, bash all you want 🤓 It's certainly the case that Microsoft's done some odd things with that menu over the years, not to mention that weird Start Page era that's best left far, far in the past. 🙂
I will admit that since the Windows development team has improved the search feature, I am far more likely to launch an app or open a folder by searching for it than finding its icon on my Start Menu. And, of course, Windows is a bit infamous for dropping shortcuts for every single app you install onto your Desktop too, another way to sidestep the Start Menu. But it too has evolved and has some pretty useful features, including the ability to add handy shortcuts to your most commonly accessed folders right along the bottom of the menu.
START MENU WITH FOLDER SHORTCUTS
Click and open up your Start Menu. It might already have one or two of these icons, that appear adjacent to the power button on the lower right: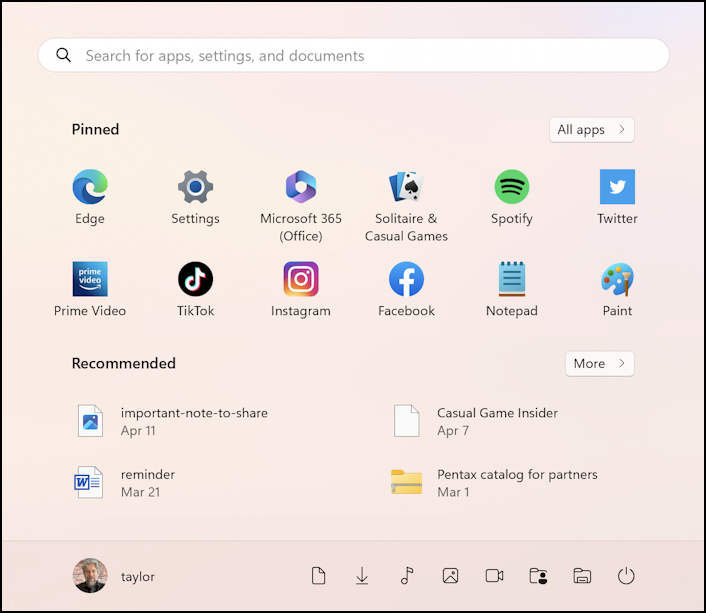 You can see them marching along the bottom of my own Start Menu here in Win11. The icons are a bit cryptic, but the good news is that they each have an assigned tool-tip shortcut you can reveal by hovering the cursor over it too:
Certainly an easy way to jump to the contents of the Downloads folder. But… how do you get these, and how do you control which are shown on your Start Menu? Let's have a look…
PERSONALIZING YOUR WINDOWS START MENU
Start by right-clicking on your Desktop. It'll pop up a handy menu:
Choose "Personalize" and you'll be moved into the corresponding Settings area:
This is an easy place to change your wallpaper and apply different themes, with a preview shown.
Tip: There are tons of themes in the Microsoft Store if you want to upgrade your PC appearance.
Scroll down in this area further, however, and you'll find that there are a lot of additional areas you can personalize or customize too:
For our task, you want to choose "Start", which gives you a surprising amount of control over both the functionality and appearance of your Start Menu.
CHANGING START MENU BEHAVIOR & APPEARANCE
Click on "Start" and you'll see the Start Menu settings and preferences:
Notice you can change what appears in the grid portion of the Start Menu, either making it mostly app icons, mostly recommendations, or a middle – default – setting. Below you can turn on (or off!) recently added apps, most used apps, and recently opened items.
All useful, but not quite the feature we seek. As with above, scroll down a bit to find this box:
I like the recommendations personally, but totally understand people who disable that option. The focus of our attention, however, is "Folders". Click or tap on that and you'll be able to see the full list of all folders you can add as shortcuts to your Start Menu:
It offers a handy cheat sheet for all the different icons, but more importantly, this screen lets you add or remove any or all of these folder shortcuts. Not sure "Settings" is a folder, per se, but that's okay, it's probably one of the few I would recommend that you do add anyway just because it's handy to have it easily available. Otherwise, pick and choose those that are the most useful and you're on your way!
Power User Tip: I've been writing about Windows for many years and have an extensive Windows 11 help library here. Please check it out while you're visiting. Thanks!