I have a couple of teen children who are both eager to have some financial autonomy. They keep asking for their own credit cards, but instead I want to have them appear on my Apple Card account. How do I set that up?
With typical Apple style, the fancy Apple Card credit card and app now support more than one card owner on the same account. This is obviously helpful and beneficial for couples, but there's also a "Participant" role that you can assign someone who lets them gain access to your credit account, but with lots of controls and limits. After all, you don't really want your teens gaining access to thousands of dollars worth of credit, do you? I have a teen in my house, and while I trust her to be sensible, having limits makes it all a lot safer.
The required step to get this all to work is to add the other person or people to your Apple Family account. It's easy: If they don't show up at the step where you can choose who you want to add, they aren't in Family Sharing yet. You can learn more about how to set that up through this Apple tutorial page – Set Up Family Sharing – but it's pretty easy if you haven't got it all set up yet. This does mean that anyone you want to have share your account, even as a "co-owner", must also be part of your Family Sharing network.
With that in mind, here are the steps I took to set up my daughter Kiana so she can use my own Apple Card…
ADD A CHILD TO YOUR APPLE CARD ACCOUNT
First off, you've already figured out that the "Wallet" app on your iPhone is how you get to your Apple Card account. Go there. If you have the latest version of the app, "Share My Card" will appear smack dab in the center of the payment card info:
Just in case you haven't figured it out, a tap on "Card Information" here will produce a credit card number, expiration date, CCV code and everything else you need to fill in an online transaction form. I use that rather frequently!
But back to task. Tap on "Share My Card" and you'll get this information window: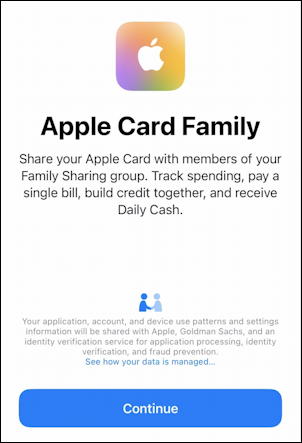 What's really cool is that if you add someone as a co-owner, they can be building up their credit data even as you're still legally liable for any transactions. Tap on "Continue" to, well, continue.
At this point there's only one of my children listed because she's the only one in my Family Sharing Group!
Again, if you don't have anyone in your Family Share, then pop over to this Apple help page and set 'em up as needed. They'll have to accept the invitation to join the group but if they're paying attention to their messages, it can be a process completed in just a few minutes. Then they'll show up on the Choose Person window.
Worth reiterating the small print on this window too: "You are responsible for all charges and payments. Invite only people you trust."
Once I tap on Kiana's name, this critical option is shown: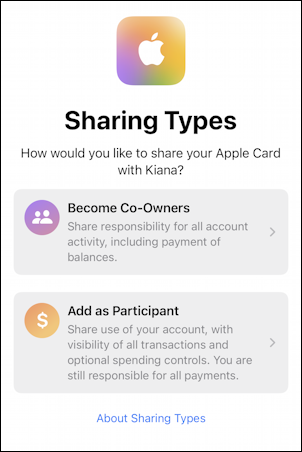 Co-owner is appropriate for your life partner or anyone else with whom you share financial responsibilities. Participant is much better for a child, friend, older parent, etc. I'm setting up my daughter as Participant, so I'll tap on "Add as Participant". The key sentence in this description is "You are still responsible for all payments."
A tap on "Add as Participant" and it's time to set up a transaction constraint on the account.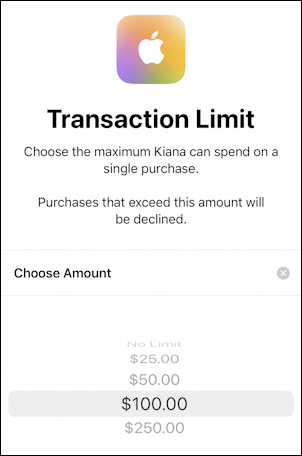 The choices are No Limits, $25, $50, $100, or $250. I've set it to $100, which is plenty for her financial needs at this point in her life. You might have a lower limit if you have younger children, but remember, a limit of even $25 doesn't mean they can't run multiple transactions to run up a bill. These limits aren't a replacement for a conversation with your family member about financial responsibility!
That's about all you need to set up. Now it's time to invite them: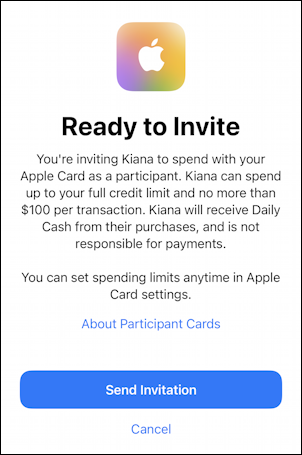 You can change the limits at any time – and even freeze the account if you need to do so – from within the app. But first, they have to accept your invitation to join your Apple Card Family Sharing program. Tap on "Send Invitation" to proceed.
They will now have an invitation window pop up on their device to accept. Meanwhile, you'll see this:
That's it until they accept.
MANAGING AN APPLE CARD PARTICIPANT ACCOUNT
At some point you'll likely get this notification pop up:
Great. We're all set up. Now when she uses her Apple Card for transactions, I'll also see a notification of what's transpired:

As a Participant, she doesn't see your transactions, of course.
Perhaps more importantly, now if you go into the Wallet app on your own iPhone you'll find that you have a lot of control over their account, a history of transactions, and even the ability to freeze the card as needed: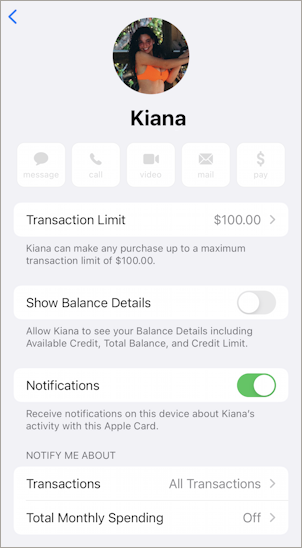 The one I'll highlight here is Total Monthly Spending. By enabling that, you can easily set up a Participant account to have, say, $100 total per month and let them figure out whether that should be one big transaction of $100 or lots of smaller transactions like an occasional Frappuccino at the local Starbucks. Between the per-transaction limits, the overall monthly spending limits and the ability to instantly freeze the account if needed, this really is an excellent way to teach your children about credit and money management.
Hope that helps you get everything set up. Let us know how it goes in a few weeks!
Pro Tip: I've been writing about the iPhone since the very first device was released. Yes, I've owned every major iPhone model! I've also written quite a few iPhone help articles on a wide variety of topics, so please check 'em out while you're visiting. Thanks!