I've noticed that most of the really popular Reddit users with high karma scores have custom icons, not photos. I want one with the little guy with the antenna. What's the process for building one and uploading it to my user profile?
While most sites seem to have their logo separate from the world of users (think about how the Facebook 'f' isn't used in any other context, or how Google doesn't use its rainbow logo for user content) Reddit has taken a different route with its cute little cartoon time travelling alien avatar. Known as "Snoo" it actually has a fun history, having been created back in 2005 while Reddit co-founder Alexis Ohanian was bored in an undergrad marketing class at the University of Virginia. The genderless, colorless mascot's original name was S'new [as in "what's new"] but that evolved into the name Snoo for simplicity. Snoo now shows up everywhere on Reddit, and a lot of subreddits customize Snoo for their own group logos too.
But rather than just being a company logo, Snoo can also be your account avatar, as you have seen with some of the people you follow on Reddit. The company has made it really easy too, no third party site or software required. You will, however, want to log in to the site through your Desktop web browser to follow the steps herein. Also worth noting is that there's a premium level within the avatar builder utility that requires a small $$ investment, but we'll get to that in a minute or two.
HOW TO CREATE YOUR PERSONAL REDDIT SNOO
Let's start with my rather mundane profile info on Reddit – I'm /u/askdavetaylor – with photo, etc:
Currently, there's that big orange "Create Avatar" which is a bit hard to miss, but down the road that might well change or vanish entirely, so now's your golden opportunity to follow along and make your own personal Snoo too, lest you later be blue, Lou!
A click on that orange "Create Avatar" and we're off…
On the right you can see the most basic version of the Snoo, but, of course, it's all the options and features on the left that are where all the fun is with this process. Notice the "Randomize" button on the top: A few clicks and you can bounce through quite a few variations to see the full range of customizations available. Below that are five tiny Snoo avatars representing the five areas you can customize: face, pants, shirt, head and hair, and skin color. There's a bit more to each of those categories, but that's approx. how it's organized.
Then for an individual element you can click to apply it, click again to remove it, then choose a color for that particular category of modification to utilize.
But heck, let's try "Randomize". Fun!
Be aware that random will include premium elements, so if you opt to save it, you might have to pay up a few dollars for the privilege. Or you can go through the process and build your own. It's time consuming, but quite entertaining. You can always tell the premium avatar elements by the tiny orange shield icon:
If you're curious, Reddit Premium is $5.99/mo (or $49.99/year) and comes with a lot of great features, much more than just different graphical elements on an avatar! You can learn more at All about Reddit Premium.
some time later…
Okay, customizations and personalization complete. Here's my personalized Reddit Snoo avatar, ready to save to my profile: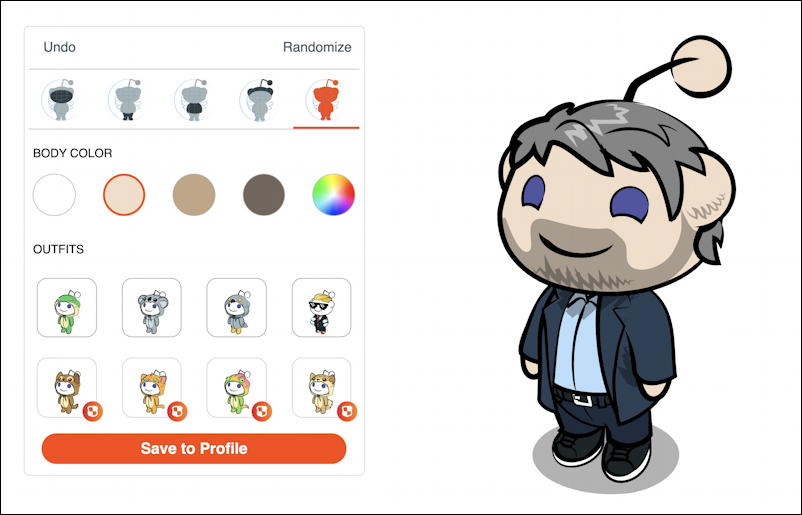 Definitely cute and hard not to like, right? Does it look like me? Well… maybe if I was a 7yo time traveling alien with a 5 o'clock shadow and graying hair, it would be. 🙂
To save, it's another orange button: "Save to Profile". Click on that and the confirmation banner should show up at the bottom of the screen:

And so, let's view my profile and see how it compares to the earlier design: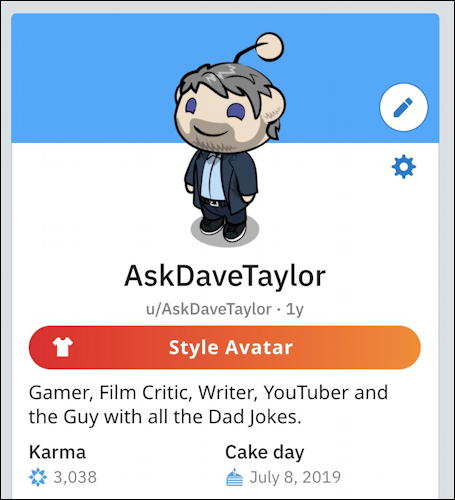 That's how ya do it, how you customize your own Snoo and set up your own Reddit avatar. Love Snoo? You can get a stuffed Snoo for your home too by checking out the various artisans on Etsy.com. Just search for 'reddit' or 'snoo' and see what ya find!
Pro Tip: Just getting started with Reddit? Check out my Reddit help library for other helpful tutorial articles to get you up to speed while you're visiting the site. And do feel free to follow me – /u/askdavetaylor – on Reddit too. Thanks!