I have a meeting that occurs every two months, regardless of the day of the week, and am wondering how to set that up in Google Calendar? Seems like it can manage monthly meetings, but not every other month?
Imagine the plight of calendar developers for a moment. They start out saying "meetings happen on specific days. Easy. You have a meeting on date at time, like the 19th at 4pm." Then someone says "well, what about if I have a meeting every week at 4pm?" and someone else says "I meet with four people every first Tuesday of the month" and a third says "I meet with my personal trainer every four days!" and a forth says "Santa shows up every Dec 24 at midnight!" as they're ushered out the room. Chaos and madness!
Suffice to say that adding events to a calendar is surprisingly tricky because there are so many special cases. Payroll is the 1st of every month, for example, but what if your reminder the day before is the last day of the month? That's tricky because it's sometimes the 28th, the 30th or the 31st, and once in a while it's the 29th. Then there's the person who sets up weekly meetings, but then cancels the ones that land on a holiday, and the other person who changes the time of meetings in the summer, but not the winter. Astonishingly, Google Calendar can manage all of these scenarios and situations, and most users don't even realize the complexity of the task under the settings window. You ask about complex recurring events, so let's focus on that for this article…
CREATING A RECURRING EVENT IN GOOGLE CALENDAR
Let's say I want to set up a haircut to happen every two months on the 30th of the month. Here's how I might go through the steps needed, starting with going to calendar.google.com and clicking or tapping on "+ Create":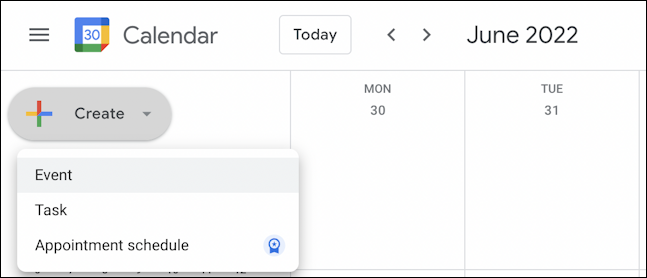 There are three possibilities: Event, Task, and – brand new! – Appointment schedule. If you don't have Google Workspace Premium (a pay service) you won't be able to use the Appointment schedule feature, but it's mostly related to coordinating times across multiple attendees, so if you generally agree on a time before creating the event, you won't miss this feature.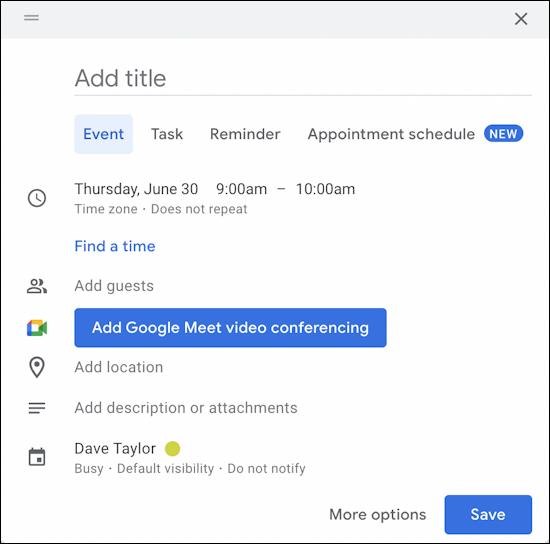 Google really wants us to upgrade for that Appointment schedule, but it's safely ignored. Add a title to your event by clicking in the "Add title" field, then click just below the date and time where it says "Does not repeat". That opens up and shows more information: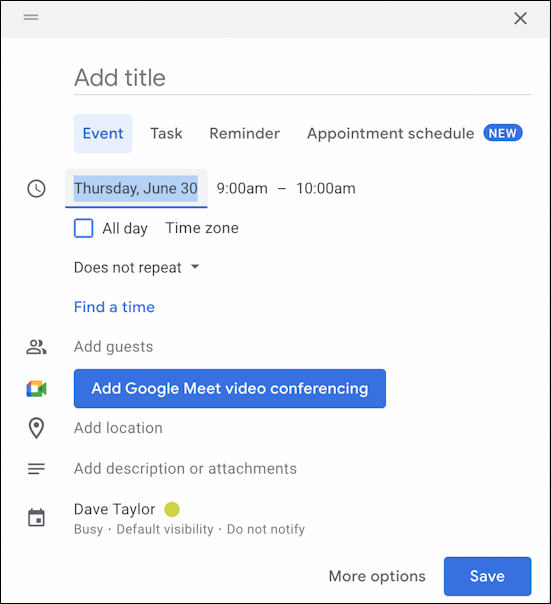 Interestingly, notice that this is how you get to the "all day" option (useful if you need to block off a day for car repairs, your mother-in-law visiting, or similar. It has also moved "Does not repeat" onto its own line, and if you click on it, you'll find a menu of common recurrence schedules: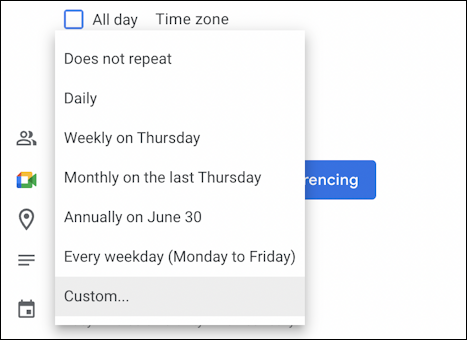 For many repeating events, one of these defaults will work fine, from Daily, Weekly to even Annually on June 30 (perfect for the person who wanted to remind themselves that Santa shows up at midnight on Dec 24 every year!). But what you want isn't quite a match, so…
HOW TO CREATE A CUSTOM RECURRING EVENT IN GCAL
You'll want to choose "Custom…" from that recurrence menu. It brings up yet another window:
This is actually quite flexible and the fields change based on the kind of recurrence you're trying to specify. You can choose every 11 days, every 14 weeks, every 7 years, have it repeat on Mondays and Thursdays, and even specify that it's going to recur forever and ever. Or, perhaps, specify that you want it to end after 10 meetings.
Here's how I set up my haircut:
Since it's the 30th of the month, I have set up a bit of a problem: If one of my haircuts happens to land in February, Google Calendar won't have a place to add it since there's no Feb 30 date. It's up to you to recognize this problem, however, Gcal won't flag it or warn you. Otherwise, I have it set up for every 2 months on the 30th, ending after 4 haircuts.
A click on the Done, Save, Save buttons, respectively, and it's in my calendar. Not only that, but Google Calendar has recognized the word "haircut" and offers up a thematic graphic when I peek at the event: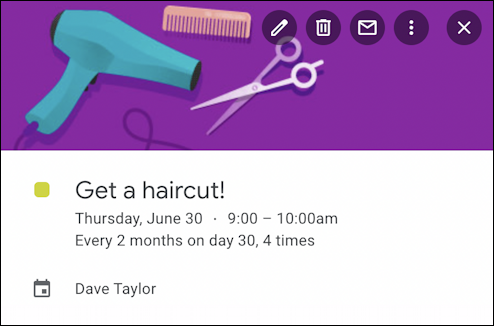 Very nice, and the summary of its recurrence is very helpful too. How about all those icons? All but the "•••" are fairly obvious. Click on the three dots (okay, on top of each other, not oriented in a row) and you get this menu:
Once you set up a calendar event, you can change its owner (with their permission), copy it to a shared calendar like Family, duplicate it, and more, as shown. Very slick, Google, very slick!
Pro Tip: I've written quite a bit about Gmail and Google services. Please check out my Google Docs, Chrome and Gmail help library for plenty more tutorials while you're visiting!