My boss wants me to add subtitles to some of our corporate videos on YouTube. I'm lost. How do I get this done?
YouTube serves a massive worldwide audience, which means that there are some viewers who have hearing challenges and plenty that don't speak the language used in the video, whether it's English, Chinese, Russian or Creole. Fortunately YouTube has tools to solve these problems, some of which are automated and others that require you to do a lot of – or most of – the work yourself. Before I show you how to add the subtitles that your boss wants, however, let's talk very briefly about transcripts, closed captioning and subtitles, as they're not quite the same thing…
Transcripts are perhaps the easiest: Turn the audio stream of your video into text and post it as an adjunct for people who want to study it more closely or prefer the written word to video. I certainly know lots of people who can read faster than they can digest real time video content, particularly of a technical nature. YouTube sees transcripts as closely related to subtitles, though, and uses subtitles and closed captioning basically as synonyms: words that show up on the video screen that are synchronized to the video itself. The difference? Closed captioning is in the same language as the video, while subtitles are generally in languages other than the native language of the video itself.
All three, subtitles, closed captioning and transcripts, are somewhat interchangeable if they're produced in something called SRT or Subrip Subtitle format, because it becomes a transcript by simply ignoring the timestamp and sync info. Otherwise, if you have an English language video with English subtitles, for example, you can then hire a translator or translation service to produce Spanish language subtitles too; as long as they respect the file format, it's then super easy to add multiple language support.
But enough writing about a visual task. I recently produced a video for my YouTube channel (I hope you're a subscriber! If not, please subscribe to AskDaveTaylor on YouTube today) with a transcription service called Rev.com. No surprise, we decided to add closed caption English language subtitles to the video too – since that's a service they offer – and they emailed me the .SRT file.
To start, I went to the Video Manager to find the video. Here's what it displayed:

A click on "Edit" and I had oodles of options to distract me: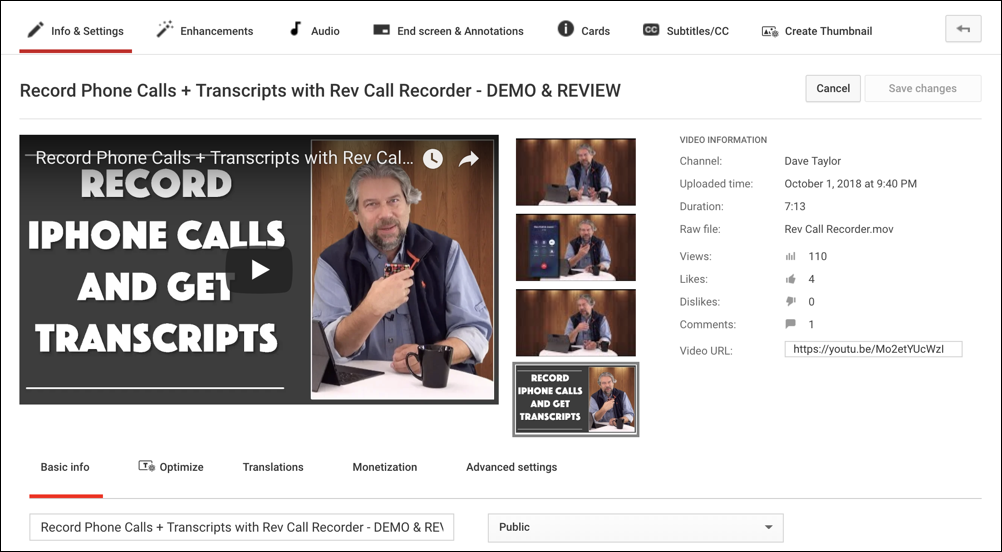 I admit, it took me a few minutes to identify the correct place to proceed! Look along the top and you'll see it: "Subtitles/CC".
Click on Subtitles/CC and you'll see a fairly austere result: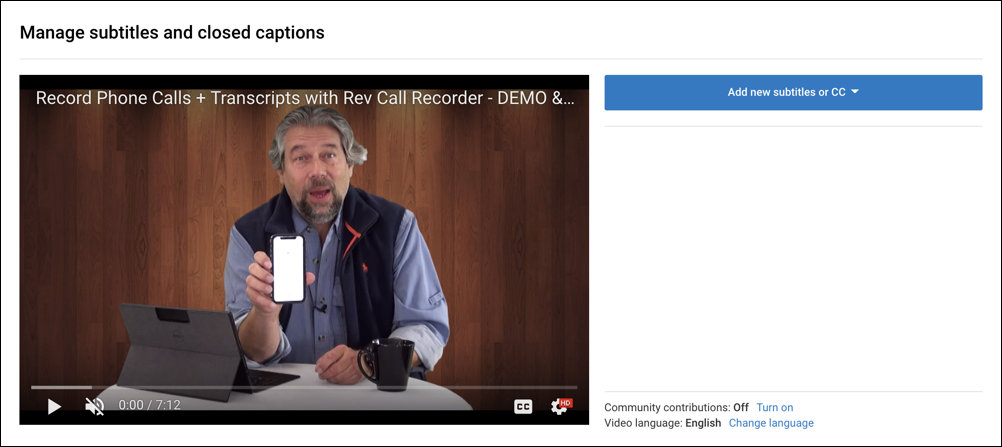 No huge surprise here: Click on the blue "Add new subtitles or CC" button to proceed.
Here's what shows up:
Check out that last entry. YouTube supports 190 languages in total. That's a lot of choices and a lot of translations if you want to have your subtitles available to every possible viewer around the world! Fortunately we're not going that far down the rabbit hole, just posting closed captioning / English language subtitles.
A click on "English" and it's time to identify the method through which you're going to add subtitles: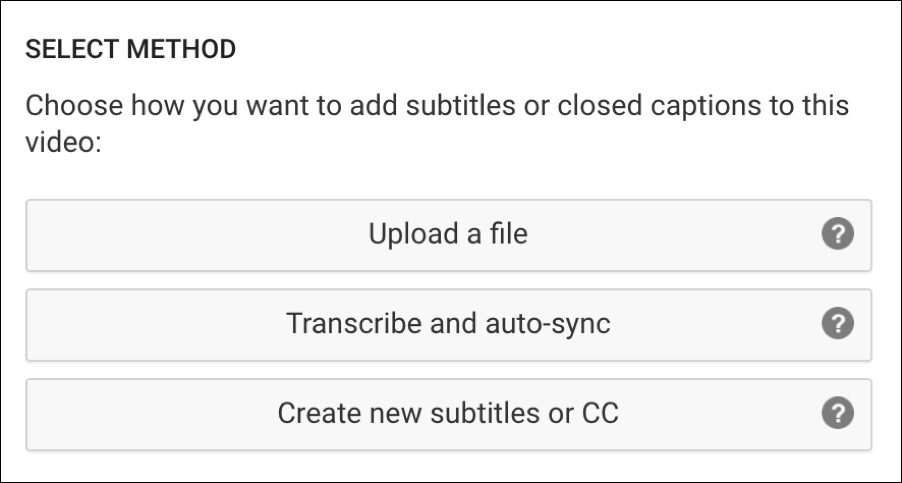 In this case, thanks to Rev.com, we're just going to upload a file. The other two are definitely more work!
A click on "Upload a file" and it's time to identify the actual .SRT file:
The warning message, by the way, is because by default it assumes you're going to manually add subtitles. You can safely ignore it. Instead, choose between a Transcript or Subtitles file (remember the difference is whether it's synchronized with the video and how it's presented to the viewer). In this instance, I'm uploading a Subtitles file, so once I've identified the .SRT file on my computer, I'm ready to proceed:
A click on "Upload" and literally just a few seconds later (since the SRT files are so darn small) it's uploaded and YouTube has mapped it onto the video itself for subsequent fine tuning:
If you really want to be a perfectionist, you can spin through the subtitles and clean things up, fix typos or grammatical oddities, etc. That's all on the left side. Or the right side lets you fine tune when subtitles show up on the video.
All looks good? Click "Publish" on the top right and you're good to go!
Well, it might take a few seconds depending on how long the video is / how many subtitles you've added. In the case of this 7:13 video it was instantaneous, however, so the "pending publish" was redundant as the very top confirmed "Subtitles published."
So what does it look like? Here's a quick demo:
Notice on the lower right that I've clicked and chosen Closed Captioning (the tiny red line under CC). That's it. If you want to check out the video and turn on closed captioning / subtitles to see how it works, here's the link: Rev Call Recorder for the iPhone reviewed.
Pro Tip: I've been doing YouTube videos for years. Learn my insider tricks here: YouTube help. And don't forget to subscribe to my channel on YouTube so you can enjoy my weekly tech updates! AskDaveTaylor on YouTube.