I use the weather app on my iPhone all the time and love that it shows me the weather based on my location. But if I want to follow the weather from overseas locations, can I add additional cities or locations?
Weather is one of the things that's improved the most in the last few decades but we often forget to acknowledge these changes. Used to be you'd check the newspaper to see a rough forecast for the subsequent few days, a forecast just as often based on superstition and reference works like the Farmer's Almanac than science. Nowadays there are supercomputers analyzing millions of data points and the most subtle of variations in temperature, barometric pressure, wind speed and much more. Which means our forecasts are quite a bit more accurate. Not only that, but they're also far more accessible with weather being a standard feature on all smartphones, often something you can see at a glance without even unlocking the darn phone!
In the interest of making the weather data even more useful, however, app makers are using the geolocation data from your phone to figure out your current location and show that weather forecast. Move 10 miles and you'll get a new forecast. Get off a plane after flying 1500 miles and your home weather has been left far, far behind.
Except you can add as many cities as you'd like in the Apple Weather app, and there's even a neat summary view that lets you see weather and temperature for up to a dozen cities at a glance.
To start out, here's my current weather, the screen I see when I just launch the program: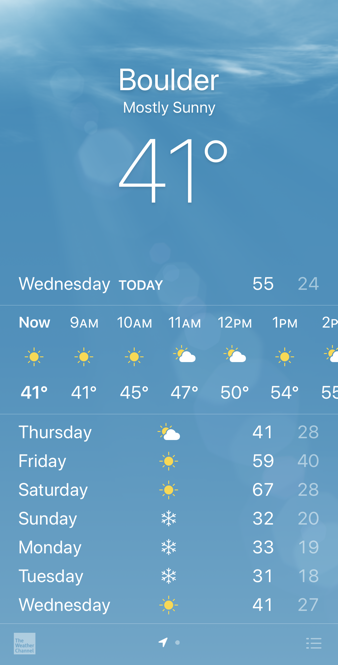 Cold, but not horrible. The weekend's looking a bit dicey, though, with that snow forecast Sun-Tues! To get to the summary view and add additional cities, all you need to do is tap on the three horizontal lines icon on the very lower right. Looks like the bullet list icon for Micros0ft Word, actually!
As you can see, I already follow a second city in addition to my current location: North Pole, Alaska. It's only a bit colder there, but I'm sure their weather forecast is a bit colder overall.
To add an additional city, tap on the tiny "+" in the circle on, you guessed it, the lower right. Now just start typing in your city name. You can even use old, obsolete or alternative city names and it'll know what to do, as I show with "Saigon":
Once you see the matching city show up in the list, simply tap on it to set that as one of your weather cities. Now you'll get to the summary view and there's a new city included:
Much warmer weather! To get a detailed forecast, tap on the city in question:
Hot. Tropical weather, even down to the daily storms for the next week. And that's it, that's how you add new cities to your weather list. Pretty easy, really. Notice also it shows the time and the picture in the summary view gives you a head's up on the forecast too. Darn useful.
Pro Tip: I've written quite a bit about the Apple iPhone and iOS both. Please check out my extensive iPhone & iOS Help Library for lots of additional details.