I love using Goodreads to keep track of what I've read and what I want to read. Is there some way to hook it up to Amazon.com so I see books I purchase too?
Turns out that Goodreads is actually owned by Amazon, so there are definitely ways you can hook the two together. However, there's no completely automated tool so that every time you buy a book on Amazon.com that it automatically shows up in your "to read" queue on Goodreads. At least, as far as I can tell!
But don't give up hope, because there's a simple tool on Goodreads that can show you all the books you have purchased and let you add them to your "want to read", "reading" or "read" queues with a single click. Just as good; it also lets you omit books that you don't want to have show  up on Goodreads, like those you purchased as gifts or those that you don't want the public at large to know you're reading (I know, you have a secret affection for b-grade romances! 🙂
Let's jump onto Goodreads and have a look!
You might be able to do this by simply clicking on the link on this banner:
If not, when you're viewing your own book list (click on "My Books") you'll see this on the left side: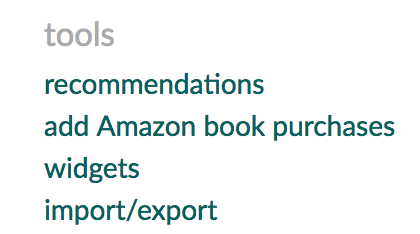 Click on "Add Amazon book purchases" and you'll get to the same place. Either way, your next stop will be a long list of every book you've purchased on Amazon, ordered most recent to least:
You can see my reading is somewhat all over the place, from graphic novels to modern fiction. A good sampling!
At this point I can directly rate books, but ideally you want to choose which list or category first so that the rating makes sense (if it's in your "want to read" queue, how can you rate it?). Turns out that as soon as you rate a book, it actually switches to "read" and goodreads assumes you want to list it on your book list.
That's an important point: if you don't interact with a book on this list, either categorizing it or giving it a rating, it won't just show up on your goodreads list. Good for privacy if some of your books – again, perhaps gifts – shouldn't be showing up on your reading list!
Back to our example. I read the book College Match and really liked it. So a click on the fifth star of the five-star graphic and it not only gets that rating from me, but automatically becomes a "read" book too: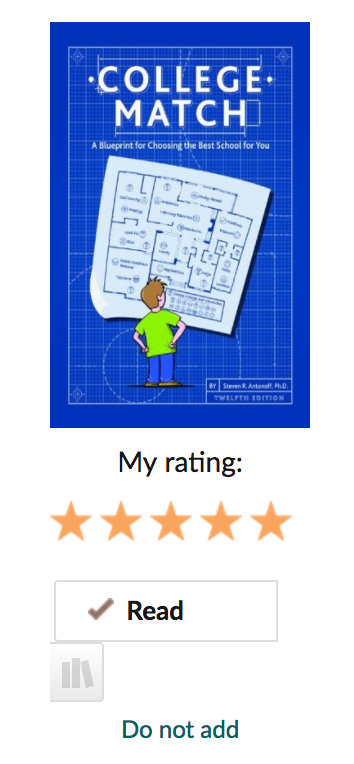 Click in the little button with the vertically stacked books, however, and you can choose a specific category if the book should more appropriately move into your want-to-read list:
This time I've rated the book – The Empire of a Thousand Planets, basis for the upcoming movie – but want to move it into my Currently Reading list. Easily done, as you can see. Click on a rating and you might find yourself being prompted for a full and detailed review too:
I try to leave at least a sentence or two with my reviews to help other people out, but you certainly don't have to do that if you don't want. Done? Click "Save" in the lower left. Now, does anyone actually specify date started and finished? I don't think I've ever filled that out once for the almost 75 books I've reviewed on goodreads.
And, finally, now you can see that the books you've interacted with on this Amazon list on goodreads show up just as any other book you'd have found and listed on goodreads would, whether it's in your 'read' section or 'to read':
That's it. Hope this helps you figure out how to have your Amazon books easily slide over onto your goodreads account too!
Btw, you can find my author profile here: Dave Taylor on Goodreads.