I just switched from iPhone to Android and want to set up Google Pay so I can use my phone to pay for food when I'm out. What's the easy way to get that all set up with my credit card?
Google Pay is an excellent alternative to Apple Pay and works very similarly on your Android phone. Just unlock your phone and hold it near the NFC payment device. After a few seconds, it will appear on the screen and complete the transaction. Super easy, and if you have face unlock or fingerprint unlock you can do it almost without any actual thought, just unlock and pay.
Of course, you do need to add at least one credit card and you'll also want to enable NFC (near-field communications) so that the phone can recognize when it's near a payment terminal. The latter you can accomplish by going to Settings > Connected Devices > Connection Preferences and ensuring that you have NFC enabled. Easy enough.
HOW TO ADD A CREDIT CARD TO GOOGLE PAY
On the Android device, go into All Apps (generally a swipe up from the bottom of the home screen brings you to the view that shows every installed app) and tap on "Wallet".  Since you don't yet have any cards entered, you'll get a big blue ad indicating how to proceed: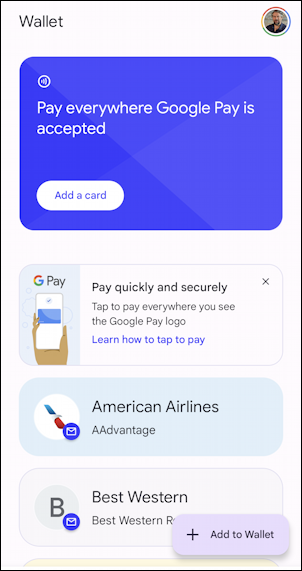 No surprise, tap on "Add a card" to proceed. Notice that there are a lot of different cards you can easily add here too, notably including your AAdvantage loyalty info from American Airlines. If you want to learn a bit more about Google Pay, "Learn how to tap to pay" can be a worthwhile short sidetrack here too.
You're ready to leap ahead, though, and I get it. I don't want to read a tutorial, I just want to get some sushi, a burger, or that delicious chef's salad!
Tap on "Add a card" and you'll be able to see how many types of IDs and cards are supported:
You can even add boarding passes for your next flight, tickets to the big concert next week or gift cards so you can eke out every nickel without having to drag them from store to store. For a credit card, however, you'll want to tap on "Payment card".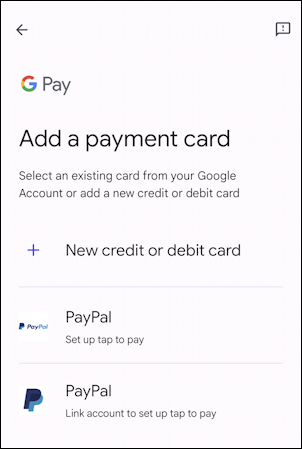 If you already have a PayPal account there are some handy shortcuts. If not, well, you can guess that tapping on "New credit or debit card" is a good choice for proceeding…
SCANNING IN A CREDIT CARD TO GOOGLE PAY
What's slick is that Google has utilized its sophisticated vision analysis engine to make scanning in a credit card super easy. Allow Wallet to access your camera and a viewscreen shows what it's seeing. On my Amazon Prime Visa card, here's what I see:
Of course, the number and other information are on the obverse of the card so it's not going work as shown, but once I flip it over, it's a fraction of a second before the app has bounced to a display confirming what it's scanned. At this point you'll probably be required to enter the expiration date again or the CVC security number. You'll also want to enter your billing address (it uses your street address number + zip code for part of the card verification) to proceed.
The app then checks in with your bank to confirm the card is valid and active…
Once that's done, you'll get the confirmation that it's all set up as it stores your card information in the app's memory, ready for use:
And… it's done:
You can explore "How to tap to pay" from this point if you're so inclined or just head to your favorite eatery and jump straight in by using your Android phone to pay for your meal.
HOW TO PAY WITH GOOGLE PAY
As I said, the trick is to unlock your phone before putting it near that payment terminal, but even if you don't, as soon as the payment device is detected, your phone will switch to a display similar to this:
So you can place it near then unlock it to pay or you can unlock it and then move it to the right spot. Either way, it's a matter of a few seconds for the information to be transmitted and confirmation of payment to be displayed. Done. Let's eat!
Pro Tip: I've been writing about Android forever! Please check out my extensive Android help area for hundreds more useful tutorials and guides! Thanks.