I get weirdly personal spam email messages and it seems like quite a lot of my personal information is out in the world. How can I check and ensure that my privacy settings are correct on my Windows PC?
Many factors go into privacy on the modern Internet. Heck, your computer is only one of the many areas where personal information can leak out and be accessible to spammers and scammers. Do you use online email? Are you a member of special interest groups on LinkedIn or Facebook? Do you follow a particular organization on Twitter or join topical discussions on Clubhouse? What searches do you run when you're hunting about on the Web, what news sources do you read and what do you buy online? It's a mess because we are basically left in the position of trusting all of these information ecosystem companies, hoping that they'll all respect our privacy and not make a quick buck on the side selling personal data.
Worse, lots of companies sell 'de-personalized' data, saying that it's aggregate information and there's no personally identifiable data. The problem is that researchers have shown that they can often correlate individual users with that sort of de-personalized information, so that's not really as safe and private as these companies are suggesting. Add some hidden spyware to your system and someone "sniffing" your Internet traffic while working at your favorite outside table at the local café, and it all adds up to chaos. It's no wonder that things like the General Data Protection Regulation and the California Consumer Privacy Act were created!
So is all hope lost? Are you doomed to get increasingly personalized spam and scam messages? No! There are indeed some things you can do to ensure your PC's data is private and secure. First and foremost: get a good anti-virus and run it regularly. I recommend Windows Defender, included with Windows 10, as a starting point. Then stop downloading apps, games, utilities, and other programs from untrustworthy sources. Just because your buddy Sam said it's fun doesn't mean it's a smart thing to add to your computer.
CHECKING YOUR WINDOWS PRIVACY SETTINGS
You can also go into Windows 10 itself and check out your privacy settings. Do that by going to Settings…
Choose "Privacy" from the lower right corner and you'll see a few very basic settings and options:
One of the first to really consider disabling is "Advertising ID". On the plus side, enabling this lets you get ads in apps (like Microsoft Edge!) that are better targeted to you. The minus, though, is that it's because your OS is tracking what you do, where you go, etc and sharing that through a unique "advertising ID". Try turning this feature OFF and see if you even notice a change.
Websites can make assumptions about you based on your language list too. Have Spanish and English language modules installed? A Web site might then display information in Spanish or bilingual info, which you might not prefer. That's option #2. The last two on this list are pretty benign, in my opinion, and just help Windows itself work better.
Scroll down a bit on the left side and you'll realize that there are a lot of privacy settings. For example, did you realize that you might be granting access to apps and other system utilities to go through your Contacts to try and find connections?
Notice that Microsoft's being a bit sneaky here too: Instead of the easily understood Off/On green switch, the "Allow access to contacts on this device" setting is "Contacts access for this device is on" with a "Change" button below. Pay attention to the details!
Scroll down a bit further in this Settings window and you can see which apps currently have access: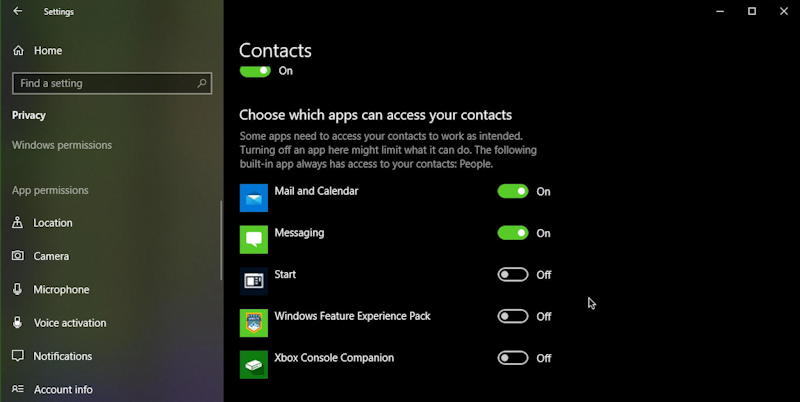 Mail and Messaging make sense, but why does Start need access to my Contacts? Notice I've disabled it, along with Windows Feature Experience Pack and Xbox Console Companion. They can always be re-enabled if needed, but I encourage you to default to having things disabled or off.
Going back to the main Privacy settings, there's another notable link on the right side: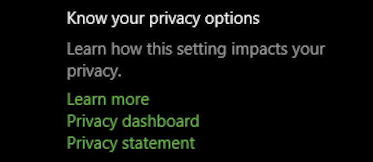 Let's have a brief look at your Privacy Dashboard…
HOW TO FINE TUNE YOUR PRIVACY DASHBOARD SETTINGS
So far, the privacy settings have all been on your PC, but there's also a world of settings on Microsoft's site too. One of the great things about Windows 10 is how neatly it integrates into the cloud and the Internet overall. From documents to music, movies to apps you have installed, if you have it set up on your PC, it probably exists in the Microsoft cloud too. Which leads to the question: How do you get to those privacy settings? The answer is Privacy Dashboard.
Jump there by clicking on "Privacy dashboard". You'll launch a browser window and have to log in to your account. Once you do, you'll be here:
It is very chatty, offering five main areas: Overview, My activity, Download your data, Cortana's Notebook, and Ad settings, all along the top. But scroll down a bit and you'll find that it's broken into logical sections with handy explanations too, including the fact that when you watch movies or TV on your PC, it might well be tracking you and putting that information into the general data pool of your account too:

As you can imagine, definitely worth checking closer, and doubly so when you realize that the icon in the graphic looks rather like the old Netflix logo, suggesting that if you watch Netflix on your PC, it might just be recording what you end up watching too. You can do that by clicking on "View and Clear Media Activity". For me, this is not an area of risk:
There are quite a few categories in the Privacy Dashboard, so spend the time going through each and asking yourself, "does that really need to be shared?", then decide whether to enable or disable that particular data access.
Done? Great, now do the same privacy checkup on all the Websites and apps you use regularly. Good luck!
Pro Tip: I've been writing about Windows 10 for quite some time and earlier versions of Windows before that. While you're visiting, why not check out my Windows 10 & PC help area? Thanks!