You're on the road and need to keep in mind that your electric vehicle needs an occasional top up during the day. It might even be a plug-in hybrid and you just seek to save some money with EV mode rather than paying for gas. Okay, here's how to set up Google Maps to always know the closest compatible EV charging station.
Gas stations have had a century to build out a geographically dispersed infrastructure and they really are pervasive in the world landscape. Whether you're driving through Death Valley or downtown Atlanta, it's hard to imagine ever being more than a dozen miles – if not a quarter mile! – from an available gas station. EV drivers are facing a new world, however, where there are areas that do lack charging stations (and few gas stations are motivated to pay for EV charging stations so far). It's no surprise, therefore, that EV drivers learn to pay attention to charging stations, quickly favoriting ones that are convenient to work, home, school, and similar.
But if you're on a road trip, those favorite charging spots aren't going to be quite so helpful. Fortunately, Google's on the job with a slick addition to Google Maps that lets you specify the charging plugs you seek then easily identify nearby compatible charging stations, even down to the number of chargers of each type available. All you need to do is set it up, so let's see how that's done.
GOOGLE MAPS & EV CHARGING PREFERENCES
I grabbed my Google Pixel phone for this demo, but it'll work the same on any Android phone and even iPhones can use the same solution because it's all app-based. Make sure you have Google Maps and fire it up…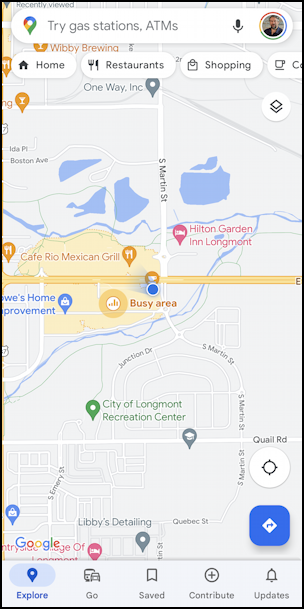 From this point you can search for "charging stations" but it won't be able to screen them based on the actual plug your EV works with; pointing you to a Tesla supercharger won't be useful if you've got a Nissan Leaf or Chevy Bolt!
Instead, tap on your profile icon on the right edge of the search box (near the top). A menu of choices appears:
If you ever want to do a quick Map search without it showing up in your search history, here's where you can "Turn on Incognito mode". Worth remembering.
For this task, however, tap on "Settings" near the bottom to proceed. Another, longer menu appears:
Quite a lot of settings because it turns out that Google Maps is a remarkably sophisticated tool with lots of things you can tweak and change. Tap on "Electric vehicle settings" at the bottom, however, to enter your plug types and only have it show charging stations that are compatible with your vehicle.
SPECIFY PLUG TYPE FOR YOUR EV
At this point, you'll see a screen that allows you to specify what plug or plugs let you charge your vehicle. These will be completely dependent on the charging cable that works with your vehicle: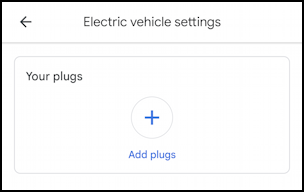 Time to add some plugs. Tap on "Add plugs" and you'll get to a rather nerdy screen:
Hopefully, you already know exactly what kind of plug your car has and what plug types are compatible. If not, check your user's guide or do a quick search. Enelx.com has a handy chart too. A Chevy Bolt, for example, works with the CCS plug style in both "Combo 1" and "Combo 2" format (the difference is the voltage: A Combo 2 is a faster charge) along with a J1772 plug.
Now, however, you've set up Google Maps so that it knows what kind of EV you have and what kind of plug you need for a charge. Since you're logged in to your Google account, this means that you'll have access to this handy information on any device, whether it's your desktop computer, tablet, or smartphone.
SEARCH FOR COMPATIBLE EV CHARGING STATIONS
Now that you've entered that information into the Google Maps settings area, you can simply search for "charging stations" and specify that it filter by checking for compatible plugs. Or you can use the path that Google recommends by finding the "More" button along the top of the Maps app:
Tap on "••• More" and you might just be surprised what you can seek in Google Maps:
What you want is at the top of the Services section: "Electric vehicle charging stations". Tap on that entry and it will not only show you EV charging stations in the specified area, but they'll all be compatible with your specific vehicle:
Notice that one of the filters selected is "Your plugs". Hurrah! You can also see that there are no charging stations in my immediate area, but the Electrify America Charging Station at 2514 Main Street is 3.6 miles away and features 7 CCS chargers and 1 CHAdeMO charger. One more tap and I'll have driving directions. Darn handy!
If I'm heading east, however, the ChargePoint station on I-25 Frontage Road might be a better choice, though the chance of me having to wait is higher with its 1 CHAdeMO, 1 CCS, and 4 J1772: Only the CCS and J1772 are compatible with the Bolt so it's 5 versus 7 at the Electrify America station.
Some of the individual charging company apps – like ChargePoint – can also show whether the plugs are available or in use, but since that can change while you're en route, it's only so useful. Perhaps Google will add this additional snippet of information (or at least the status of plugs if any are broken or disabled). For now, that's how you have Google Maps help you find a compatible charging station.
Power Tip: I've been writing about both Android and vehicular tech for many years. I have both extensive Android help and Auto Tech help libraries here for your edification! Please check them out while you're visiting. Thanks!