I've been using my Kobo Libra H20 for a couple of years and really love it as an ebook reader. Way better and cheaper than the Kindle! But how do I check for system updates from Kobo and apply them if needed?
You're not alone in your enthusiasm for the Rakuten Kobo ebook reader line; while Amazon might get most of the press with its popular Kindle devices, the Kobo eInk readers are a solid option and offer more features at the same price. I also have a Kobo Libra H2O and it's waterproof (hence the H2O designation), has a big screen, endless battery life, and a bright, backlit screen. What's not to like about it?
Like any modern device, however, the firmware that's installed on the unit when you receive it doesn't stay current for long. New features are added, bugs are squashed, additional capabilities magically appear, and security issues are addressed. Security issues? Well, there probably aren't too many people trying to hack into your Kobo reader, but if the company finds a security problem, don't you want to receive the fix as soon as possible?
If you're always online with your home Wi-Fi network or similar, it should automatically be checking for updates every so often without you needing to do much of anything. If you stay offline, however, it is necessary to go online to check for system updates, so let's go through the steps…
CONNECT A KOBO READER TO A WIFI NETWORK
Fully charge or plug in your Kobo Libra reader since that's going to be required for a system update, then go to the home screen and tap on the tiny wireless network icon on the top right. A window appears: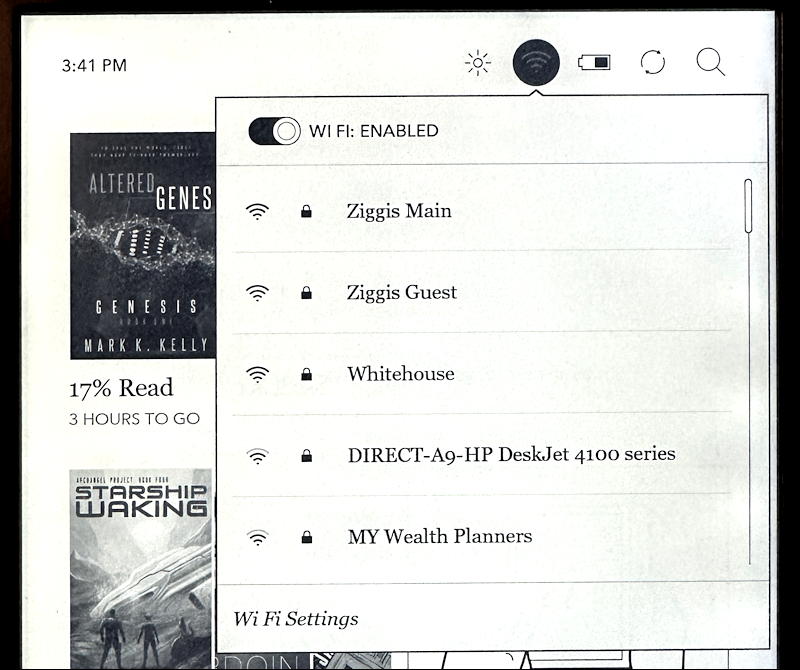 You can see that there are a number of options for me to connect, including an HP printer! Probably that printer won't actually be very helpful, but "Ziggis Guest" is a good option. A tap on the desired wireless network and you'll be prompted for a password:
Not every wireless network needs a password, but generally they're a bit more secure if they do. Tap on the on-screen keyboard to enter the password, letter by letter, then tap "JOIN" to proceed. If you've typed it in correctly, after a moment or two you'll hopefully see this: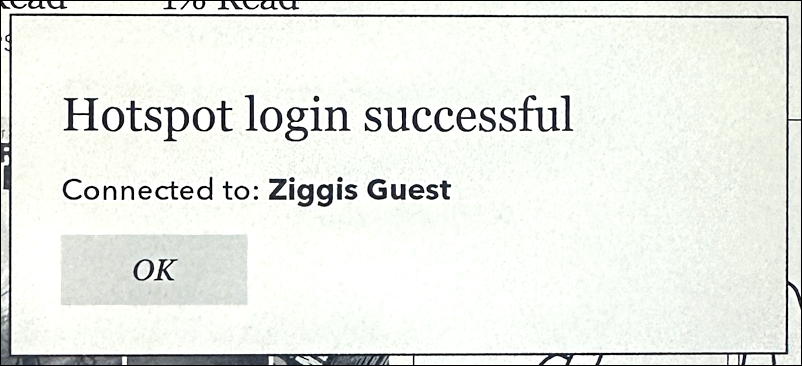 Success. Logged in to a public wifi network here at Ziggi's Coffee, so it's time to check for a system update.
CHECK FOR A KOBO SYSTEM FIRMWARE UPDATE
As I said, now that you're connected, you can probably just relax and read your latest ebook for a while and let the system check in the background, alerting you if there's an update available. But where's the fun in that, right? Let's force it! Look along the bottom of the Kobo's screen and you'll see four major areas to explore:

Tap on "More" to get to the main system and settings area. There are a lot of options: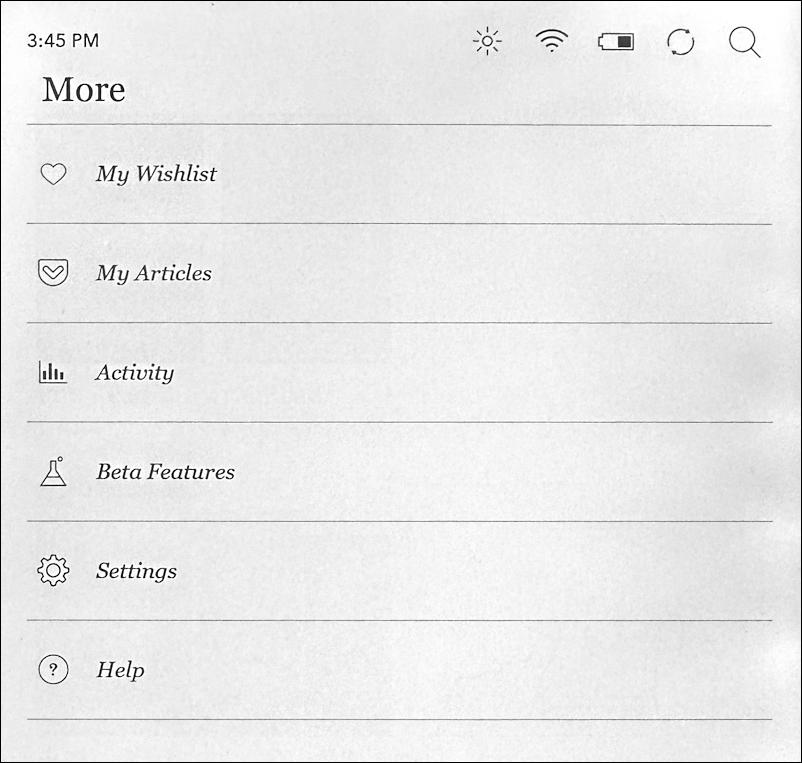 Definitely plenty of things to check out, including "Beta Features" if you want to try some of the features and capabilities that are still being tested for future Kobo system releases. For this task, however, tap on "Settings" near the bottom. Yet another menu appears with even more choices: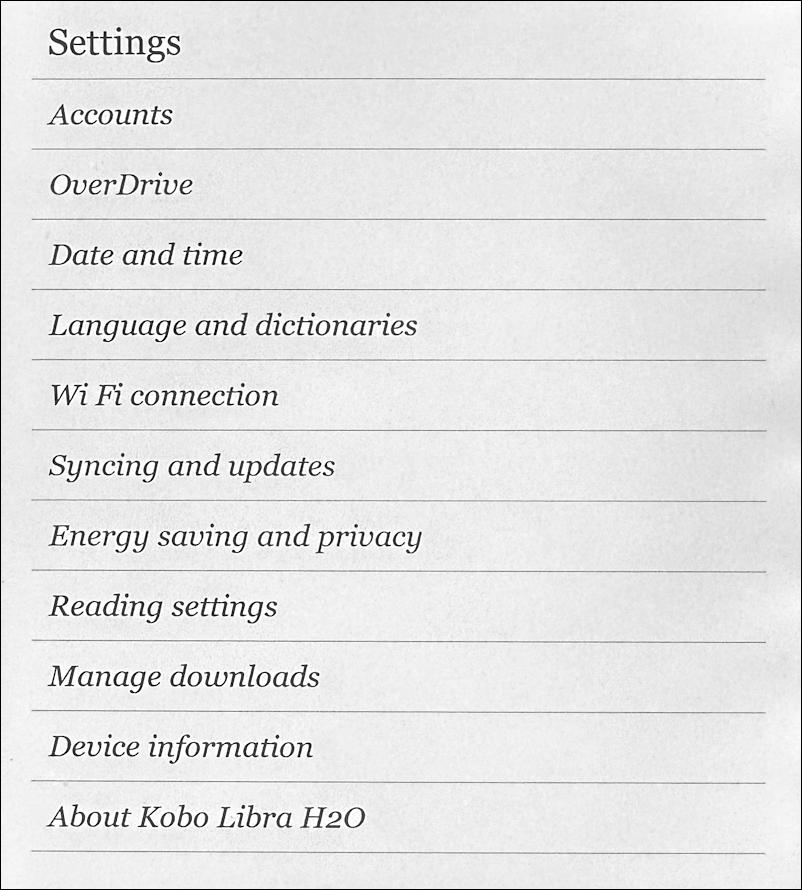 Lots of interesting options and settings that can help you personalize and customize your own Kobo experience. Notice if you've finished up some ebooks and want to delete them to free up space, you can choose "Manage downloads" from this menu to axe 'em as required.
Tap on "Device information" instead, however. This time you'll get a lot of information shown about your specific device, including serial number, MAC network address, software version number, and more…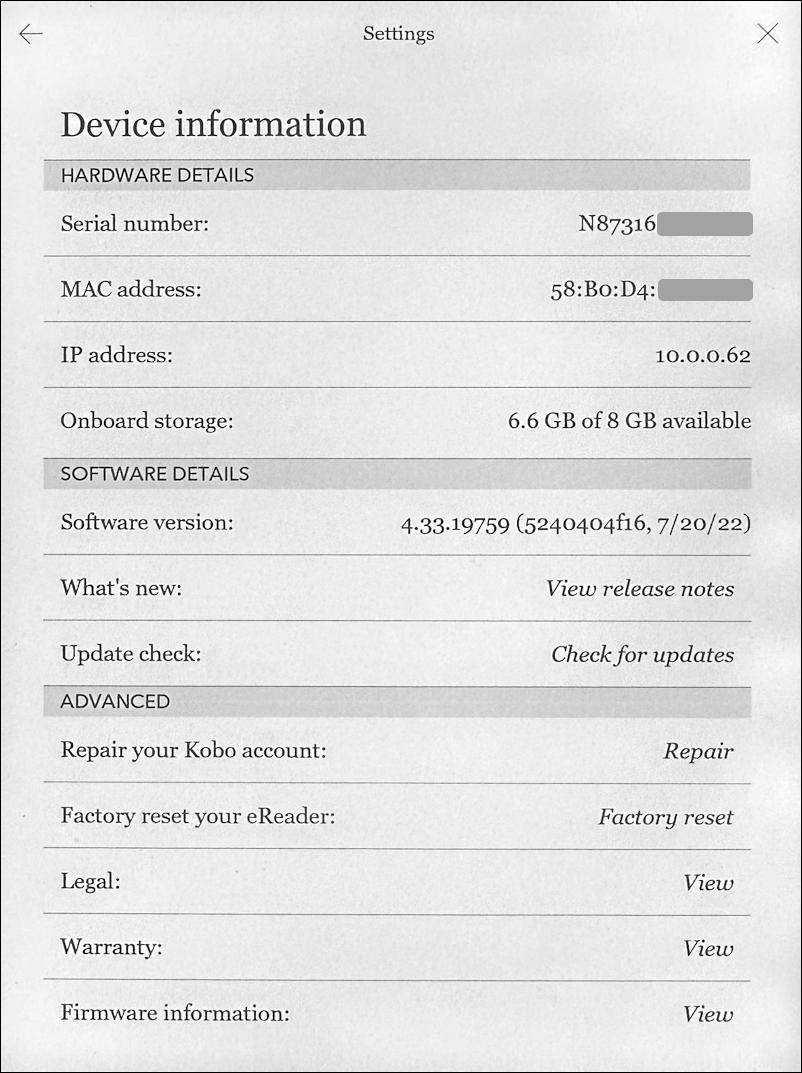 You can see that I'm running Kobo firmware version 4.33.19759 from 7/20/22. Not too bad, only about five months old. Is there an update? That can be ascertained by tapping on "Update check", which rather confusingly dropped me back to the home screen, but immediately started a download: There's an update!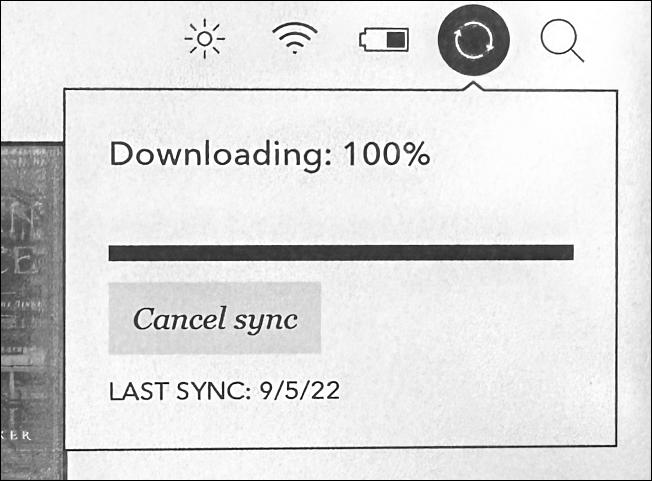 Once that firmware update was downloaded, the Kobo popped up a prompt to allow me to easily update the device: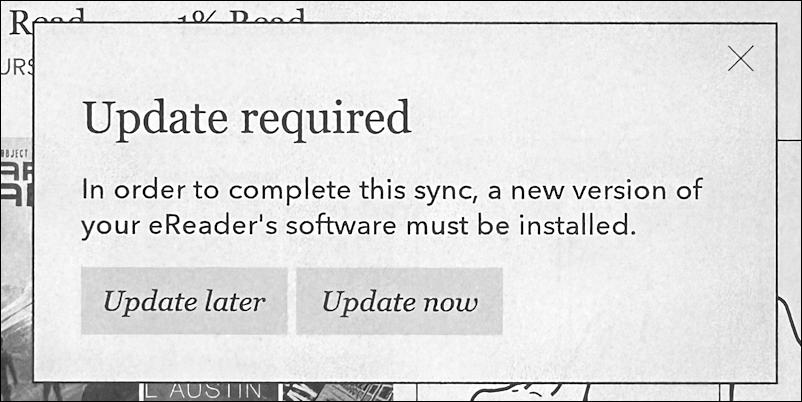 The update will restart the device and take a few minutes, so if you want to finish up the chapter you're reading in your book, no worries, tap on "Update later". I'm ready to go, though, so I'll tap on "Update now" and almost instantly the device turns off and the screen changes to show: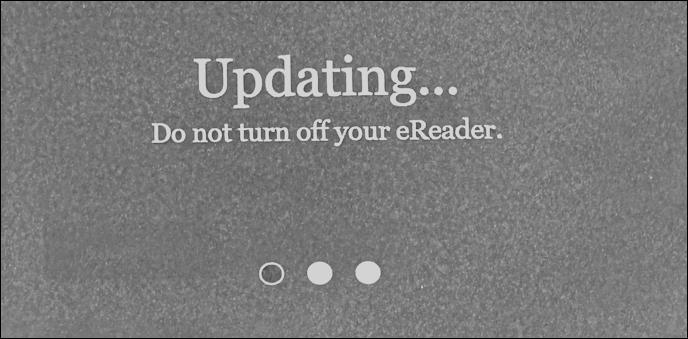 This can take a few minutes, so be patient and let it do the work required to update the system. Eventually it'll start up again and be running the newer version of the system, including a handy splash screen indicating what's new:
You can go to More > Settings > Device information if you want to see what version of KoboOS you're now running. My Kobo Libra H2O reader now reports that I've upgraded to 4.34.20097 (from 4.31). That seems like a lot of updates in the interim, who knows what was changed and improved during those months I wasn't checking and updating the device!
Pro Tip: I've had Kindle devices for many years and have written quite a few eBook and eReader Help tutorials here on my site. Please take a few minutes to check it all out!