I'm used to using a PC, so when my son asked me how to delete a game he'd downloaded onto his Chromebook, I went into Settings. But there's no Add or Remove Program option in Chrome OS Settings! How do I delete apps or programs on a Chromebook?
While each operating system has its own personality, there's no question that some basic features and capabilities should be similar across all the possibilities. While many people live in a single-OS universe, a lot of us also end up having to move from OS to OS, whether it's Android to Mac, Windows to iPadOS, or even Linux to ChromeOS. One of those basic features is navigating the file system and deleting apps and programs that you no longer want on your computer. Since so many Chromebooks have minimal storage capacities, it's even more important to know how to keep those systems slim and running smoothly.
But there is no "Add or Remove Program" option as you would find on a Windows PC, as you have found out. There is a corresponding feature within Chrome OS but it goes by a different name, so it's not quite so easy to find. Turns out that there's also a cool power shortcut that you can use to remove programs on a Chromebook that will wow your son too, but let's get to that after I show you the official solution.
"MANAGE YOUR APPS" IN CHROME OS
I've gone ahead and installed a screen capture utility on my Lenovo Chromebook called "Screen Recorder" for this test. if I go into Launcher, it shows up as one of the apps, as you would expect: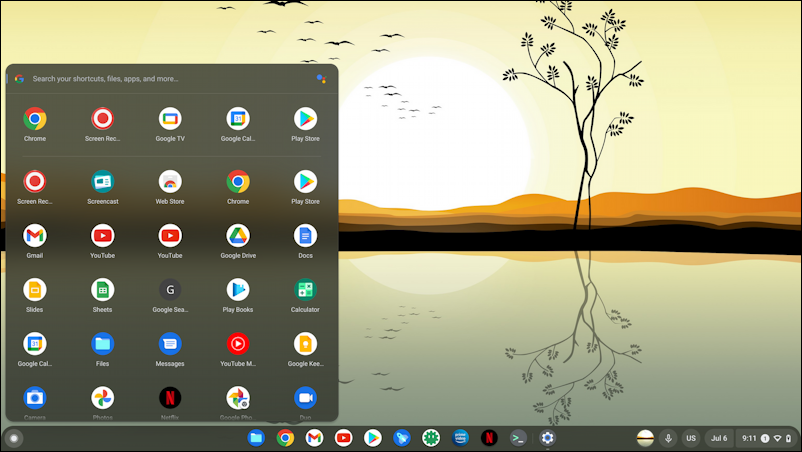 It's the second entry on the top row and the first entry on the second row. The difference? The top row shows the most recently launched programs while lines 2 and beyond are an alphabetical list of all apps on this computer.
But we don't want to be here! Click on the time on the lower right of the Shelf (we PC users would call it the Taskbar), then click on the Settings gear icon to jump straight to Settings. Now search for "manage apps":
You can see that there's a matching Settings area called "Manage apps" in the search results. That's what we want!
Here's a list of every app on the Chromebook, in alphabetical order. Scroll down to find the app, program, game, or utility in question, then click on it. Turns out that there are a lot of options:
You can easily pin a favorite app to your shelf, turn on – or disable – notifications, allow or nix permissions to your camera, microphone, and storage, and more. But most importantly, the button on the top right says "Uninstall". Click on it and you can delete the program. Done.
But….
HOW TO QUICK DELETE APPS FROM THE CHROME OS LAUNCHER
The cool kids way to delete apps and programs from a Chromebook is through the Launcher. I showed it earlier, the pane that pops up on the left side with each and every app and program shown. Turns out that if you right click on an app icon you get a pop-up menu with a couple of very useful options:
There ya go. "Uninstall". Without any need to go into Settings. It will prompt you to confirm you want to delete or remove the program:

You do? Click on "Uninstall" one more time and you're done. The program's history or, in your son's case, the game is kaput!
Pro Tip: I've been writing about operating systems for many years. You can learn a lot more about Chrome OS in my Chrome OS and Chromebook help library here on the site. Why not check it out while you're visiting?