When I walk in to my house, I want to say "yoohoo, home again" and have my house come to life. Lights, the furnace changes settings, the door locks behind me, etc. How can I set this up with my Amazon Alexa and all my smart home devices?
Sounds like you've watched a lot of Blade Runner: that's exactly the phrase that genius scientist J. F. Sebastian (actor William Sanderson) says when he walks into his apartment partway through the movie! But then again, I'm sure you know that.
What's cool is that the Amazon Alexa ecosystem supports exactly the kind of thing you're talking about – and a whole lot more – if you are willing to preface your phrase with the trigger word. By default it's Alexa, but you could change it to "computer" if you really wanted to do so.
Tip: I had one of my Amazon Echo units listening for 'computer' and found that we were triggering it inadvertently way too often because that word actually comes up in speech fairly frequently in my office!
So, let's say you want to trigger on "Alexa, yoohoo! home again!" as you walk in. Let's see how to do that. You want to create what Alexa calls "A Routine", so go into the Amazon Alexa app on your smartphone, tap on the "hamburger" menu on the top left (the three horizontal lines), then tap on "Routines" on the subsequent menu. You'll end up looking at this:
You can see their suggestions, but really, you don't have to stick with that, do you? 🙂
Tap on the "+" to create a new routine…
It's a basic "if-then" statement: when a specific event occurs (like you speaking your key phrase) then a set of specified actions will be triggered. Simple, really. Start by tapping on the "When this happens" area to specify what's going to trigger everything.
We'll be setting something up tied to Voice but notice you can schedule things and you can also have a specific device trigger other things happening, like your garage door opening triggering the lights to turn on or similar. Obviously, the more devices you have in your Alexa ecosystem, the more sophisticated these routines can be!
Tap on "Voice" to proceed…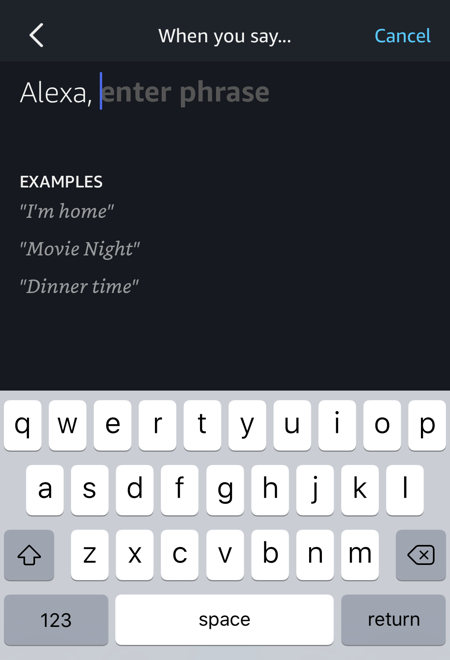 Enter the phrase you want — yoohoo home again — and you can continue. I'm going for something just a bit less complicated with "nighttime", personally, though your suggestion is quite tempting!
With that set, you'll now get to the fun part, adding actions!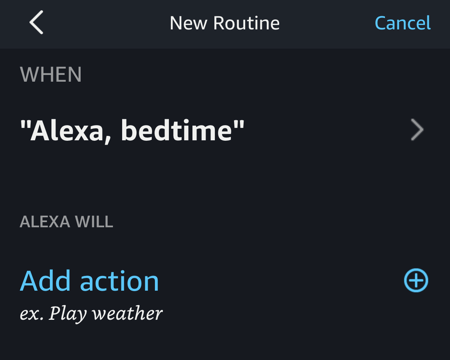 No big surprise here, tap on the "+" adjacent to Add action to begin adding actions. And oh, the actions you can add!
You can turn on music, text someone, trigger Alexa telling you the news, traffic or weather, or, any of your Smart Home device events. It's the latter that you'll want. Oh, and notice you can tell Alexa what to say too, so you can have her say "Jiggity jig" as a response to your trigger phrase too!
Tap on Smart Home before you get too carried away, though!
As you can see, there are two primary categories you can choose between: Individual devices or groups if you've set up groups of devices to reference collectively. I have both in my home, so I'll start with a group of smart bulbs I call "couch light". To do that, tap on Control group, and it shows up as the only choice: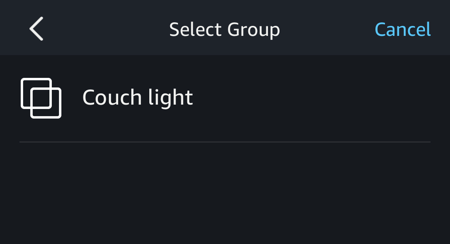 Obviously, I'll select it. The default action is to turn the device or group on, as you can see:
I actually want this light to be turned off as part of the routine, so a tap on the big, bright illumination circle switches it to the off status. A tap on Next then lets me proceed. Alexa confirms what it'll do:
Looks good. Tap on "Add" to add it to the routine.
Now I'm going to go to specific devices and add a few more actions to turn off all the main living area lights and turn on the bedside lamp in my bedroom. It looks like this when I'm done:
Pretty cool, really. But this is important: it's not saved until you actually tap on the blue "Create" button at the bottom. The first time I did this process, I didn't realize it needed to be saved and was disappointed when it didn't work!
You'll know you've done it correctly when you see the Enabled toggle, as shown below:
Now all that's left is for you to test it out. Good luck, and if Pris shows up, I just hope the eventual outcome is a bit better than in the movie!