My buddy Mike picked up the bar tab last night and said I should just "Zelle" him what I owe since we're both with Wells Fargo bank. Um, what? Can you help me out so I don't look ignorant?
No worries, I've got your back with this online payment thing. Zelle is a competitor to Apple Pay, Google Pay, Samsung Pay and even PayPal: a digital system that's mobile friendly and lets you send and receive money, even small amounts, without hassle. But Zelle isn't part of Wells Fargo, even though your buddy Mike suggests that's the case. It's actually a service from a consortium of major US banks including Bank of America, BB&T, Capital One, JPMorgan Chase, PNC Bank, US Bank, and Wells Fargo. Amusingly, the holding company is called Early Warning Services, which is only slightly ominous!
Anyway, the easiest way to work with it is to get the mobile app from your bank, whether you're with Wells or any of the other banks listed above. The app will likely have a Zelle button right on the home screen making it really easy to send or receive money. Let's have a look…
I have an account at Wells Fargo so I have that particular app on my iPhone. Launch it and here's what I see:
For obvious reasons I've redacted a bunch of info on these screenshots for personal reasons!
Notice right in the middle the link "Send Money with Zelle". That's what you want, so tap on that link.
You'll go to a new screen (trimmed down for space reasons here) that offers two big, obvious choices: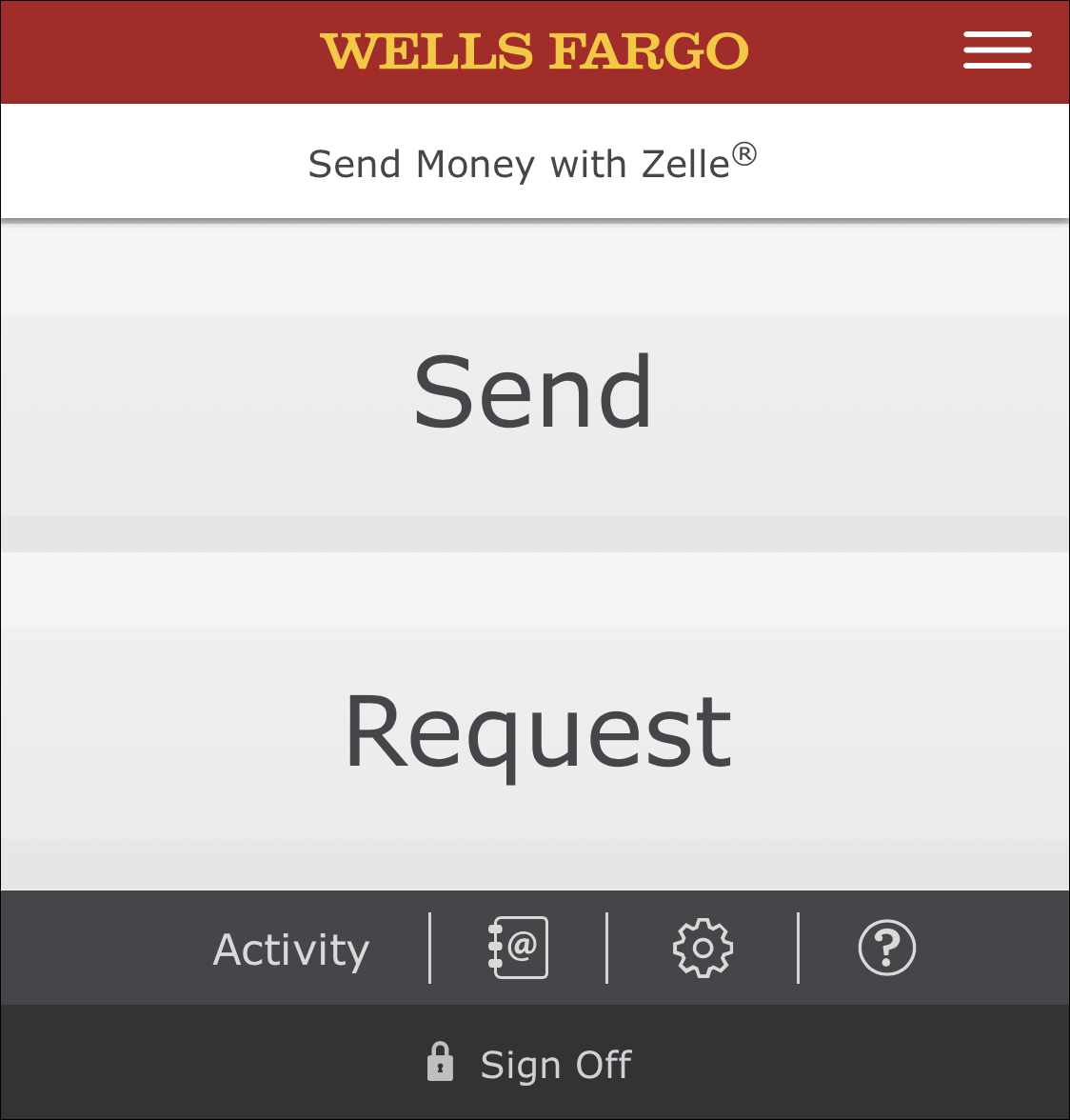 While it would be cool to just have a "receive" button, I'm pretty sure your friends wouldn't be too happy with your ability to suck money out of their accounts, so "request" makes more sense!
You need to send that money to your buddy, though, so instead of confusing him by requesting payment, tap on "Send" to initiate sending him the money you owe.
At this point you can enter their phone number or email address, or just let the app access your full list of contacts. I know in my case, anyone I'd be electronically sending money would already be in my [huge] contact list, so I tap "Access Contacts" to proceed.
Then tap in the first few letters of your friend's name or phone number, identify the correct match and the app will auto-populate all the ways you can identify them in the Zelle system:
Again, I'm redacting the personal info for my friend because I'm confident he doesn't want all y'all calling him up or sending him email! Notice also that two phone numbers have been identified from the contact info but, as the app warns, you can only use mobile phone numbers or email for this service.
Here's where Zelle has a problem, though: if you choose a method of identification that's different to how they registered with the system, you're going to make them go through additional hassles to retrieve the money. In my case, I used my friend's mobile number, but afterwards learned that it was only his email that he'd registered. He ended up having to call Wells Fargo customer service to add his phone number so he could retrieve the money sent. A big hassle, for sure.
Anyway, hopefully you won't encounter this so tap on the email or appropriate mobile number and you can finally specify the amount to send…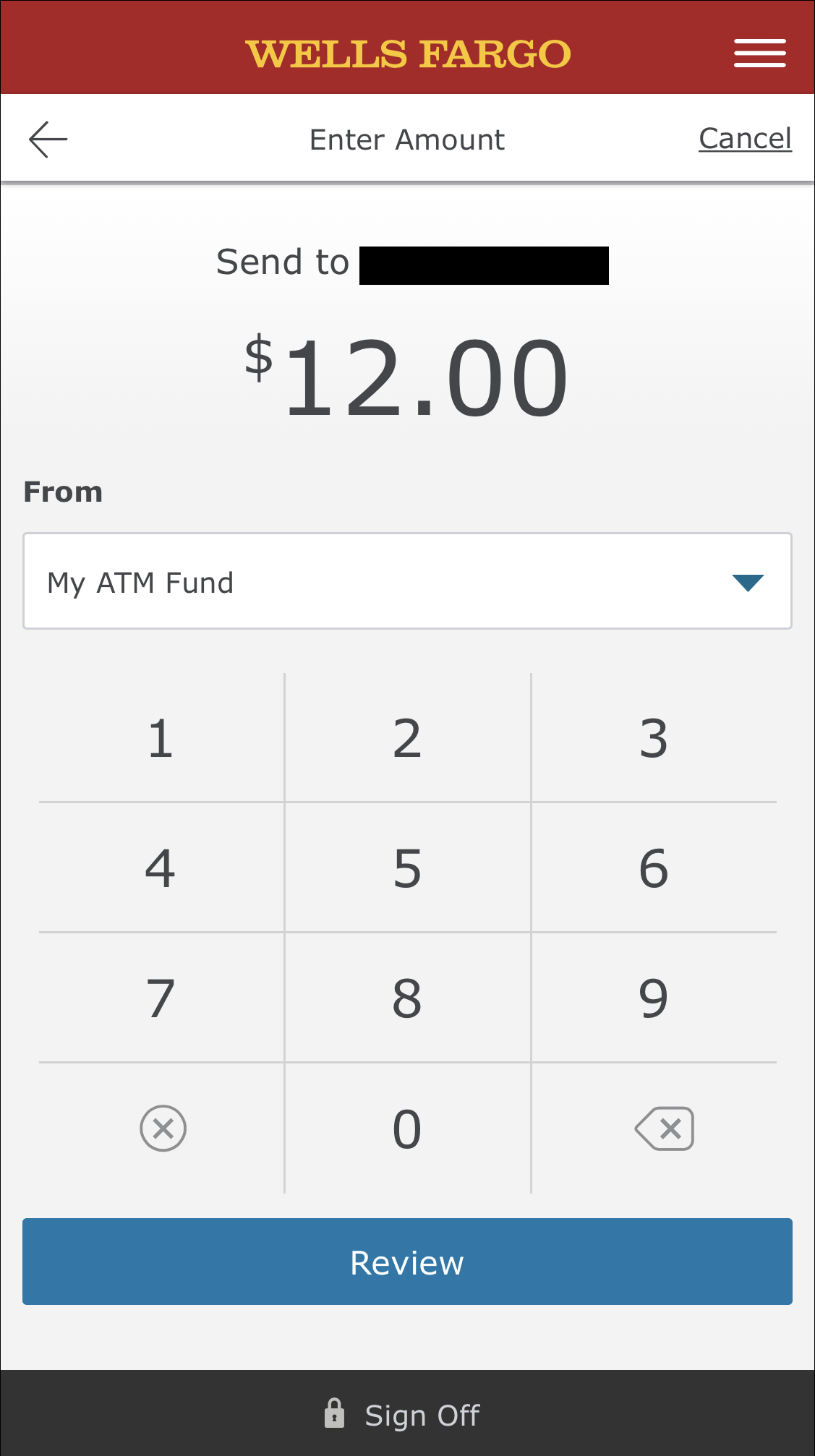 I owe my friend $12 for a movie ticket so that's the amount I'm specifying. I highly encourage you to double check this amount before you send it, because an extra "0" could be quite a hassle to correct after the fact!
Ready to proceed? Tap on "Review".
Looks good, and it would be smart to add a brief memo note too, like "payback for bar tab. thanks" or whatever else you feel is appropriate. If you even remember that wild night on the town!
You can send the money directly by tapping on "Send". Done. That's it. Or is it?
Nope, Zelle has your own security in mind too (since you don't want someone else picking up your phone and sending themselves a quick $500, do you?). The system has one more step: Verify Your Identity. This is a standard 2-factor authentication:
I have mine sent as a text message to my own mobile phone so a few seconds later I see this:
A numeric sequence appears as a text message in Messages, I enter that on this screen, tap "Submit" and, finally, for real, yes, it's done and the money's sent: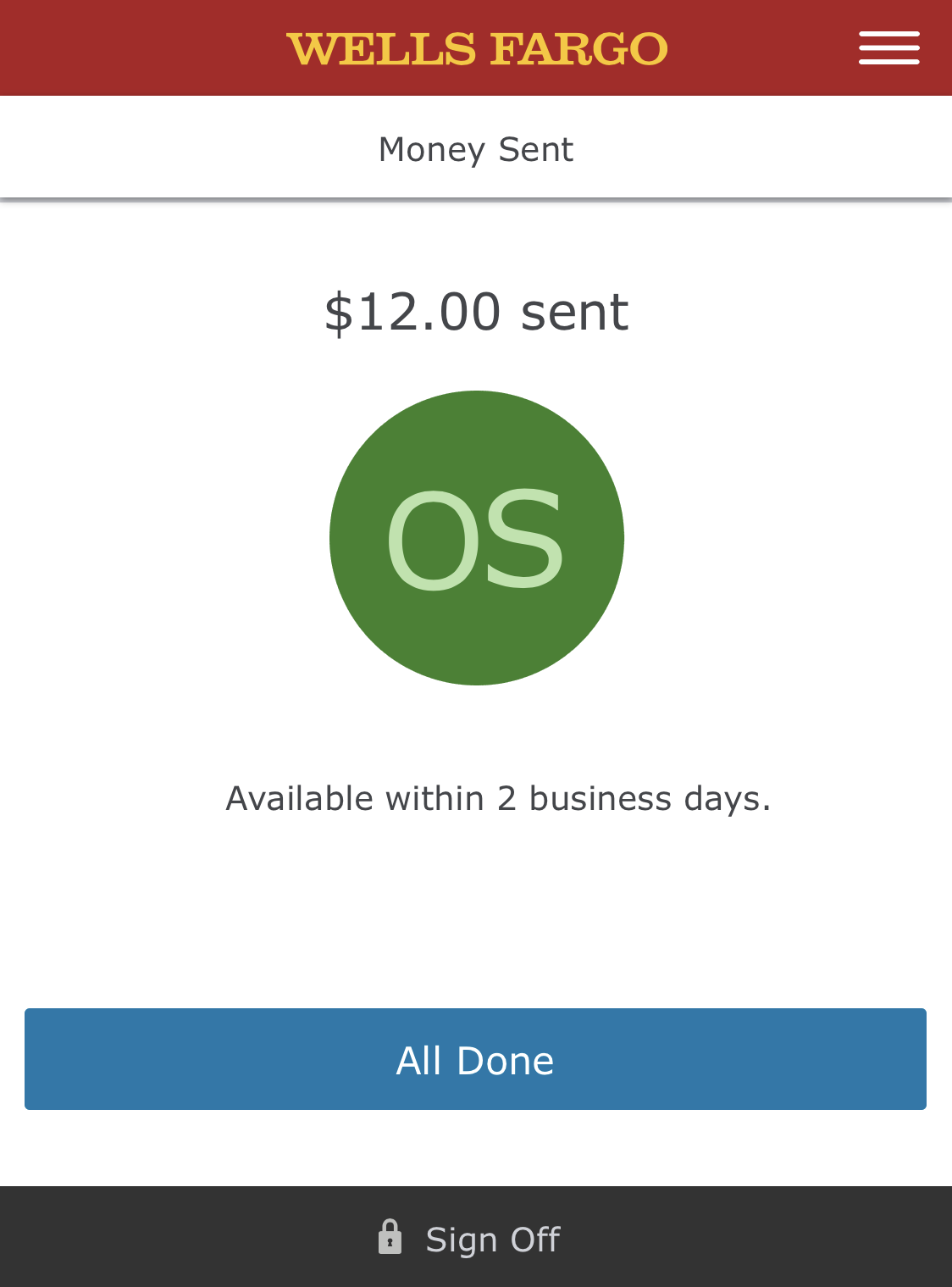 And that's how it's done. Once you do it the first time, you'll find that Zelle (or ZellePay) is pretty darn easy to work with and a nice way to settle up lunch tabs, bar bills and movie or concert tickets. Just make sure you know if your friend is working with their mobile phone or email address to avoid any reception hassles!