Okay, so one feature of my new iPhone 6s is 3D Touch and it's supposed to give me pop and peek features in iOS 9. Except I have no idea what that means. Can you explain what pop does, to start?
After a lifetime of being taught that touch screens react to touch in a binary way — touch or not touch — the Apple Watch introduced what it called Force Touch, the idea that how hard you pushed on the screen changed the response produced by WatchOS. That took a bit of getting used to when I first got my Apple Watch Sport, but eventually I got the hang of a "hard tap" versus a regular tap, though not without the occasional frustration.
Enter the new iPhone 6s with its rebranded force touch feature now called 3D Touch. Okay, we can rename it! Same idea, though, now there's more than one type of touch, it's not just "tap" or "no tap". Try it: On your phone push hard on the screen with your finger and leave your finger pushed down for a second or three to see what happens. If nothing else, you should feel the phone "shudder" with the haptic feedback engine kicking in, kinesthetic feedback that you did a force touch, not a regular touch.
Turns out that unlocks some really cool features on the iPhone 6s too, if you can figure out how to get to them. Let's just focus on the "pop" feature which offers a mini "pop up" menu while on the main home screen to make working with apps faster and more efficient.
Here's the home screen on my iPhone 6s, running on AT&T Wireless (though it'd be 100% identical with other carriers!):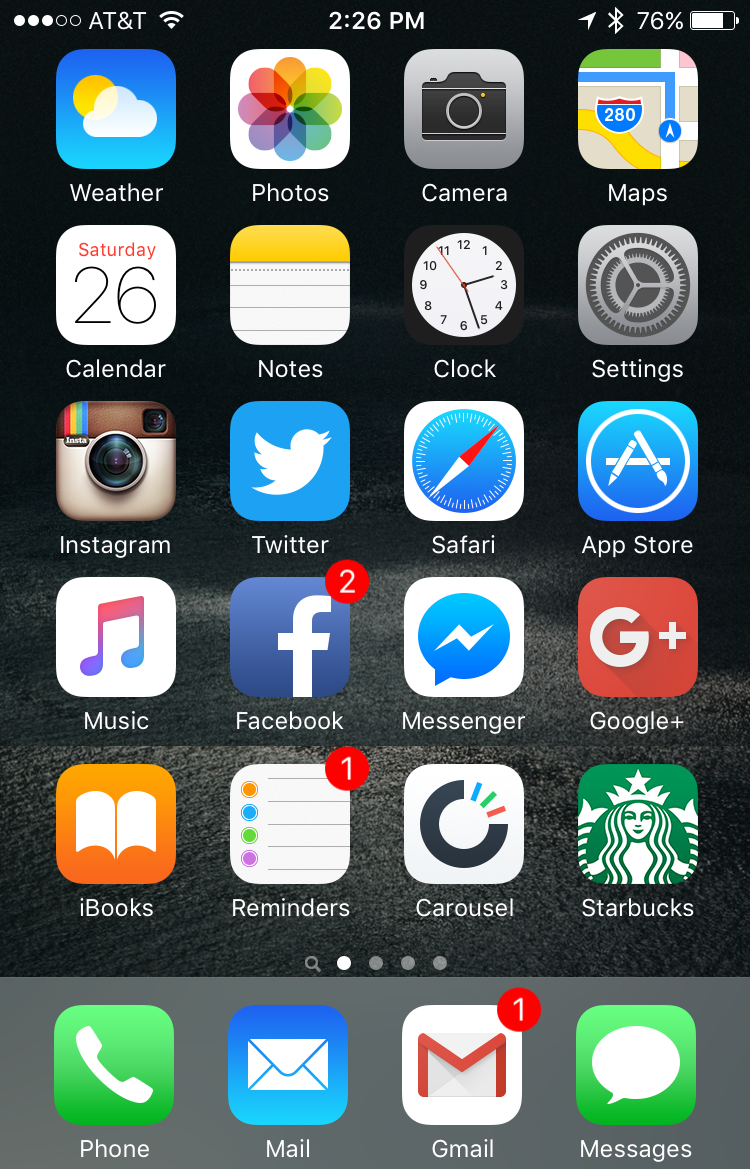 Nothing exceptional about it, no lurking icons or anything else. Just my usual favorite apps…
But if I push down hard on the Photos app icon, look what appears: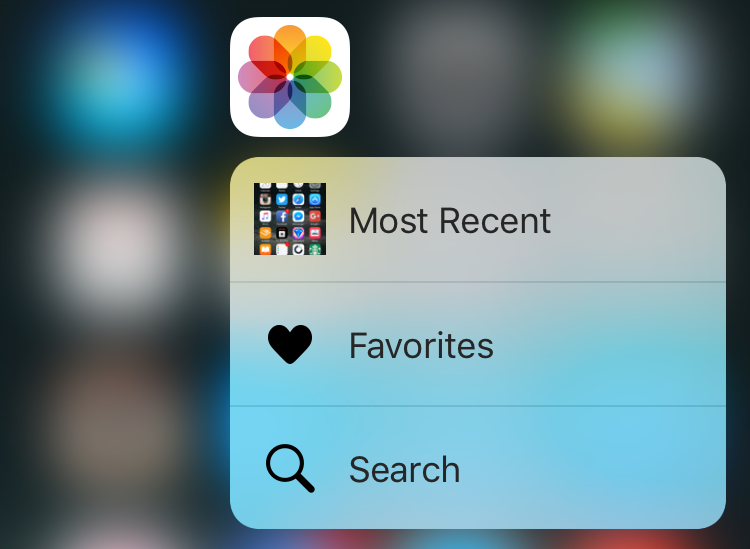 As you can see, the rest of the screen blurs while the menu pops up and offers a few easy shortcuts, shortcuts that in many cases aren't actually accessible in the application itself.
That's pop. Easy enough. So let's see how a few other apps are using this new pop feature in iOS 9 on the iPhone 6s Plus: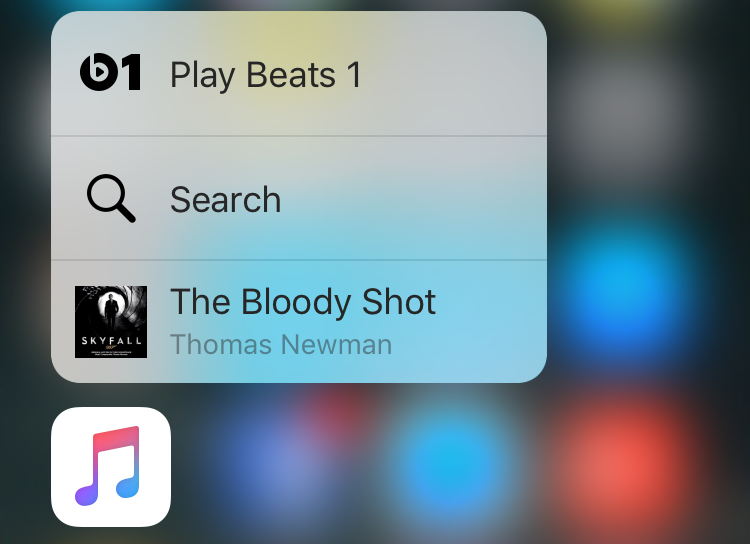 Here The Bloody Shot is the current track I'm listening to in iTunes from the excellent Skyfall original motion picture soundtrack.
How about Maps? Quite useful, actually: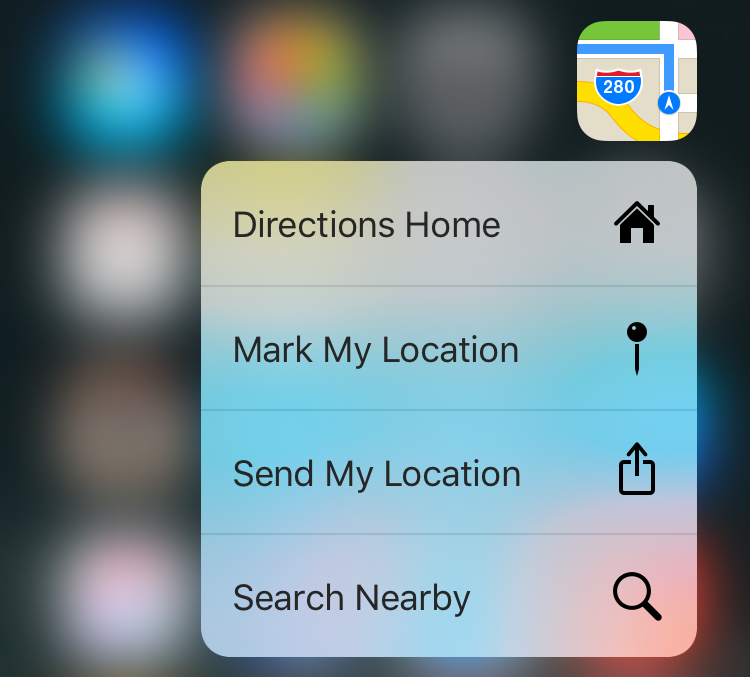 These additions to Maps via the Pop menu are quite interesting, actually, and can completely change the way you work with Maps!
Camera won't have much, right? Wrong: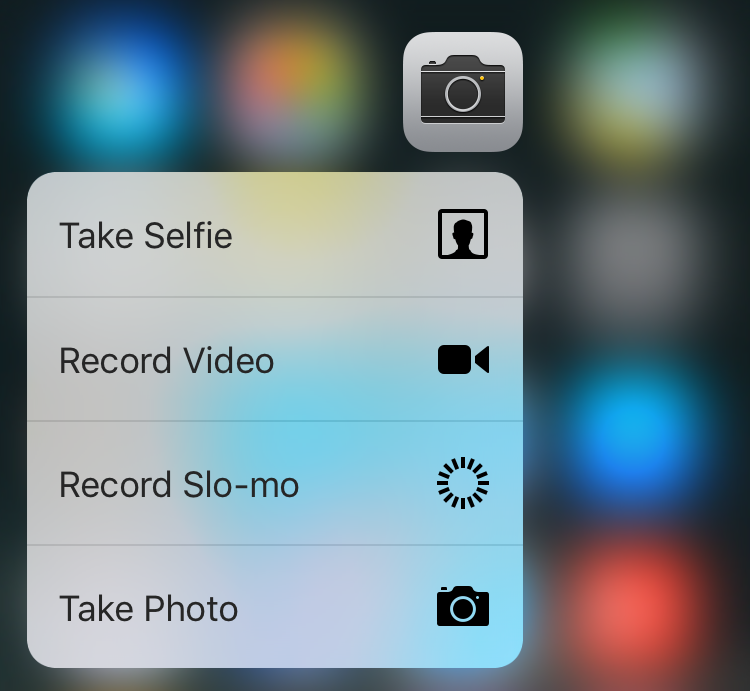 My kids are thrilled by the new Take Selfie feature. Me, not so much. But again, very handy options.
The clock has some terrific options now too: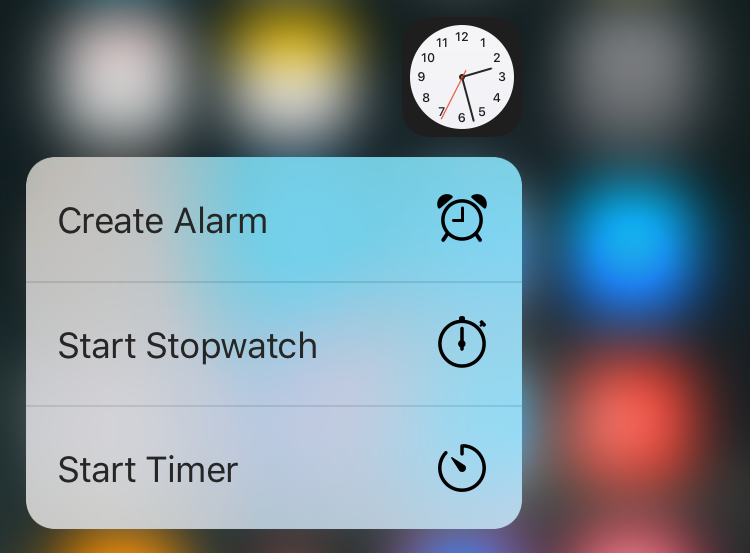 Not done yet, though! Third party apps are getting in on the fun too.
Here's what Twitter offers:
Back to Apple apps, though. Even some of the apps that get a bit less love have nice updates for 3D Force Touch.
Here's iBooks, showing two books in my queue, along with the audiobook (Seveneves) I'm enjoying currently:
And, finally, the new Apple News app offers the ability to pick a specific channel:
There are more apps I found that have the "pop menu" from a forced touch (3d touch? Not sure what to call it with the change in naming from the Apple Watch to the iPhone 6s Plus), best way to find them is to experiment with those hard taps. And more apps will undoubtedly add this feature over the next few months, so keep a sharp lookout for it!
And "peek"? Next time you're viewing your email in the Apple Mail app on your iPhone 6s, try a hard tap (and hold down) over an email message summary. That's peek. Useful, but not as useful in my book as pop, which is a great addition to iOS 9.