My buddy told me that the iPhone tracks how many steps I take in a day. Very cool. How do I get to that data, however? It'd be very handy to have a pedometer in my pocket…
The Apple iPhone does indeed have enough motion sensors within that even when the screen's off, even when you think the phone's just sleeping, it's keeping track of your activity and, yes, counting your steps. Not only that, it also calculates distance walked each day and how many flights of stairs you've climbed each day too, logging that data and giving you access to historical graphs, average counts for the last week, month and even year, etc. A solid part of your news years resolution to get more exercise, right?
Oh, and remember, here's how your own step count adds up, according to National Institutes of Health research:
| Steps | Classification |
| --- | --- |
| < 5000 steps/day | sedentary lifestyle index |
| 5000-7499 steps/day | typical of daily activity excluding sports/exercise, low active |
| 7500-9999 | likely includes some volitional activities (and/or elevated occupational activity demands), somewhat active |
| >=10000 steps/day | active |
| > 12500 steps/day | highly active |
Even cooler is that your iPhone will collect data both from the phone and from your Apple Watch if you have one, as you'll see in a moment. The problem? With some irony, it's not the "Activity Monitor" that shows you steps taken…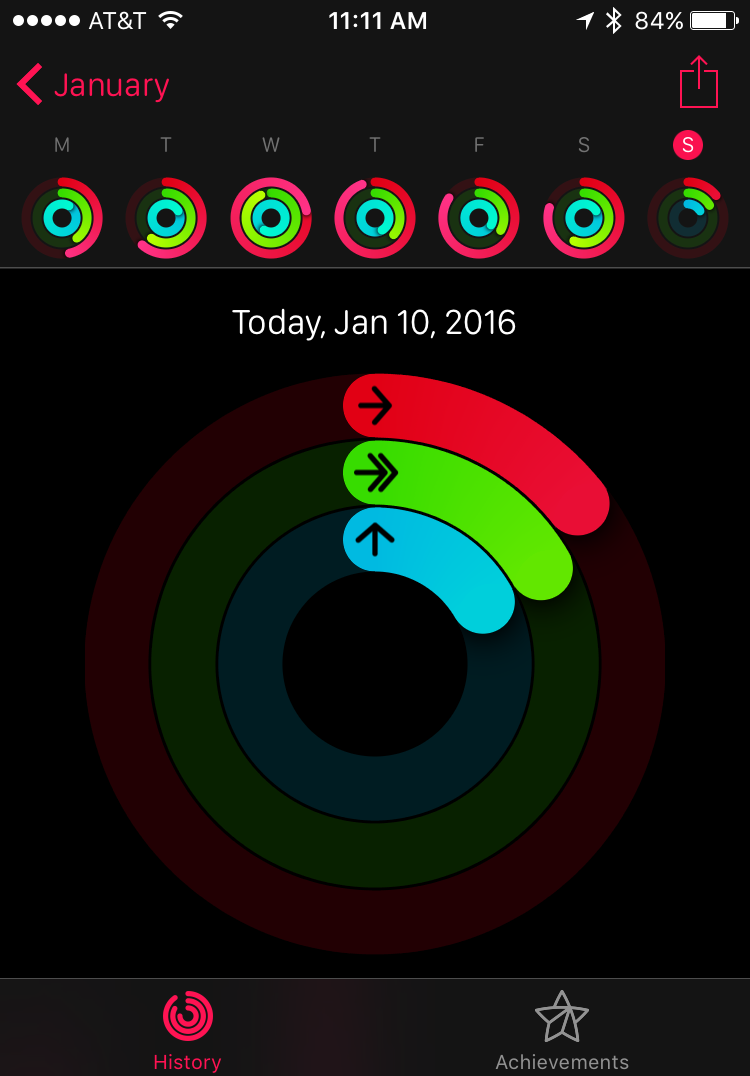 This is showing your calories burned (the red, outermost band), minutes of exercise achieved (the green band) and hours during which you've stood up (the blue band). No steps counted.
So instead, go to the Health app on your iPhone instead. It's this icon:

Tap on it and a whole world of tracking info opens up to you: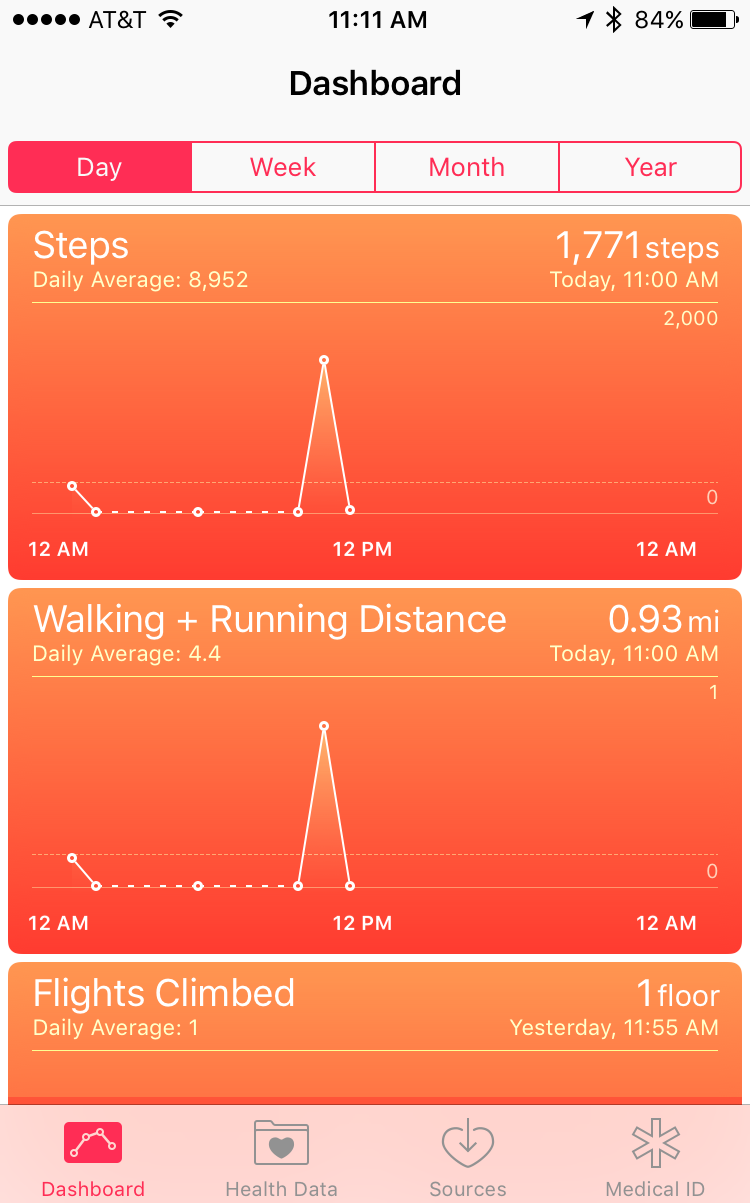 There we go. At 11:11am on the day I took this screen capture, I'd walked 1,771 steps against my daily average (for the last week) of 8,952, representing just under a mile of distance, and climbed a whopping 1 flight of stairs.
What's really cool is that you can dig in and get a lot more information out of this too, because your iPhone is recording quite a bit of data. Tap on "Steps" for example and you'll see more about how it's recording the information:
Where you'll really be impressed is if you tap on "Show All Data", so do that.
Here's what you'll have revealed: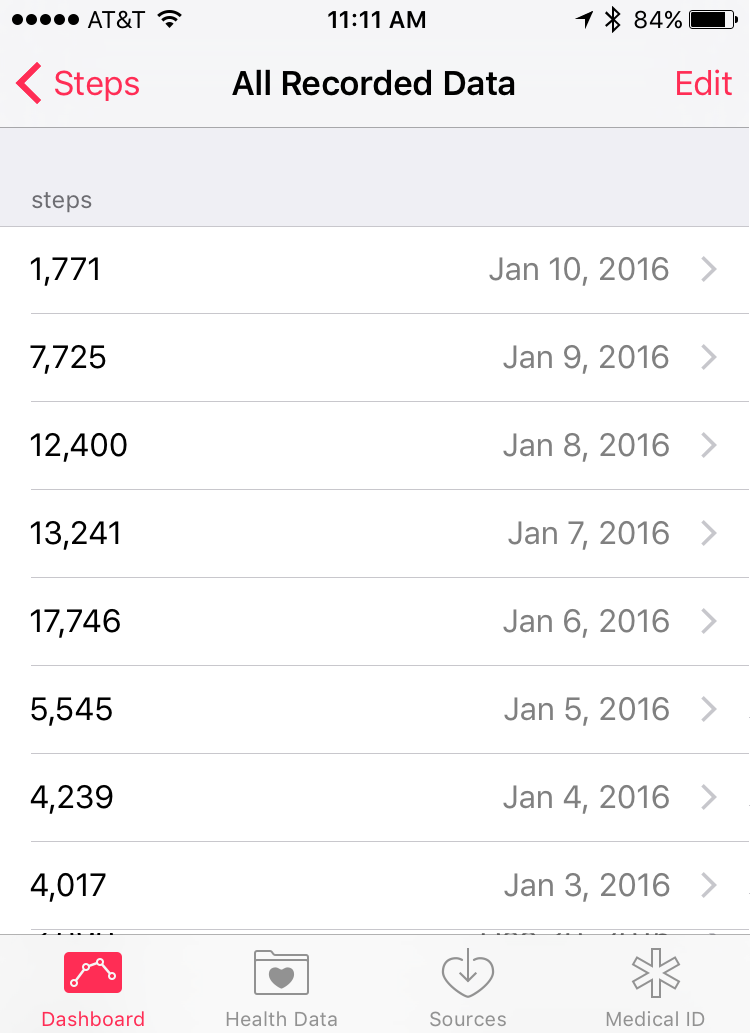 As you can see, it offers day by day historical data, showing that Jan 3 was my most inactive day at 4,017 steps and Jan 6 (while I was at the Consumer Electronics Show in Las Vegas) I walked an impressive 17,746 steps. No wonder my feet were tired!
There is a caveat, of course: If you leave your phone in the car at the gym, or in your locker, or you forget it while you're on that hike with your spouse those steps aren't going to be counted. Or are they? Tap on a date and you'll see which device reported each of the incremental step counts:
As you can see, on Jan 6, most of the incremental step count data actually came from my Apple Watch. If you don't have an Apple Watch, well, that's not going to be a data source (you can also turn off your Watch as a data source too if you're so inclined).
Nonetheless, very slick, Apple. The Health app doesn't get much hoopla in the press, but I really like knowing that it's helping me understand my daily and weekly movement patterns and helping ensure I track the right stats to stay healthy!