I have a Keynote presentation that I made for a workshop and would like to share it with my students on Slideshare. What's the easy way to upload my slides onto the site?
Slideshare is a great choice to share your presentation, and I know many people who gain additional visibility for their company or products through the LinkedIn-owned property. The first step, of course, is to sign up, but if you're already on LinkedIn — and what professional isn't at this point? — then you should find it's just a click or two.
The bigger wrinkle is that you need to prep your slides for optimal viewing on SlideShare, and since you said that you're working with Keynote on your Mac system, you've already got a problem. Specifically, SlideShare doesn't know how to read the Keynote format, so you'll need to save it as a Microsoft PowerPoint presentation.
That's not hard to do, though. Just File > Export To…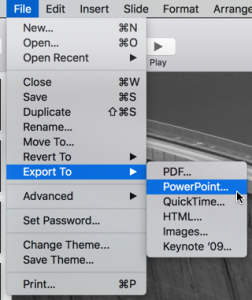 Once you've done that, you can go to Slideshare, log in, and begin.
Which turns out to be easy: There's a big orange "Upload" button on the top right of the screen:

Click on it and you'll be looking at the drop target: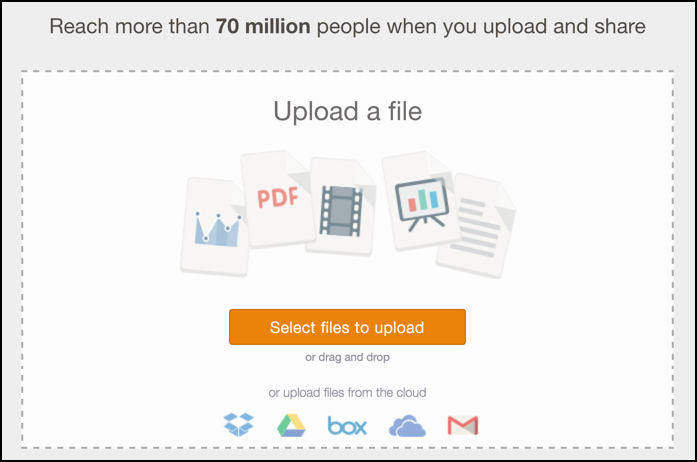 Weirdly, when you drag your newly exporter PowerPoint presentation onto the target area, it changes color rather dramatically: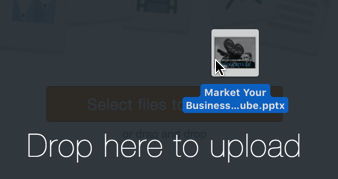 Assuming it's a known format — like PPT or PPX — the upload will begin immediately, which is good because it gives you a chance to fix, update, and add to the description to make your presentation maximally findable.
It's all fields in a form:
In the interest of being "smart" the uploader has actually done some odd things with the default title, turning YouTube into two words "you" and "tube".
All easily fixed, and, as with every other site, adding a keyword rich description and set of tags are both critical to being found by a larger audience, along with picking the appropriate category. You might want to have it be private in your case, but "Public" is easy enough, of course.
Here's what mine looked like once I finished filling in all the boxes appropriately: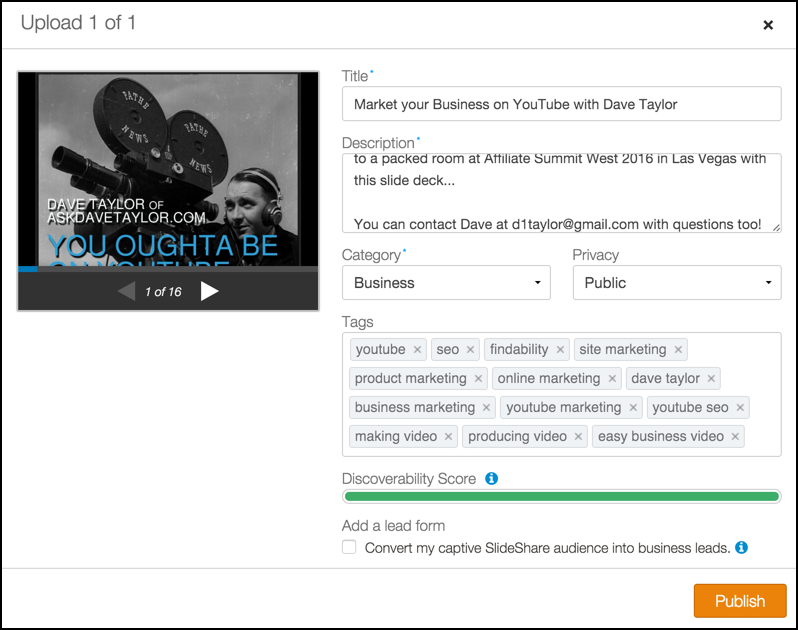 Notice that the green "Discoverability Score" stretches its full length. Good!
More importantly, notice that the tags and description are informative and cover the broad category for which this presentation is relevant. That's super important, just as "doing SEO" is important for blog posts and other pages you produce.
Uploaded? Ready to share. The home page for your newly uploaded presentation will include a handy "Share" button: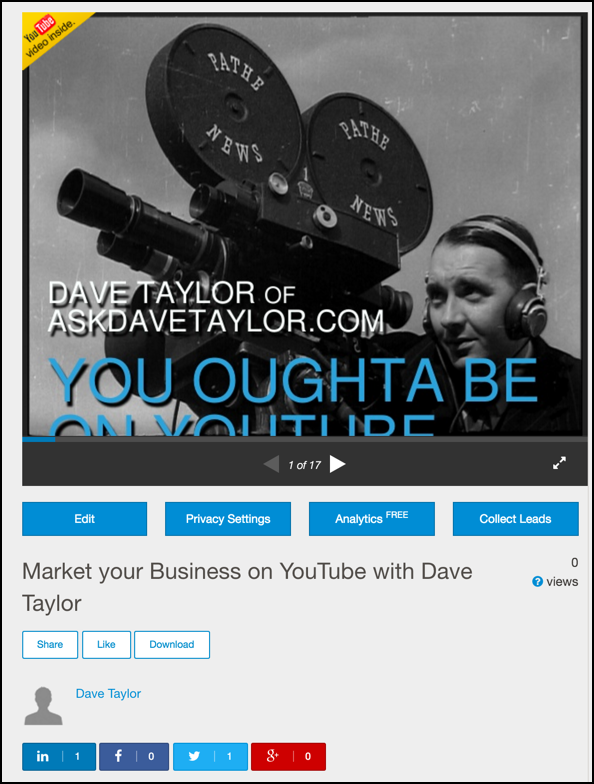 The first set of buttons — Edit, Privacy Settings, Analytics and Collect Leads — are only shown because I own this particular slideshare presentation: when you visit this same presentation you won't see these buttons (but you will on your own, of course).
Click on the "Share" button and it'll actually show you lots of options for sharing your new slide presentation on SlideShare: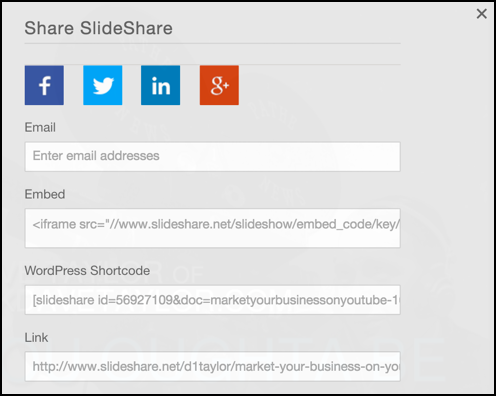 You can also check out my own SlideShare presentation by going here: Dave's Presentation on SlideShare.
Now, upload and go!