I like Instagram but I haven't figured out how to tag someone in a photo, though others have tagged me in their own Instagram pics. Can you explain?
I too am a fan of Instagram and find it a fascinating diversion, particularly when you follow people in other countries. The idea that I can peek at the daily life of people in Africa, Asia, Europe and South America is terrific and often quite engaging. That's when those foodie types who take pictures of what they're eating become far more interesting too: I often wonder "what the heck IS that on the plate?" when I catch up.
I'm also very active on Instagram and invite you to follow me: Dave Taylor on Instagram (d1taylor).
In terms of tagging people, it's a bit hit or miss because particularly if they have a common name, it can be hard to ascertain if the match you're being shown is the person you want, and those profile pics are pretty darn tiny.
Let me show you!
Here I've taken a photo of Dino Dogan, speaking at the New Media Expo in Las Vegas, and am adding additional information: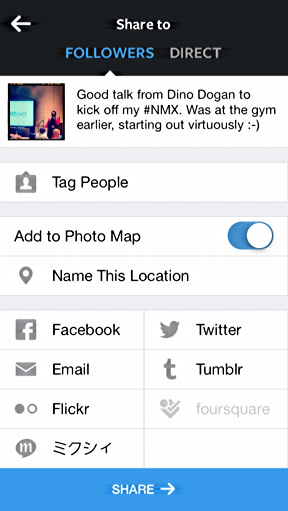 Notice my use of a hash tag in the description too — that's an easy way to help your pics be identified as part of a larger theme or category and helps you pick up more followers too!
Just below the comment is "Tag People". I'll tap on it: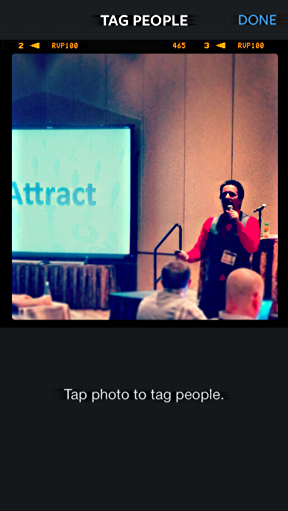 A tap on Dino's face and a tiny caption window appears: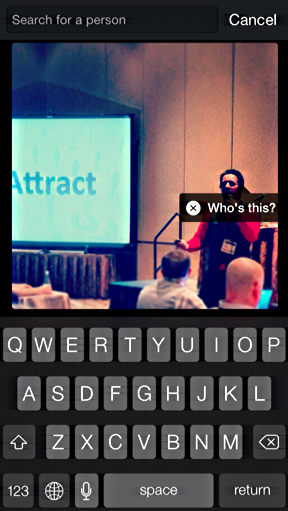 I tend to tap and drag it down to position it in a more visually pleasant spot but you might like where it is.
Once you've positioned it (and you can tag any point on the photo, btw, so I tag companies sometimes too) simply start typing in the person's name or Instagram account ID. In this case, I'll type "dino dogan":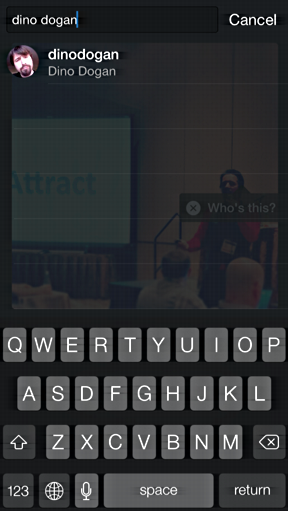 That looks like a good match as the tiny pic associated with the account (I did warn you they were small earlier, right?) looks a lot like Dino does in real life. Maybe a biiiit smaller, though.
Can't find a match? Try entering the name differently. Still no joy? Then "Cancel" on the top right and proceed without tagging.
Since I did find a match, however, a tap on the matching profile is all that's needed: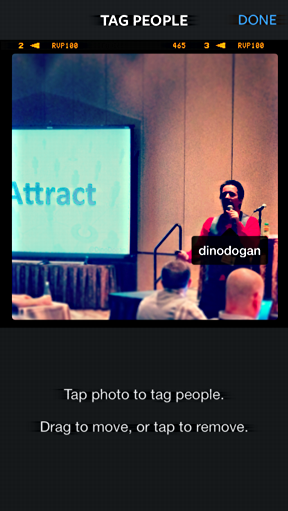 Done. Logically, I tap "Done" on the top right.
Notice, by the way, how the identification mini-window is a bit lower than it was when I first tapped on his face. That's what I mean about moving it to be more aesthetic.
At this point it's just a matter of finishing up things in Instagram and posting: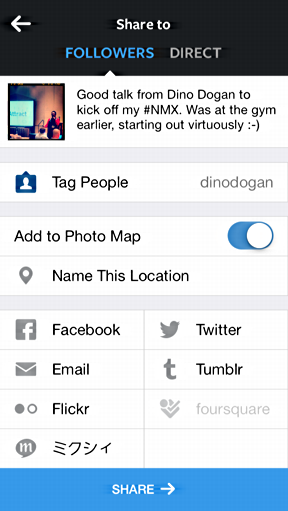 Looks good, he's tagged, and I'm ready to post.
A tap on "Share", as usual, and it's posted, with him identified in the photo:
That's all there is to it. Easy!