Psyched to have an HTC One as my new phone, running Android. Great. Except for the fact that I'm on a Mac, not a Windows system, and Android just seems to be more difficult to work with on a Mac from everything I can tell. How do I sync and back up the data on my Droid?
Uh oh, let's start with some terminology here: A "droid" is a specific type of cellphone running the Android operating system, a model from Motorola, actually. You have joined the ranks of Mac owners who are also eschewing Apple's ecosystem and the iPhone in favor of an Android phone. Cool, but, as you say, the Mac is tightly integrated into iOS, the software that's running on Apple iPhones. Go to Android and it's just a more turbulent experience.
There is a slick Android app for Mac systems you should download called Android File Transfer. It's good but it's rather bare-bones, especially if you're used to working with iTunes which is confusing and clunky, but pretty slick nonetheless.
HTC phones, however, have their own sync and backup software, a music player and file management app that's quite easy to work with — when it works. The program's called HTC Sync Manager for Mac and you can grab a copy by clicking. Or, plug your HTC One into your Mac and an icon should appear on the Desktop that, if you click it, will also take you to the download area on the HTC site.
Either way, go to the site and you'll see this:
Click on "Free Download" and it'll transfer to your Mac system.
In my experience, it's not a very big app so the transfer moves quickly. Once you're done, the browser will open up the disk image (.dmg) file:
As is common with software installs, all you need to do is copy the application into your Applications folder, which is easily done by dragging the icon as shown.
Start up the program and it'll start by scanning through all the media files on your computer. For me, that's a lot of audio books, as you can see: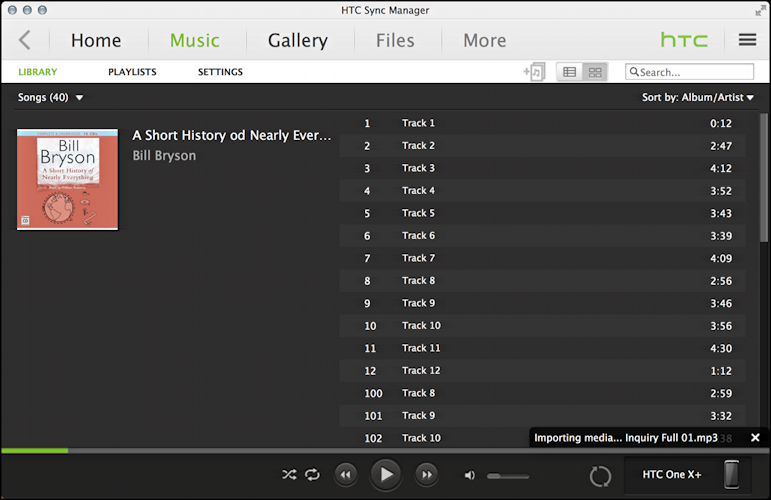 Plug in the HTC phone at this point and after a moment or two the application should see it and after another moment or two some specs show up about the device too:
You can see that I actually have an HTC One X+, a slightly smaller version of the HTC One, running Android 4.1.1.
To initiate a sync, you'll want to click on the circular arrow. Let's look closer at that:
Oh, and 'Files' is generally photos, so one really nice feature of the HTC Sync Manager is that it works directly with iPhoto, as you can see when I did a sync of the latest screen captures I'd taken on the phone, as displayed in iPhoto itself:
Experiment with the HTC Sync Manager. If you can get it to work consistently — something I have problems with — then it's a really great app and makes the relationship between your Mac and your shiny new Android phone that much smoother!
And, failing that, there's always Android File Transfer. Or buying a PC, for that matter!