I've seen the adverts and it looks kinda fun: how do I share my heartbeat and doodles with my wife given that both of us have Apple Watches?
There are three things you can share with another Apple Watch user, actually, your heartbeat, a doodle, or a tapping pattern. The latter, of course, is particularly useful if you're a nervous drummer but it actually seems perfect for when it's time to leave a boring party: one tap for let's stay, multiple taps for let's get outta here. You double-tap to your partner, then they either single tap back or multi-tap back. No-one else has a clue you've done it and you can be across the room or in different halls and it'll work just fine.
The shared heartbeat is also interesting and surprisingly intimate in practice. I mean, the only way we'd know someone else's heartbeat in normal situations would be to be touching them, so it feels like something you'd only do with someone quite close to you.
Getting it to work is a bit of magic because when someone in your contacts list also has an Apple Watch, whether it's an Edition or just a Sport, a third icon magically shows up and that's how you access these features. No special signup, no special configuration needed.
For example, here's a typical phone entry on my own Apple Watch — not iWatch! 🙂 – from the Friends screen, with the usual icons on the lower left and lower right:
Those two icons are pretty self-explanatory.
Look at a Friends screen for my pal Monica who does also have an Apple Watch, however, and a third icon shows up:
Tap on that icon and, well, you get a blank screen:
Uh, um, now what?
Don't panic. Tap on the "i" in the circle on the lower right and all is revealed:
Ah, that makes more sense. So if you move your finger around it's a sketch, if you tap on the Watch it's a tap or tap pattern, and if you hold two fingers to the screen it'll send your heartbeat to the other person. Easy enough, actually!
Assuming your wife is in the game too, she can then send you sketches or doodles, which look like this: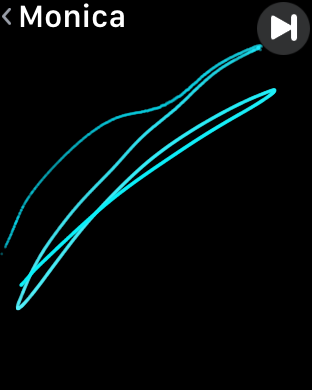 or send her heartbeat, which'll look like this, and be animated (with the taptic engine on your watch ensuring that you feel her heartbeat too) in a beautiful way:
I'll be the first to admit that none of these are reasons to buy an Apple Watch and none are showstopper amazing features, but in practice, it's surprisingly fun and intimate to be able to share smiley faces or a heartbeat with someone else via Apple Watch. Set it up, give it a try, and let me know if you two find it fun!