I have a bunch of photos I want to share with fellow parents that I have saved on Google Drive. What's the easy way to share them?
Google Drive is one of a dozen or more different cloud storage systems that allow you to not only have secure storage of gigabytes of your own data, but also share either individual files or folders full of files with friends, colleagues and family. Darn useful, actually, and the situation you outline is a perfect example of where it's a win, when there's just too much data to directly email people. Plus even if electrons can be recycled, it's better to minimize your use of them, right? 🙂
The thing is, as with much that Google does, Google Drive doesn't have the most intuitive interface.
So let's have a look, shall we?
Here's a typical view in Google Drive (Web interface):

To share the "6th Grade Docs" folder, I'll need to select the folder by clicking on it once. Not twice, because that'll actually open up the folder and show me the individual files. Not good. Back up and try again, if needed.
Now with the folder selected, click on the chain "link" button immediately below the magnifying lens icon: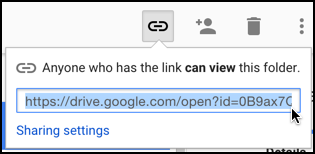 That's it. Really. Copy and paste that link into the email or other communications method you prefer.
But, of course, there's more too. Let's have a look at Sharing settings to see what else is available: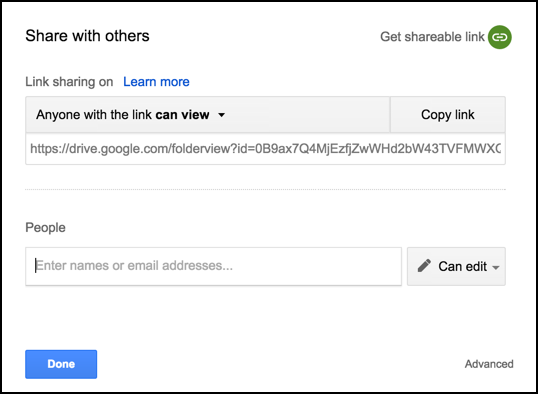 See where it says "can view"? You can actually choose other options here too, like "can edit", if you're so inclined. In fact, most of the time I find that read-only is exactly the right permission for things I share.
Notice on the second portion that you can allow certain people to edit, while having the default be read-only (e.g. "can view") too, easily enough. Nice.
But what if you click on Advanced on the lower right? Here's what you find:
You can even make additional people owners if you're so inclined. Lots of settings to monkey with.
Oh, and one more! Click on Change… and you can fine tune things even further:
So that's the scoop. You should be able to make it all work from here, I expect!