I have used Yahoo Mail for many years and have no desire to switch to Gmail and have Google scan all my email. But I do want to set up an email signature like my friends have in Gmail. Is that possible in Yahoo Mail, and if so, how do I set it up, Dave?
No question, if you're using Yahoo Mail you're probably an old-timer when it comes to Internet usage. I can remember when Yahoo first showed up – as a Web site to organize sumo wrestling Web site bookmarks, believe it or not! – and it was one of the very first to innovate with the idea of Web-based email. Sure, you could use the AOL program for email, but actually managing it all within a Web browser? Definitely innovative, even as sites like Hotmail offered similar features.
All these years later, Yahoo's done a decent job of keeping Yahoo Mail updated, and there's even a Yahoo Mail Plus service that offers a lot of cool additional features and capabilities, along with removing ads and offering you lots of storage space, all for a modest fee. More important for this discussion, however, is that Yahoo Mail does indeed support adding a signature to all email you compose in the service, and even lets you add rich formatting, colors, and clickable links! Let's have a look…
BASICS OF YAHOO MAIL MESSAGE FORMATTING
First off, let's have a baseline. If I click on "Compose", here's the default email composition window: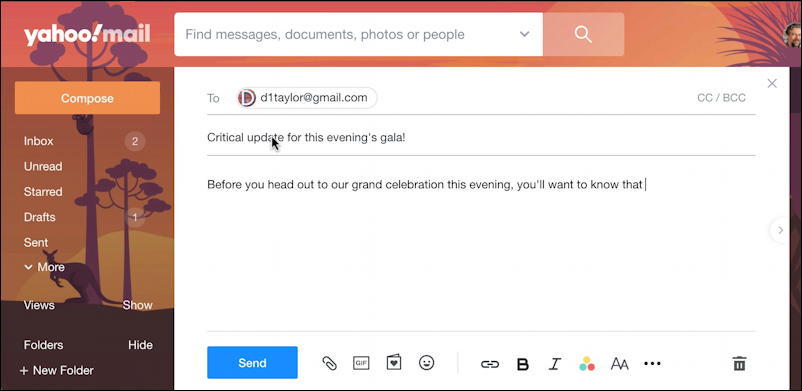 Entirely functional, but no signature in sight. It is worth a super quick tour of the formatting features in the Ymail compose window while we're at this point, however, so here's a closeup:

Starting with the lower left, the paperclip lets you add attachments, GIF offers a library of animated GIFs you can add, the heart adds fancy layout formatting "stationery" options, the smiley is emoji. The chain link is for adding URLs, B for bold, I for italic, the color dots for font and background colors, AA is font size and the ••• brings up the expanded toolbar options on the top bar. Those are, left to right, paragraph formatting (left aligned, centered, right aligned), then bullet lists and numbered lists, indent paragraph or outdent paragraph, strikethru (which is very rarely used), and a button to switch from the rich text formatting to basic ASCII text if needed.
Hopefully, you already knew all of those functions, but now you know, you can add quite a bit of formatting sophistication to your messages if you're so inclined. You can't guarantee the recipient will be able to see every format you apply, but odds are pretty good nowadays they will.
Okay, back on task!
CHANGING YOUR YAHOO MAIL SETTINGS
Click on the word "Settings" on the top right of the Web page and you'll get the summary Settings menu: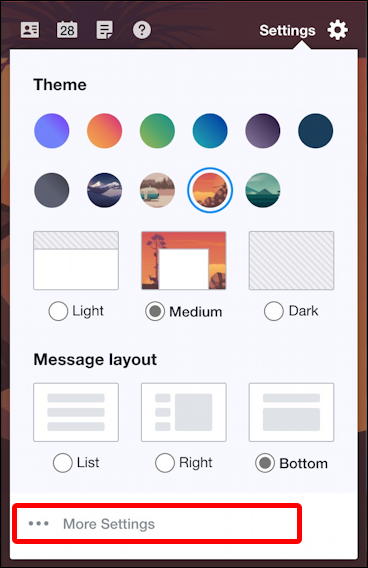 It's actually a bit longer than that, but it's a fast and easy way to change themes, layout and a couple of other features. That's not what you want, however, so click on "More Settings" at the bottom of the menu, as highlighted above.
Now your full browser window will offer quite a lot of settings and options. On the left side find and click on "Writing email".
There's a lot going on here, but most especially notice that there's a "Preview Signature" box on the top right. That's where you can see the end result as you add your own signature. Also note that the compact compose window is a feature limited to Yahoo Mail Plus subscribers, hence the tiny "y!+" graphic.
To create your own email signature, you'll need to enable that feature:

Click on the switch icon to the right and you'll suddenly have a text input box where you can enter your desired signature: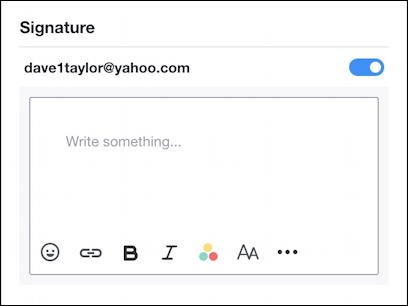 Excellent. Notice the toolbar along the bottom is rather abbreviated compared to the main compose view, but it's still good enough for you to create a fun and lively ymail signature!
CREATE YOUR OWN YMAIL SIGNATURE
Simply start typing into the input box, occasionally glancing at the sample display on the top right that shows how it'll look. I have a standard signature I use, so that'll be my starting point: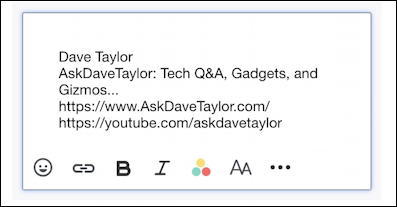 But why not have some fun? First off, I'll select each of the two URLs and make sure they're clickable by choosing, then clicking on the chain link icon. A tiny window pops up: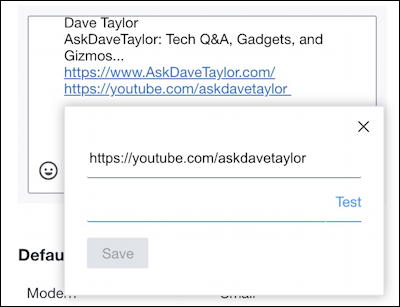 I can also select a word or phrase and change colors, bold, italic, or even add a background "highlighter" color with the three-color-dot icon:
All looks good. Close the Settings window to go back to your email home page listing. A click to compose a new message and the new signature shows up in all its formatted glory:
Not sure I'll keep it – that highlight might get a bit annoying – but now you can see how to set up and format your own Yahoo Mail email signature. Go to it!
Pro Tip: I've written quite a bit about how to work with services like Yahoo Mail! Please check out my computer basics help area for more useful guides while you're visiting. Thanks.