How do I rotate a photo in Windows 10 before I upload it so it's not published with the wrong orientation?
A lot of social networking sites have photo editing tools you can access once you've uploaded a photograph or picture, but most of the time it's easier to fix the image while it's still on the computer. And here's the thing about Windows 10: There's a rotation option for photos right on the contextual menu a right-click produces on the image file! Really, you don't even have to launch an app of any sort, though, of course, you can.
Then again, your icon preview might be too small for you to see what orientation it is, as I have found sometimes. So let's see the two different options…
First off, a right click on a photo file produces this menu in Microsoft Windows 10:
As you can see ,"rotate right" and "rotate left" are easy enough to access. Try it and instantly the photo is rotated and its tiny icon is rotated too.
Buuuuutttt… let's say you'd rather see things bigger to ensure you do things right. Okay, choose "Open" from the menu or just double-click on your photo.
The new Win10 Photos app opens up:
And you can see that the photo is indeed at the wrong orientation.
Click on the "…" button on the far right and all the icons will be labelled, along with the content of the "more" menu:
And there's the Rotate option, the circle with the arrow wrapped around it.
Makes sense. One click later: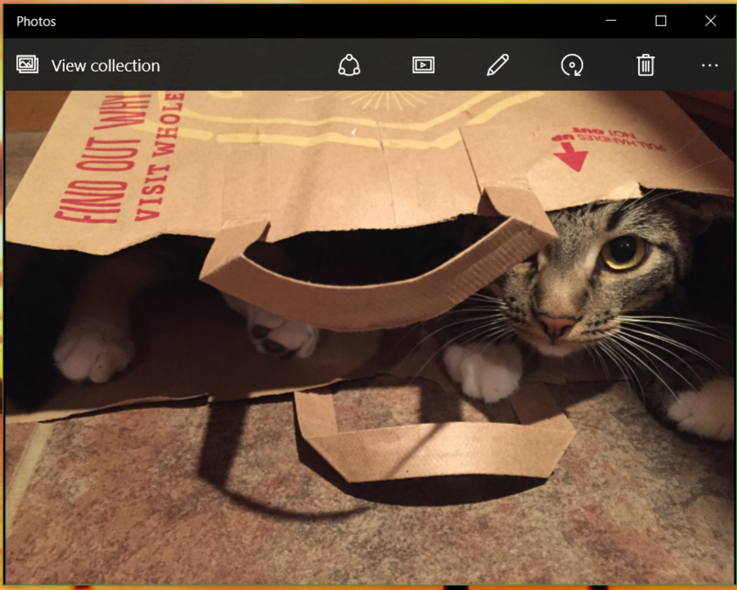 That's all there is. In fact, as a modern app, there's no need to click on a "Save" button as it's already saved.
Next step, uploading it to the social media platform of your choice.