I never noticed before, but my Windows 10 computer actually has my ex's name setup. How can I change its name to ANYTHING else?
Oh boy, sounds like a dilemma if your ex setup your computer and gave it their name. Forevermore you're doomed to see "SUSANS-PC" or "BIGMIKE-DELL" or similar. Forever. Well, just kidding, it's actually not too difficult to change the name of your computer in Windows, particularly Windows 10, though for most users you rarely see that name unless you're hooking up to Windows-based network services.
For most people, the computer's name was set up during the initial install and configuration and actually is more likely to be some boring vendor generated name like "HOME-R43553" or similar. In both cases, it's nice to change the name to something you actually like, even if you're unlikely to see it in daily use of your PC laptop or desktop system. Heck, if you really hate your ex, maybe you can have a name that involves something bad happening to them. 🙂
Okay, more seriously, it's good to have unique names for each device on your network, whether it's a tiny home local area network or a larger school or business installation. Usually these names are all uppercase and the default names seem to involve two words separated by a hyphen. Let's have a look!
To start, you might think that you simply do a Cortana search for "rename pc", but that doesn't work so well: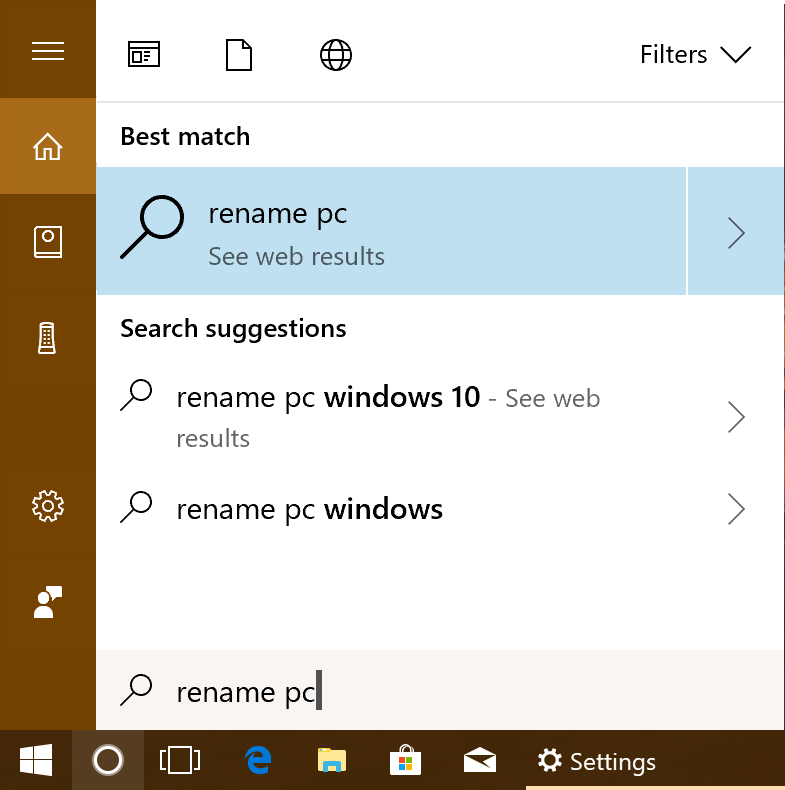 Instead, I'll give you the secret query: "about". Turns out that the about page within settings includes the link that lets you easily change the name of your computer:
As you can see, type "about" and Cortana suggests "your PC". That's the one. Click on "About your PC". Now there's a good amount of information of value that's shown: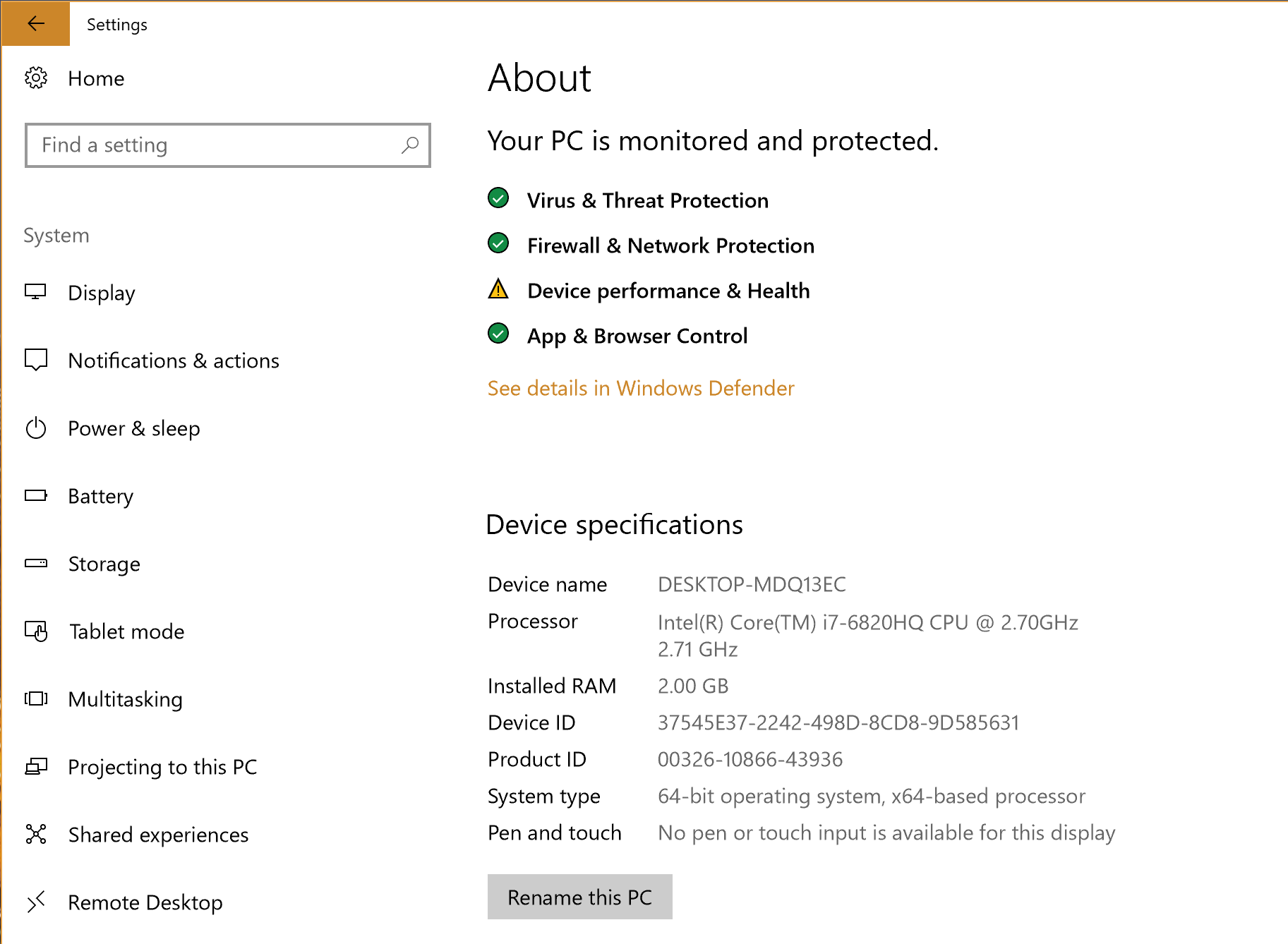 Notice that I need to figure out why "Device performance & Health" has a yellow warning symbol, but we're interested in the lower section. In fact, my PC has a pretty dull name: "DESKTOP-MDQ13EC". It might be descriptive of something technical, but it sure isn't a fun name and I'm never going to recognize it in a listing.
To change a Win10 PC name, click on… you guessed it! … the grey "Rename this PC" button. Now you'll be prompted what to do:
As the prompt suggests, Windows PC names can be a combination of letters, hyphens and numbers. This means that "I hate John" won't work (no spaces allowed) and "<3cats<3" won't work either (no punctuation). I'm going to use a simple, short name that I'll remember: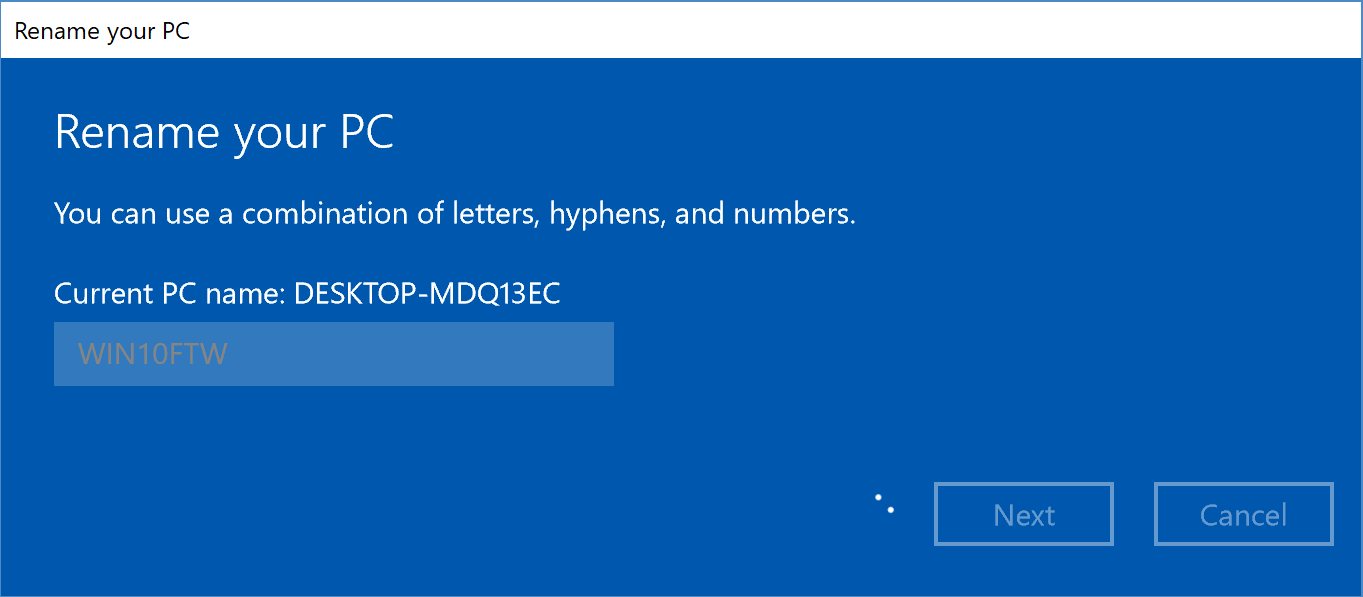 Can you see in the grey what I've entered? "WIN10FTW". A click on "Next" and the system takes a few minutes to change the name in various config files. Eventually, it shows you this:
I suggest clicking or tapping on "Restart later", then promptly closing up all the apps you have running to make sure you don't lose anything, and restarting your PC. Might as well do it while you're thinking about it, right?
Once you've restarted, not much changes, but you can now do a Cortana search for "computer name":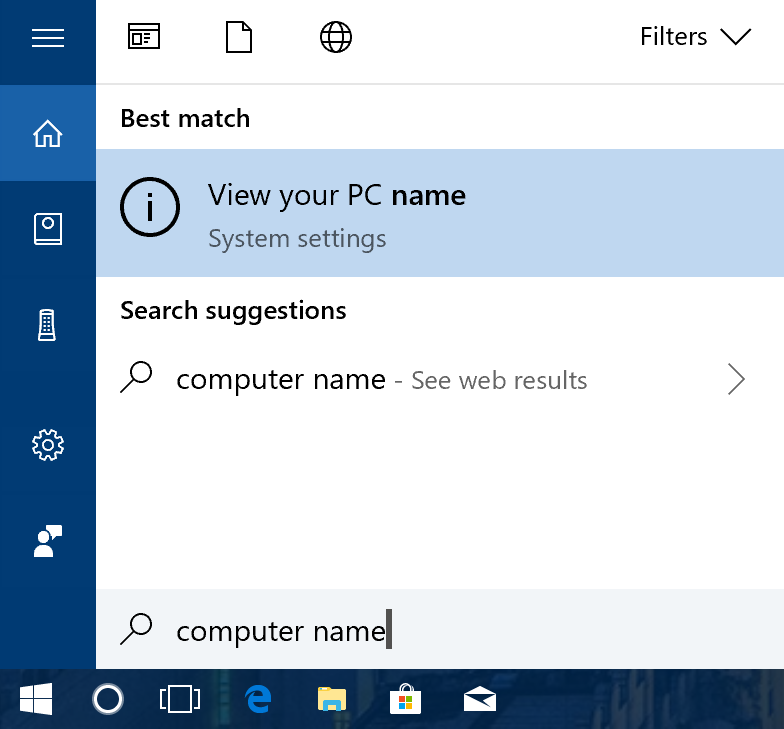 Interestingly, the "View your PC name" match actually takes you to the exact same About page. But this time, you know where to look and the Microsoft Windows 10 system name is the one you specified!

And that's how it's done. Now, go rename your PC!
Pro Tip: While you're here, why not check out all the other Windows PC help we have on the site? Thanks.