I'm tired of COMPUTER1 and want to have a more creative name for my Windows 8.1 system but my girlfriend said I have to reinstall Windows to be able to rename the system. Is that right?
Uh oh, your girlfriend is offering up incorrect information, I'm sorry to report! You can rename your computer to your heart's delight, whether you're running Windows 8, Windows 10 early release or even Windows XP. They all support renaming because it's a pretty easy thing and important too.
I could show you the convoluted way to navigation through the Settings to find the spot where you can rename your Win8 laptop system, but that's making it harder than it need be.
One great thing about Windows 8 — perhaps to compensate for the weird start screen — is that the search capability includes a rich help system for the OS too, so my first step is always to simply search for what you want to do within the search charm.
Like this: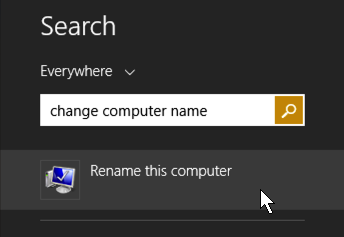 You can see, the very first match is what you want: "Rename this computer".
Easy. Click on it!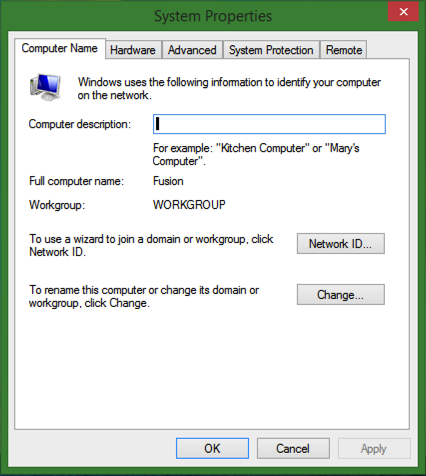 Don't get hung up on the computer description, as I don't know I have ever seen a computer where there was an actual description. Instead you want to click on the "Change…" button adjacent to the text "To rename this computer or change its domain or workgroup, click Change."
So, um, click on "Change…"
You can see that the current name for this particular computer is "Fusion". It's time to change this too, which is accomplished by typing in a different name in the first text area:
LEVIOSA is a good name, right? Certainly if you're a Harry Potter fan. 🙂
To have it set as the new system name, click on "OK".
Then it gets a tiny bit confusing. The computer will tell you that it needs to restart:
But when you click "OK" you're back looking at the previous window. Sort of:
See what's different? It's at the bottom: Changes will take effect after you restart this computer.
Click on "Close" on the bottom then yet another window will pop up:
Now, finally, click on "Restart Now" (if you've saved and quit every other program) and…
Great. Done. When your system fully restarts it'll have the new name. No OS install needed!