My buddy who has a Pixel 5 showed me how he can set it up so that it listens and identifies songs even while the screen's locked. I'm jealous! Is there any way to do something similar on my iPhone with Shazam or some other music ID app?
If you're constantly asking "what song is this?" and wanting to add them to your playlist, the ability of modern smartphones to "listen" to the current music and identify it is fantastic. Radio, in-store music, even songs played during TV shows or movies are fair game for this technology, as long as it can hear and get a good audio snippet. The premiere program offering this feature has always been Shazam and when it appeared people were pretty delighted with its listen and identify ability.
Turns out a few years ago that Apple bought Shazam and its features are now rather neatly integrated into iOS14 and your iPhone. You just have to turn it on. Unlike that nifty Pixel feature, however, there's no way currently for your iPhone to ID songs when it's locked or not in use. But there is a pretty slick background app option…
USING SHAZAM FROM THE CONTROL CENTER
The easiest way to work with Shazam is to set it up in your Control Center on your iOS14 device. Then it's one tap away to identify a song you can hear, which is pretty slick. You'll only have to set it up once, so let's just go through the steps. Start in the Settings app on your iPhone and swipe down to find Control Center: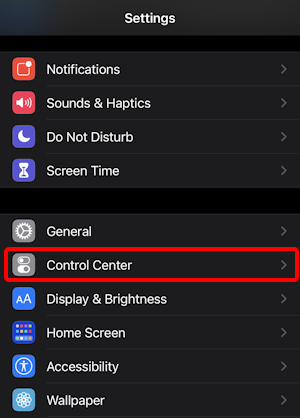 Once you tap on that you'll find that the top portion shows you which features you've enabled for your own Control Center (the Control Center in iOS14 is what shows up when you swipe towards the center from the top right corner of your screen). Mine are mostly the defaults: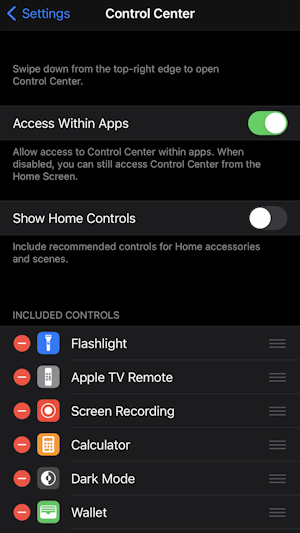 I use the Control Center all the time, and encourage you to learn how to quickly enable features or switch between functions by using it too. You can see some of the basics shown, like Flashlight and Screen Recording (one of my favorite features, actually), but swipe down further and a huge list of additional controls appear:
We're looking for the one called Music Recognition but you can try enabling a couple of others while you're at it too, if you want. I added Text Size and Voice Memos too by just tapping on the little green "+" in turn.
If you're so inclined you can now tap and drag to reorder the buttons on your list: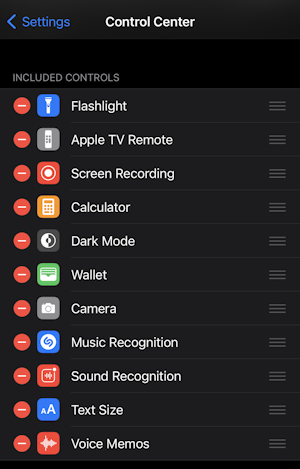 Or you can just roll with the order they've been listed.
Either way, once you're ready, it's time to swipe inward towards the center of your screen from the top right corner. Your Control Center shows up with the new buttons enabled: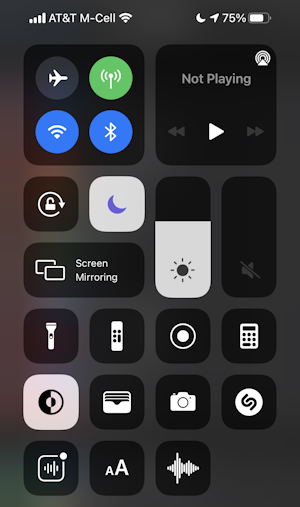 There are a LOT of different controls here, so it's okay to be a bit overwhelmed. 🙂 Quickly, the top left foursome are airplane mode, cellular access (the green button), wifi and bluetooth. You can tap and hold to burrow into those features too, as with many controls on the Control Center. Experiment! The top right box is tied to the Music app. Then it's rotate lock, night mode (enabled, which is why it's grey), Screen Mirroring below that, brightness and volume sliders (tip: If you have AirPods Pro, tap and hold on volume for a fast way to access the various ANC features). Finally, the individual controls are <deep breath> flashlight, AppleTV remote, screen recording, calculator, then, next row, dark mode (enabled, so it's grey), wallet, camera, Shazam (the one we want!), sound recognition, font size and, finally, voice memos.
Quite a range, eh? For our task, however, it's Shazam – music recognition – that we want to utilize, so tap on the sort of interlocking "S" symbol in the white circle. That's it. Now it's listening to try and identify the current song, as shown on the very top:
It doesn't say "listening" but the Shazam control will change color to let you know what's going on. It does a fantastic job of identifying music and after a few seconds will pop up a little notification of album, artist and song:
Yes, I'm listening to some mellow flute jazz from the incomparable Hubert Laws, as it's identified. Here's what's really cool, though: Tap on the notification and you jump directly to: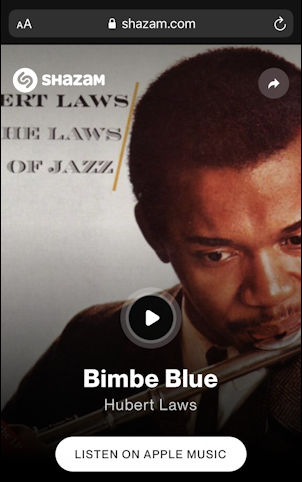 If you download the Shazam app, however, you can do something even cooler than identify the current song…
IDENTIFY SONGS IN AUTO MODE WITH SHAZAM
The Shazam app can identify songs exactly as it works in Control Center, but it has a nifty hidden feature: Instead of just tapping to "listen", tap and hold and the Shazam app will switch into automatic ID mode, known as "Auto Shazam":
Now you can switch back to another app if you want because Shazam is listening in the background and will build a playlist based on what you're hearing. Switch back to the app a while later and the "0 Shazams" on the lower right will have incremented. Tap and drag the info window upward and you'll get this rather confusing display:
The important thing here is the top option "Shazams". Mine shows 6 songs identified. What are they? The app has created a handy and informative list: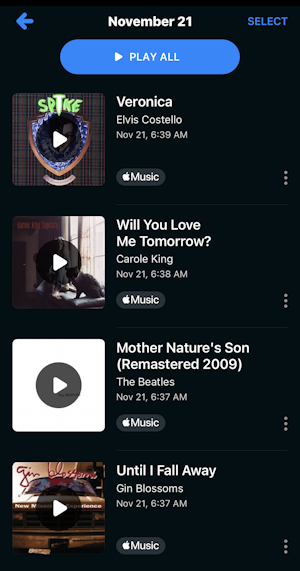 If you have an Apple Music subscription, you can repeat all the songs you heard by simply choosing Play All but even if not it's pretty darn cool to have this handy list of all the songs you've heard. Try this feature during the next movie you watch or when you're in the car and your radio station is just nailing it with great tunes!
Neither are quite as cool as the Pixel feature on the lock screen, but between the one-tap Control Center song identification and Auto Shazam in the app to listen and build a playlist over time, your iPhone can definitely do more with songs than you may realize!
Pro Tip: I've been writing about the iPhone since it first launched. Please do check out my extensive iPhone help library for tons of additional tutorials while you're visiting. Thanks!