I'm running Linux on an old PC rather than suffering through Windows and it's going well. Except I would like to pair my new Bluetooth earbuds with the system so I can listen to streaming music. What's the easy way to pair Bluetooth with Ubuntu?
The main Linux distributions have done a great job of adopting all the tech, major and minor, from other operating systems. Certainly, at this point, there's not much you can't get to work on a Linux system if you're so enthused, from streaming video channels to digital cameras, smartphones, and much more. Part of that is also Bluetooth and the Bluetooth support in Ubuntu Linux is pretty smooth and easy to work with. Honestly, the most difficult step is knowing how to get to the Bluetooth controls in the first place.
Once you're paired, your audio device can serve as input or output device, depending on what you have. Bluetooth keyboard or mouse? Check. Bluetooth microphone? Check. Bluetooth speaker, headphones or earbuds? You guessed it, Ubuntu Linux can manage that too without breaking a sweat. Let's see how…
ENABLE BLUETOOTH ON YOUR LINUX SYSTEM
The first step is to enable Bluetooth. This is easily done in the Settings app, which itself is easily reached from the tiny black triangle on the top right corner of your (logged in) Linux screen: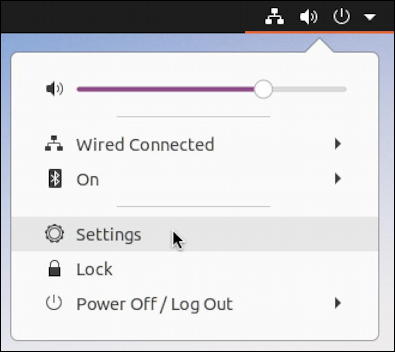 A close look at this menu will reveal that Bluetooth is already turned on, though you have to know the icon (and recognize a really tiny version of it) to realize that. It's the "On" just below "Wired Connected", my network status. No worries, though, just click on "Settings" to open up the Settings program. Then find "Bluetooth" on the left side menu: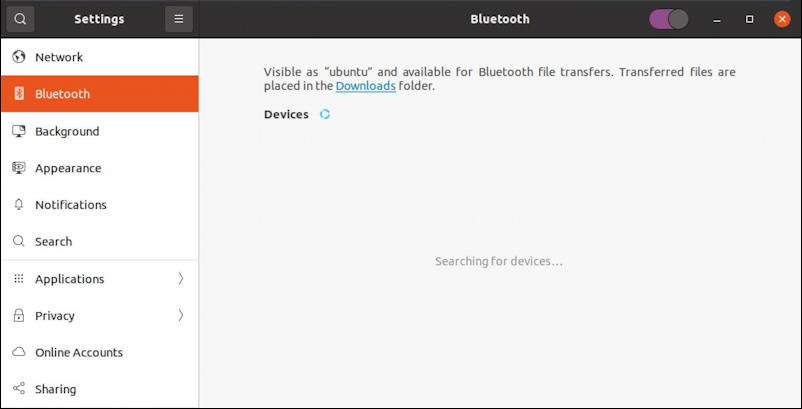 Now you'll need to turn to your device…
HOW TO PAIR A BLUETOOTH DEVICE WITH LINUX
I'll be using the amazing Sennheiser Xelento Wireless earbuds for this demo but whatever device you have, it's time to put it into "pairing" mode. Usually, it's done by pushing and holding the power button for a few seconds. Once you see something that indicates it's in the right mode – often alternating blue and red flashing lights or auditory feedback – then switch back to your Ubuntu system; the device should show up after a few moments:
Click on the entry to request pairing.
With mine, there was a 6-digit PIN displayed on the Linux screen for a moment or two, suggesting the system was confused about the type of device I was pairing, but it went away again (since there's no way to enter a PIN on a pair of earbuds!) and it connected just fine…

At this point you should be done and good to proceed listening to music, the audio from a favorite stream, or even utilizing your microphone if there's one as part of your device.
Click on the device and you'll get a very attractive little window that offers some additional controls: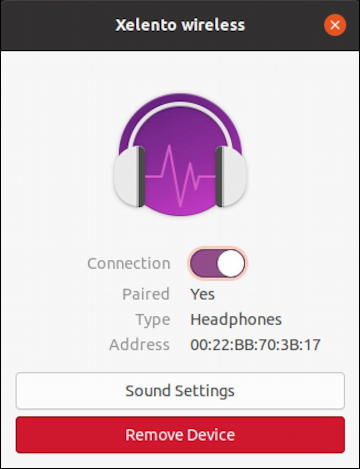 You can see it's easy to unpair and disconnect, as well as to remove the device entirely.
I do have to be candid that I found the Bluetooth implement very flakey on my own version of Ubuntu, with sporadic system crashes when I tried to make changes, but hopefully your connection and device will be more stable!
Pro Tip: I've been writing about Linux since the dawn of the operating system, and Unix before that. Please check out my extensive Linux help area for lots of additional tutorial content while you're visiting. Thanks!