How do I get started with LinkedIn Intro, and should I be worried about privacy issues related to LinkedIn scanning my inbox to offer up profile info on the senders?
I've been a long-time fan of the Rapportive plug-in for Gmail and if you're using Google's mail program for business mail and haven't yet plugged Rapportive in (just go to the Web site and it'll show you how to hook it in) you're missing out on knowing more about the people you're communicating with, including their photo, title, and social media links.
Rapportive — a LinkedIn company — works with Web-browser based Gmail, but if you're using a mobile device then you're out of luck, which was a drag.
But that's where LinkedIn's new "Intro" service proves a big win: it's Rapportive for your iPhone.
Even better, it integrates into Apple Mail seamlessly, as I'll demonstrate.
Start by going to intro.linkedin.com. You'll see this: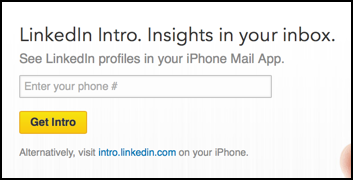 Enter your iPhone number and a moment or two later you'll see a text message:
Tap on it (or I suppose you can just go to the displayed URL directly if you're so inclined) and you'll end up here: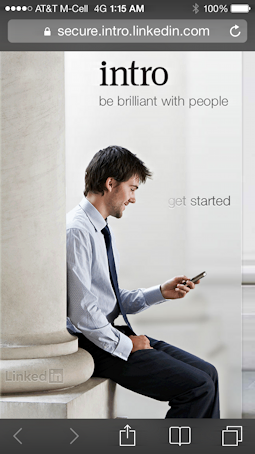 Nice looking, isn't it? And that guy is surely being more successful in work because he's using "Intro" on his mobile device, right?
Okay, tap on "get started" to, well, get started!
Since I'm already using Rapportive on my Gmail account (which, for those of you concerned about Intro scanning your messages to identify senders, is exactly how Rapportive works too, has done for years, and hasn't been anything I've worried about or had even the slightest problem with) I'll use Intro on the same account, so here I'll enter my gmail address and tap "Continue".
The result isn't too much of a surprise: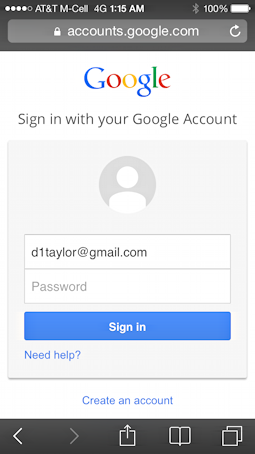 Do what it suggests and "Sign in".
Tip: If you have 2-step verification enabled, it'll send you a six-digit secret code that you'll need to enter as part of this log in step too. It's easy enough.
Once you sign in, Google will confirm that you want this program to be able to access your messages:
Acceptable? Then whatcha waiting for? Tap "Accept"!
Now you'll end up installing a new Profile on your iPhone: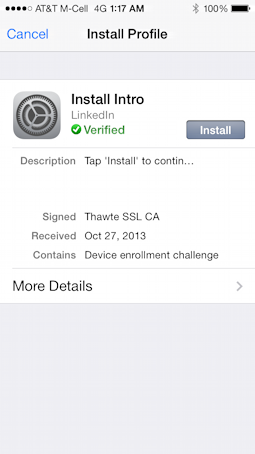 Click (oops, "tap") on the "Install" button.
You'll be moved back into the Intro interface, though the cool hipster guy doesn't reappear: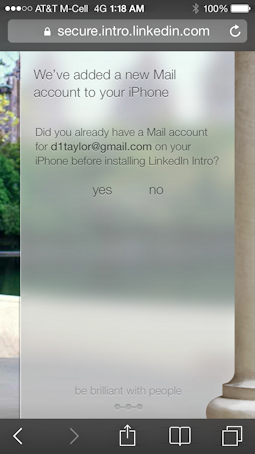 Kinda hard to read, but if you have a Gmail account already hooked up to Apple Mail, you will need to delete it before you proceed.
If you do have one, tap on "yes" and it'll give you directions on how to axe it.
If not, no worries, just tap "no" and you're ready to go!
In fact, you're done:
So now that it's done, what hath we wrought?
Let's have a quick look. In Apple Mail, I now have three email accounts hooked up: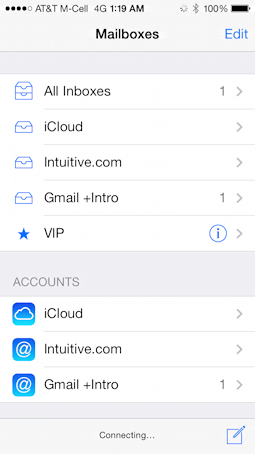 And when you look at a specific message (either in "All Inboxes" or specifically "Gmail +Intro"), it'll now look like this: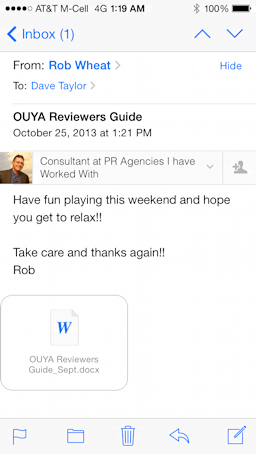 The small photo of Rob along with his tiny bio? That box is added by Intro and helps identify who sent the message.
Better yet, tap on that little strip and a big window opens up with a lot more information:
Quite a lot of useful information at your fingertip.
My suggestion: LinkedIn Intro. Check it out.