I got a warning from iCloud on my Mac system that I was running out of space. I don't know how that could happen, but how can I get more space or remove the stuff that's cluttering up my account?
Like many cloud-based storage solutions (I'm thinking Dropbox and Skydrive here too) it's pretty easy to end up filling your iCloud virtual hard disk with stuff you don't even need or want any more. In the case of iCloud, it's also storing backups of your iOS devices too, and in my case, at least, that was the culprit when I was running out of space: backups for my devices, but for devices that I no longer own!
Now Apple is quite happy to sell you more space if you really want to buy more than the standard 5GB that's allocated to each and every iCloud user, but I bet you don't need it.
Let's have a quick peek at your iCloud usage to find out.
To start, go to "System Preferences" off the Apple menu, and click on "iCloud". You'll see this: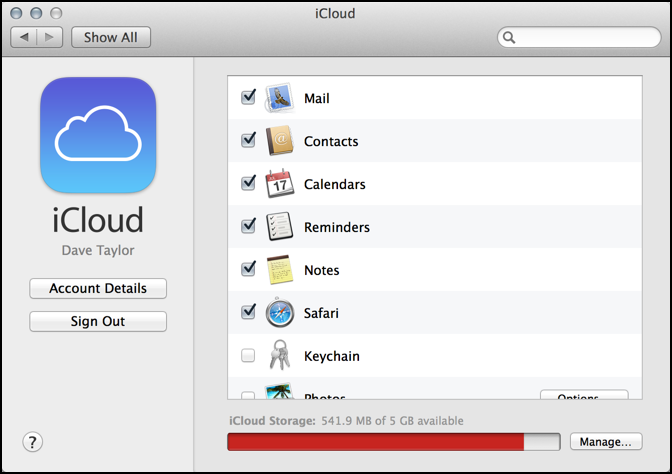 As you can see, I'm dangerously "in the red" with my storage, only having 541.9MB left of the 5GB of allocated space.
Yikes.
But… where's all that space going?
To find out, click on "Manage…"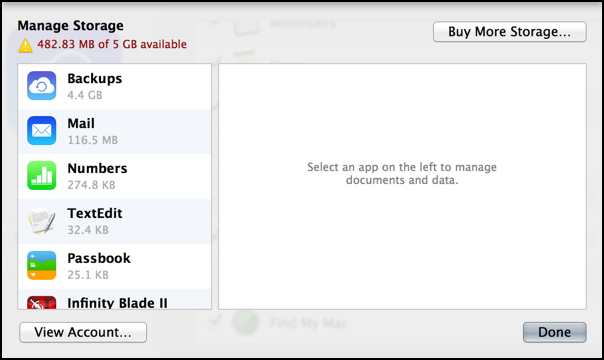 You'll notice that on the left side things are organized by the amount of space they're using, and that backups are by far the lion's share of the space used for me: 4.4GB.
Click on "Backups" — or whatever category is eating up your space — and you'll get detailed information: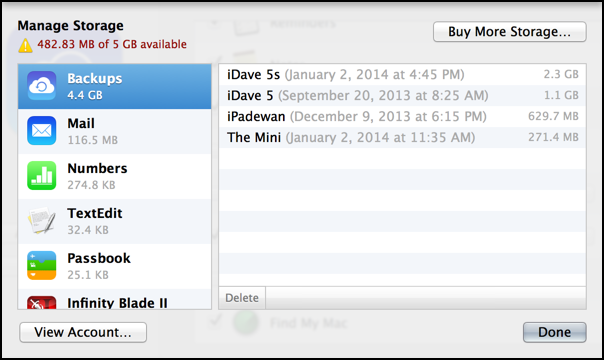 Wait a minute! "iDave 5" was my old iPhone 5, prior to the iPhone 5s I now have. So why is that backup eating up 1.1GB of my iCloud space?
Because there's no way for Apple to know that I'm no longer using that phone and have replaced it.
To remove this backup since I no longer need it, I'll click on it once to activate the "Delete" button: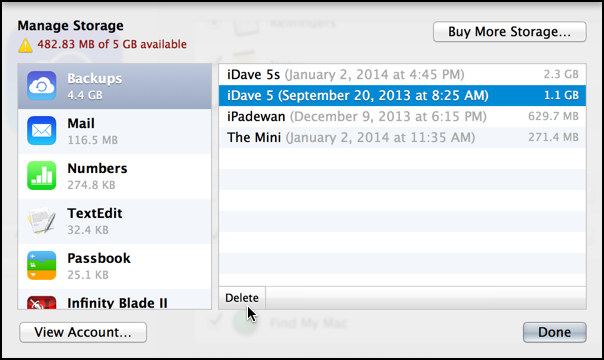 … and actually click on the button:
I do! I click on "Delete" and that's all that's need to get that space bar from red to green:
That's all I need to do and there's no additional space I need to purchase for my iCloud account.
Hope that helps you out!