I don't get what the big deal is about Pinterest. I signed up, followed a few dozen people, and whenever I go the content's boring. How do I find interesting pins, pinners, users, whatever they're called, so that Pinterest becomes more engaging?
I think you've hit on the weak point of every social media site, actually, the incredible differences between user experiences based on who you follow, track, friend, or are connected to on the service. Subscribe to one set of Pinterest boards and all you'll see are makeup tips, whether you like makeup tips or not. Follow a different group and you'll learn all about guns and ammo. Or hunting. Or decorating Easter eggs. Or children's movies. Or hair braiding. Or, the one that always astonishes me, the ten thousand different ways to put nailpolish on fingernails.
If the people you follow (darn, let's get this terminology right: if the boards you follow) are in alignment with your own interests, it's all good and Pinterest is one of the most fun and engaging sites on the Internet with its focus on images and visual design. Follow the wrong people, however, and it's a complete waste of time, even if these people are your friends and colleagues.
So my first tip: don't follow people on Pinterest, follow specific boards that they have that are aligned with your own interests. I'm on Pinterest, for example, but I have 21 different pinboards. I'm confident that unless you're me, you're not going to find every single one interesting. No worries, don't follow those boards, follow the ones that are interesting. That step by itself makes Pinterest considerably more fun as even the most (cough) dull Pinterest user (cough) often has a board that's worth following.
The other way to make Pinterest more interesting is to expand your net and follow boards from people you don't know. How to do that? With their search and browsing tools.
For example, on the top left of your Pinterest home page, there's a small button with three horizontal lines. You can see it on the very top left here:

Click on it and you suddenly realize that Pinterest has millions of users and it's categorizing content to allow you to enjoy all of it, not just the small subset of friends you're following: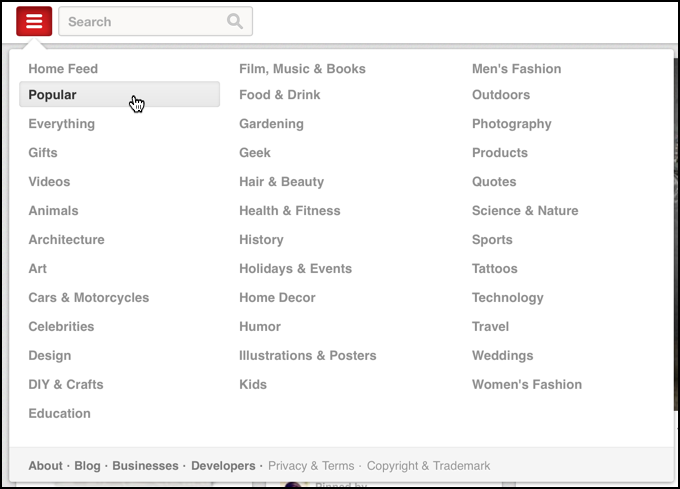 From this point you can pick a specific category and enjoy the changing pins from thousands of contributors, but let's keep looking at another way to find interesting content.
The other strategy to use instead of just browsing categories is to use Pinterest search.
Click on the search box and it'll show you the last half-dozen searches: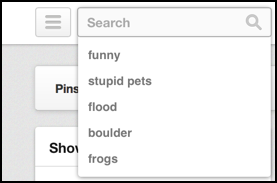 But it's far more interesting when you actually start typing in a word or phrase.
Like "movies":
You can see suggested searches, and the last item, with the tiny thumbnail, is my own pinboard whose name matches my search. A handy shortcut.
Press Enter to invoke the search and all the pins you'll see are then those from the public pinboard world that match, regardless of if you know / follow those pinners or not: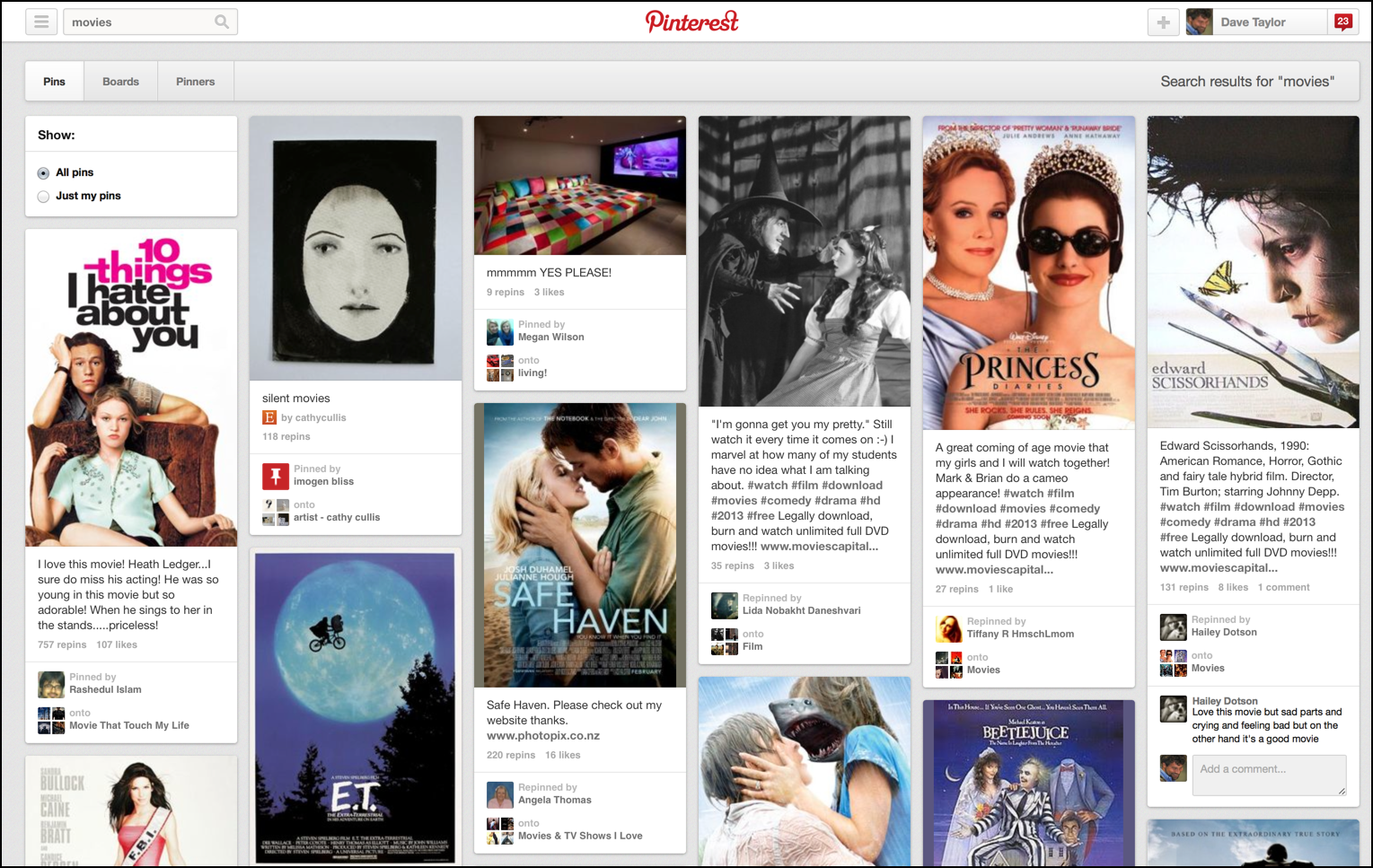 See a pin or pinner that catches your eye? Click on the board, then you can follow that particular board (or pinner!)
Have fun. Oh, and you can find all my Pinterest boards here: Dave Taylor on Pinterest.