This is crazy. I got an email from Google saying that people who have circled me on Google Plus can now send email to me even if they don't know my email address. Uh, no thanks. How do I turn this off?
Before you throw out the proverbial baby with the bathwater, it's useful to have a closer look at exactly what Google's talking about with this new feature, and worth knowing that by default people cannot send you messages without your email address: it's a feature you have to enable, not disable.
At some level, I also would say that this is something that people can already do through many other social media services. For example, if you're on Twitter, people can "@-reply" you or mention you, bringing attention to their tweets, regardless of if you follow them or not. On Facebook, you can even email people through the "other" feature whether they are friends with you or not. And LinkedIn has "InMail", offering you the ability to email people who you can find on their service but otherwise don't know.
Still, I completely understand privacy concerns, it's one of the great challenges of our era.
So let's start by seeing what it would look like if you were sending me an email via Google Plus without having my email address. It'd look like this:
As you can see, I'd show up as a "Google+ connection".
On my end, when the message arrived, it'd be denoted in Gmail thusly: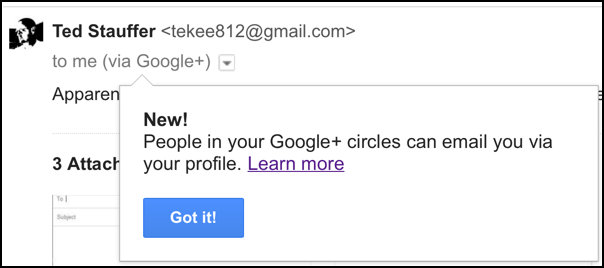 Notice that I now see Ted's email address. Not sure it tells him that I'm going to see that when he sends it, but if you are going to use this feature, it's good to know.
And as for me, I can opt out if I want, or just enable this to see what happens. So far, my friend Ted's doing just fine. 🙂
To opt in – or out – or otherwise see how your account is configured, go to "Settings" in Gmail and look for this:
Since I'm always interested in how things work and figure that Gmail already has splendid crowdsourced spam management, I want to see what options there are:

They don't really define things well, but I have mine set for "extended circles" which I assume means that people who are one hop away from me can also send me email with this facility. (My assumption: circles = people who I have circled, extended circles = people I have circled and the people they have circled, anyone on Google+ is, well, anyone on Google Plus).
So now you know and can make your own decision about privacy versus opening it up a bit to incoming messages. And I'm curious: after reading through this, what did you decide to do?