I have my own channel on YouTube and just got an email that one of my concert videos is in violation of some music licensing. I want to just remove it before it's a bigger problem but can't figure out how to delete my YouTube video?
I'm not sure of the terms around music licensing on public performance like a video of a band in concert, but if you don't want to get harassed by lawyers, I can understand your desire to simply remove the video rather than deal with the hassle. But I sure see a lot of concert videos posted online, on Facebook, YouTube, etc. Wonder what the deal is: Maybe your audio is just too clean and so the automatic scanning systems on YouTube could identify the original content?
Unfortunately, deleting a video off your YouTube channel involves learning a bit about the Video Manager: it's not something you can do directly from the video playback page, even when you're the owner of the video (for hopefully obvious reasons you can't delete someone else's video regardless of where you are on YouTube, however!)
Let's jump in by starting at the video playback view of one of my videos on YouTube (My channel is youtube.com/askdavetaylor and I encourage you to subscribe!):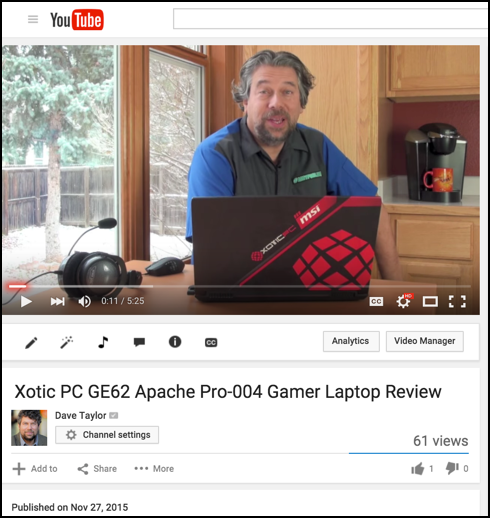 Lots of options appear for the owner of the content — notice the row of icons just below the video window — but none of them are the delete button. To get there, click on the "Video Manager" button on the right side.
Now you'll see an index of all your latest videos:
See how I have two copies of the Xotic GE62 video on YouTube, one uploaded Nov 27, the other uploaded Nov 30? Let's go ahead and delete the older of the two, as it's replaced by the newer version.
The easiest way to delete the video is to ignore the checkbox and bulk options but instead simply click on the downward triangle button immediately adjacent to the "Edit" button by that particular video: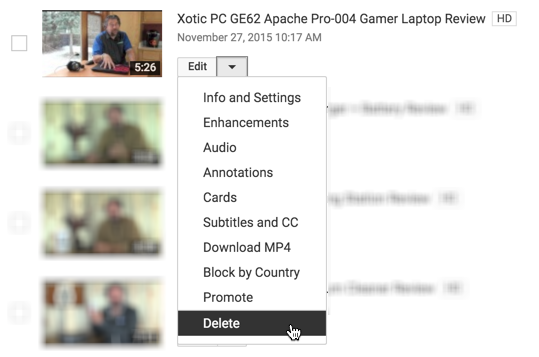 You can see the bottom option on this menu of choices is "Delete" and that's the path you want to take. However, take a second and look at all the other choices here too, notably Annotations, Cards and Subtitles. All worth investigating further as you have time and motivation!
But we're deleting. So choose Delete.
Yeah, yeah, this is what we want to do.
Click on "Yes, delete" if you're 100% sure that's what you want to do (it's irreversible) and after a moment or two you'll get confirmation:
That's it. Done. Deleted.
Not too bad once you know to go to the Video Manager to solve the problem!