I posted a status update on Facebook and really need to remove it immediately. How can I do that quickly?
Uh oh, sounds like there's something going on and a definite back story, but since you didn't share, we'll have to just imagine that your post makes your spouse look bad, you admitted to a heinous crime or you have a ghastly typo and just can't handle the criticism it's garnered. All three are definitely problems (though if you have a typo you can actually edit a post to fix it, just so you know!)
There is a prevailing sense that once you post something to a social site like Facebook that it's locked in and there forever, but you can definitely go back and delete your status update afterwards, either minutes, days or even months later. It's still in the Facebook historical archive and other people who have reshared it might still see it, but you can most definitely remove it from your own timeline.
And it's only about a 15 second process.
I recently posted a link to an economics article where Facebook failed to picked up an image and offer a preview, so I reposted it. The second time it worked fine. But I needed to delete the first status update, so I'll show you how I did that and you can do the same to alleviate your own situation.
First off, go to your Facebook newsfeed page. The top left will look like this:
As I have highlighted, click on your own name on the top left. Yours, most likely, will be a different name 🙂
Once you've done that, you're now viewing your timeline, not a timeline of everyone Facebook things you're interested in following.
Scroll down and find the status update you want to delete. Here's mine: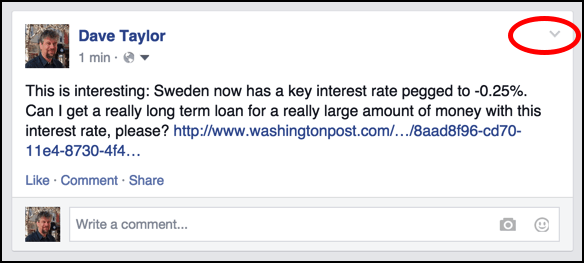 Notice the downward triangle I've highlighted on the top right. That super subtle symbol is the key.
Click on it and a menu appears: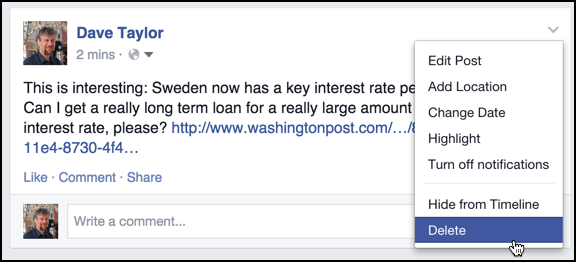 There ya go.
Click on "Delete".

Click on "Delete Post".
Done.
PHEW!