I "friend" people on Facebook who are friends, family and customers. Now I'd like to switch and create a facebook business page so my customers can "like" that instead. How do i get started?
You're not alone. There are a lot of companies – particularly one-person companies – that have muddied the waters and connected with both their friends and their customers or clients on their Facebook profile pages. Now that's not a terrible thing to do, but it does ultimately constrain you to only post material that's appropriate for both groups, rather than be able to limit some postings to one group or the other.
Still, best practices on Facebook are that you split this into two different pages, one for your friends and family, and the other for your customers, clients and other business relationships. There are some compelling reasons worth mentioning too, most importantly that a business page or fan page can have as many fans as you can collect, whereas individual user pages are limited to 5000 friends. A big number, but if you become popular, you never know what might happen. My Ask Dave Taylor Fan Page on Facebook has over 5000 fans, for example, so if they were all "friends" of mine, I'd have already hit that wall. Not good.
The other wrinkle is to figure out what kind of page you want to create, because in addition to "fan" pages and "business" pages, there are a bunch of other possibilities. Let's have a look, shall we?
Start out by finding the page creation button. That's most easily done by moving your cursor over to the "Pages" segment of the menu on the left side. Put the cursor in the right place and "MORE" pops up like magic: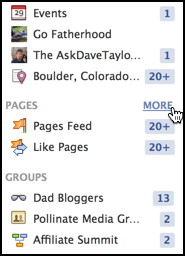 Click on "MORE" (you knew I was going to say that, didn't you?) and a list of all the pages you like shows up:

The button you want is on the top right: "Create a Page".
Click on that and you'll see the six main options:
There are six major categories of page: local business, company, organization or institution, brand or product, artist, band or public figure, entertainment or cause or community.
Most likely, you'll want the second option, "Company, Organization or Institution", unless you have a brick and mortar business at a specific street address, in which case "Local Business or Place" is your best choice.
You can see what I mean by clicking on "Local Business", which brings up this option:
Don't want your home address out there? No worries, click on Business instead.
Category. Hmm… Click on that and you'll see the options. The many, many options:
Pick the one that best describes your own business and you can proceed.
Want to explore a bit further before you make the big decision? Okay. Click on "Artist, Band or Public Figure" and you'll see another list of categories:
Look closely — you can create fictional character fan pages on Facebook. That's cool!
However you categorize your business, the process is the same. Enter category, then enter your business name, agree to the terms of service and click "Get Started" and you're on your way.
Take your time designing your Facebook page and you're on the way!
One final step: Post a note to your personal profile telling them about the new business page, then maybe another one or two over the next few days, then start unfriending them. And good luck!