I've been reading about people claiming their "custom URLs" on Google Plus, where they're now google.com/+ something. Nice. I want. How do I get it on Google Plus?
You're right that Google is rolling out custom URLs for Google Plus pages, but there are a few criterion related to getting your own URL, not the least of which is that you have to wait your turn: as with many features, this one's being made available over a period of time, not all at once.
Just as importantly, there are a few criteria, the most important of which is that at least 10 people must have circled ("followed") the page and there must be a verified URL associated with the page both. Oh, and you'll need a cellphone as part of the process too for a confirmation code.
There's one more bit of small print: Google reserves the right to charge for the new shortened URLs. No, I kid you not. You'll see in just a second…
After I received this query I went to my own Google Plus page and was disappointed to see nothing special. Until I went to my Profile itself. How? Move the cursor over the home icon and a menu appears:
Chose "Profile" and if you've hit the top of the queue, you'll see something very like this "preapproved for the custom URL" message at the top of your profile view:

Ready?
Of course you are!
Click on "Get URL".
That works for me and it's likely that yours will work too. If not, you can request a different one but as you might expect, these have to be unique.
More importantly, you will want to pay attention to the "Terms of Service" because they're definitely worth reading: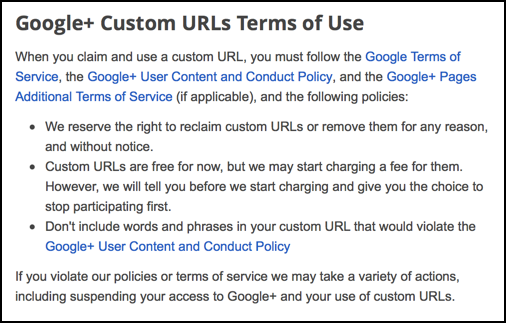 You really sure you want to proceed?
OOoohhhkkkaaayyy then.
Click on "Change URL" and you'll need to now enter your cellphone number: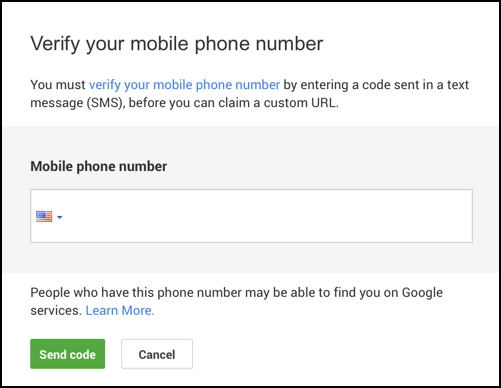 I entered my cellphone number, clicked "Send code" and a few moments later had a text message from Google's server with a six digit value.
Meanwhile, the window had changed to an entry verification window:
Once I've entered this you'd think it was enough, wouldn't you? No, it's not.
You get one more time to reconsider:
You still sure?
Really, truly sure?
Okay, okay, I get it. Click "Confirm choice" and…
Congratulations. If you're like me, you just got a very nice custom Google URL. Notice also that it's not a shortcut tied to plus.google.com but just google.com. Very nice.
And feel free to check out mine too: google.com/+davetaylor.