Help! My ex is a psycho and is harassing me non-stop via email. She's sending me 10-20 messages a day, and I hate to even check email now. Can I just block her completely so I never know if she's mailing me?
Ah yes, just because you can send email, doesn't mean you should send email, particularly if the recipient doesn't want to receive it. Problem is, asking doesn't automatically make it so and as you know all too well, some people just don't know when to take "no" for an answer. I can sympathize, I've been in that situation in the past too!
Fortunately modern tools like Gmail have a variety of ways you can deal with the problem, including my personal favorite of setting up a filter that lets you define exactly what to do when they send you anything, whether it's to delete the message, forward it to a third party — or the original sender! — or whatever else you'd prefer.
To start, I'm going to pick on my buddy Christian. He's sent me this perfectly innocuous GMail message:
I don't see any reason to block him, but block him I shall!
It's easy, too. Just click on the arrow menu button on the right and you'll see it as an option:
That's it. Now he's on my blocked list:

What's nice is that the sender doesn't get any notification that they're on the block list, so in this case, Christian has no idea I've thrown him under the digital bus!
Changed your mind, or your ex has promised to chill out and only email you when it's mission critical? No worries, go into "Settings" from the gear menu on the very top right of your Gmail screen and choose "Filters and Blocked Addresses" from the options along the top:
I've omitted the 50+ filters I have in Gmail so you can see the top and bottom. If you're like me, however, you'll need to scroll down quite a ways to find the Blocked Addresses list.
To unblock them, simply click on unblock adjacent to their name.
So that's the fast and easy way. I prefer using Gmail filters, however, because it offers much more flexibility, including the ability to list multiple addresses if your ex is canny in her use of tech.
To do that, when you're viewing an email message from the offending party, click on "More":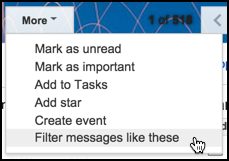 Choose "Filter messages like these" and you'll have to step through a couple of windows. First:
You can choose words, subjects, whether it includes attachments, filter by size, etc. Very flexible!
Got a good filter, or just going with the default sender's email address? Click on Create filter with this search to continue and you'll get to the fun part, deciding what to do when an incoming email matches the filter:
As you can see, I've just marked Delete it, but there are a lot of different options, some of which can be a bit more nefarious than others. I suggest you just delete the email and leave it at that. She'll never know, and you'll never have to see her messages again.
Solved. Done. And you can get on with your life.