I have switched over to Microsoft Edge on my Windows 10 PC and really like it, but when I go to Settings, Printers, it's empty. How can I add and configure printers so I can use them in Microsoft Edge Win10?
While overall I have become a big fan of Microsoft Edge on my Windows 10 systems (and soon to be Windows 11!) it's not all wine and roses in Edge-land. In fact, one of the areas that Microsoft's really changed up the underlying Google Chromium – yes, the basis for Chrome – interface is in the Settings area. It's tricky since your Web browser is now such a critical element of your operating system experience, does Microsoft make the Settings area in Edge look like the Windows Settings, or does it keep that area separate, with its own user experience based on the original Chromium design?
The long and short of it is that it's not you, it's them.
The user interface in the printing area is just confusing in Microsoft Edge, but if you think about it as you would any other Windows program, you'll be able to unconfuse yourself soon enough. Let's have a closer look.
MICROSOFT EDGE PRINTER SETTINGS
First off, in Microsoft Edge go to Settings > Printers from the "•••" menu and you'll see something like this:
It's no surprise that you want to see a list of printers in this area. Heck, "Manage printers" seems to imply that you can add printers in this area so you can use them, right?
Well, no.
It's like I said, most Windows apps correctly rely on the Windows OS itself for printing services, so send a print job to the printing subsystem without knowing anything at all about what printers and other devices are available on your system. Microsoft Edge is the same, but before we get there, let's have a peek at what "Manage printers" actually does.
WINDOWS 10 MANAGE PRINTERS
A click on "Manage Printers" and you're actually in Windows system settings "Printers & scanners":
Hopefully you have your printer on the list of supported and configured printers and scanners, but notice that the system also adds a bunch of its own; "Microsoft Print to PDF", "Microsoft XPS Document Writer", and "OneNote for Windows 10".
If your printer isn't showing up, a click on "Add a printer or scanner" should lead you in the right direction with the Win10 printer add wizard. If that fails, check with your printer manufacturer, you might need to download and install a custom driver for your new printer before you try to add it to your system.
While I'm here, I'm curious that it indicates that there's an "App available for this device" for my big HP PageWide Pro 577 printer. What app? I don't recall installing a special app to manage that printer.
A click on the printer's name and a few buttons appear:
If I'm wondering about the state of the printer queue (where unprinted jobs are stored until the printer can get to them), I can find that by clicking on the "Open queue" button. If I removed the printer and don't want it showing up anymore, that's the purpose of the "Remove device" button. Usually people choose "Manage" but since there is an app, I'll click on "Open printer app" to see what's up!
Turns out that Hewlett-Packard has a printer management app called HP Smart that was apparently automatically installed when I first added the printer to my Windows PC. I had no idea! 🤪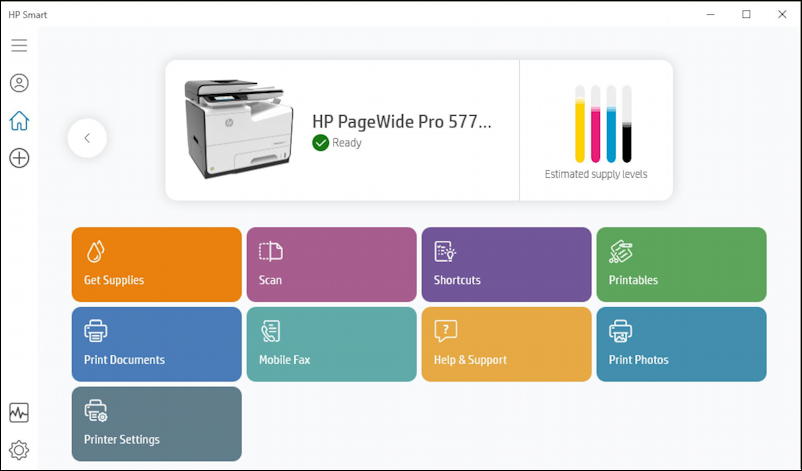 With a color printer the most important thing is to keep an eye on those ink capacities; looks like I'm slowly going through black and that whatever colors I've been printing, they use more magenta and cyan than yellow. Curious!
For most users, though, it's the specific printer's "manage your device" that's most important, and here's what I see for the HP PageWide Pro 577:
Of particular interest are the links at the bottom of this window. "Print a test page", "Run the troubleshooter", "Printer properties" and "Printing preferences" are all good to check to ensure you have your printer all set up as desired.
While you're here, by the way, if you uncheck "Let Windows manage my default printer" (on the main printers & scanners settings page) you can then see which printer is actually the default:
And so, back to Microsoft Edge!
PRINTING A WEB PAGE IN MICROSOFT EDGE
The easiest way to print a page so you can see if your printer is visible and an available option, is simply to press Control-P. A printer dialog window appears:
Everything important is on the left side: The right side is the (Settings) page I'm trying to print!
Notice that it's defaulted to "Microsoft Print to PDF" as the output printer. No good. Instead, click on the printer name and a list of all your available printers and print utilities will appear:
Once I choose "HPDF1055 (HP PageWide Pro…" it's ready to print to my HP printer. Not only that, but next time I go to print from Microsoft Edge, it'll default to the last printer used, so I won't have to choose it again.
Finally, if you decide that you'll never use something like "Microsoft XPS Document Writer" you can go back to the Printers & Scanners settings window and remove it so it doesn't clutter up this window. Easy enough.
Now go and print to your heart's content!
Pro Tip: I've been writing about the Mac since, well, the very beginning. Please check out my PC help library for hundreds of useful tutorials and how-to guides. Thanks!