I think my partner has guessed my password and is now logging in to my Win10 account to see what I've been doing. Uncool. How can I easily change my PC account password?
You're in luck: The process for changing your password on Microsoft Windows 10 is pretty straightforward once you know where to look. There are also a lot of other ways to gain access to a PC account, however, depending on how you've set it up. Have a PIN? A 3-4 digit number is easier to guess – and probably is part of your phone number! – as are some of the other options. If your goal is to really make your account secret and hidden, then a tough to guess password, cryptic reminder hint and no alternative login options is your best friend.
In your situation, however, it might be smarter to just have a candid conversation with your partner about trust and privacy, rather than just change your password. I don't know the nuances of your situation, but I find that addressing problems is more effective than putting up roadblocks and hoping for the best. Your call, of course.
On the assumption that you just want to change your password, let's see how that's done. To start search for "change password" in the Win10 search box:
That's what you want! The "Change your password" System setting.
A click or a tap and it's launched:
Here's where you can require sign-in after sleep, disable Windows Hello, remove a PIN if you have one, etc. Batten down those hatches and as long as you don't have a trivial password, you've just increased your privacy and security.
To actually change your password, click or tap on "Change" just below the prompt "Change your account password". Pretty obvious, right? 🙂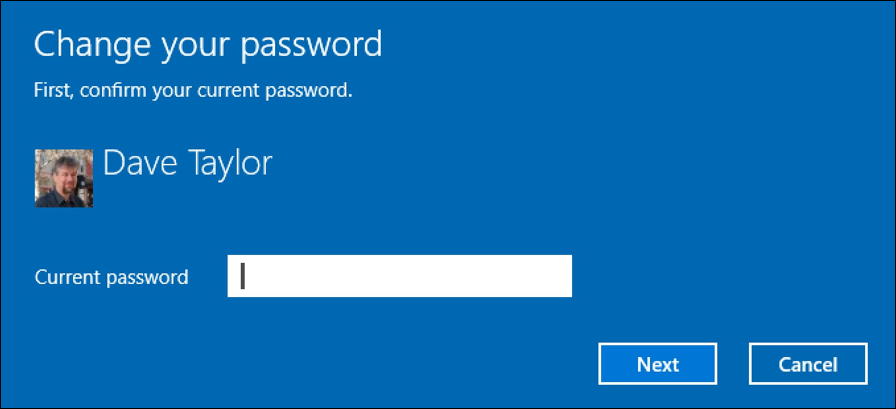 Makes sense if you think about it; you can't change the password unless you already know the current password. Enter it here, then click or tap on "Next" to proceed.
At this point you'll be prompted for your new password: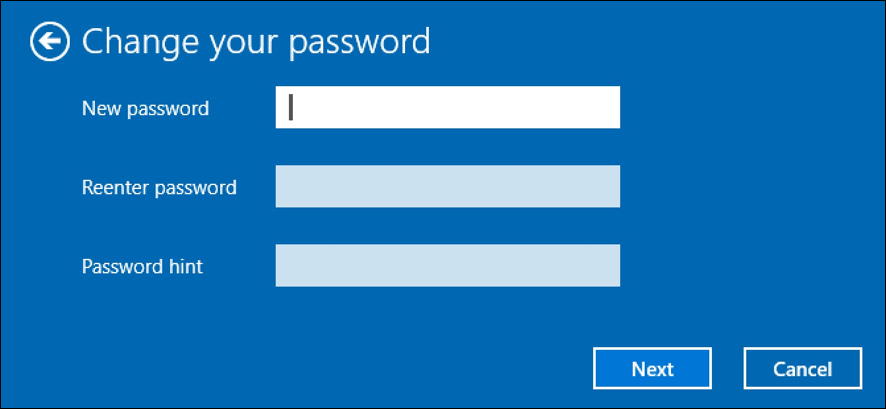 The best passwords include upper and lower case letters, a digit or two and some punctuation marks. Make it memorable and you'll be less likely to forget it. One common trick: Think of a sentence, then use the first letter of each word. For example, "7 ways I really love my cats!" which offers the basis of 7wIrlmc! for a password. That's a little bit short so I'd prepend or append something else – or use a longer sentence! – but you get the idea. Not too onerous.
Entered it twice and added a subtle password hint? (In this case it could be "How I feel about my cats!" which is subtle enough not to tip off others and still reminds you to capitalize, use a sentence and end with an exclamation mark).
You're ready to proceed. Click or tap on "Next" to proceed…
Click or tap on "Finish" and you're done. Now you're back to stealth mode.
Want to check it out? Log out from the Start menu by clicking on your tiny little account icon::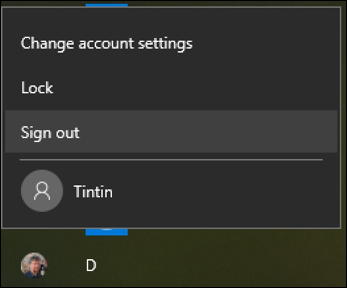 I choose "Sign out" and after a few moments, I'm back to looking at the now venerable Windows login:
Now you know how it's done. Good luck with your privacy and security!
Pro Tip: I've been writing about Windows 10 for eons. Please check out my extensive Win10 help area for lots more content.