I've been using the ZeoSpace service for a few months on my Windows 8.1 laptop and would like to remove it. What's the fast and easy way to do so?
If you're a long time reader of this site, you know that I have previous reviewed ZeoSpace and found it a competent cloud-based file sharing service for PC users. It's definitely worth checking out. But like any other software program, sometimes the result of an evaluation is to decide that it's not actually for you and that there are better solutions for your usage patterns and budget.
No worries. We don't judge here at AskDaveTaylor!
Fortunately ZeoSpace is one of the diminishing number of Windows programs that plays well with the operating system, which means that to uninstall it you can use the system "remove programs" feature.
To start, open up the Charms bar — or use the Windows-S shortcut — to search for "remove program":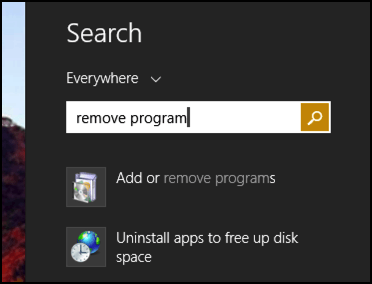 It's the first match immediately below it that you want, so click on Add or remove programs.
Now here's what you'll see: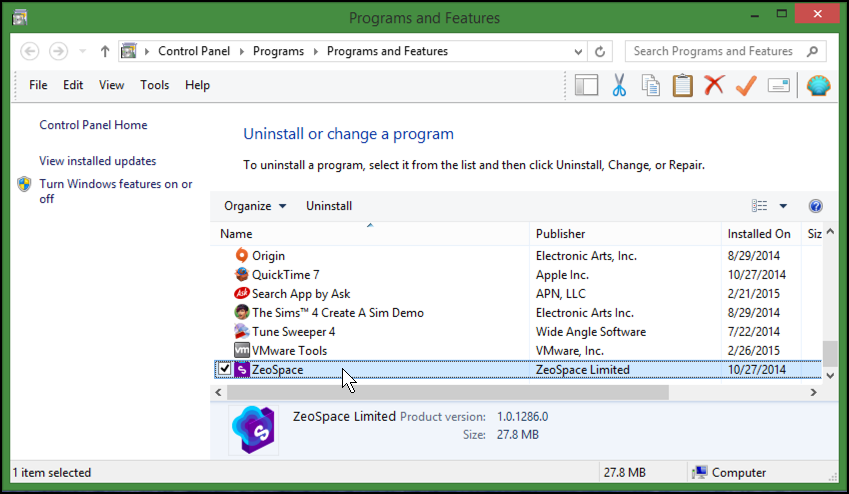 Lots of options because you probably have a ton of programs, add-ons, extensions and related all installed on your Windows 8 system. No worries, scroll down to the bottom and you should have ZeoSpace listed, as I do.
Easiest is to just right-click on it:
Surprise, choose Uninstall to proceed.
Changed your mind? Just click on the "x" on the top right.
Assuming you want to proceed, however, click on the big "Uninstall" button.
Now you gotta say why you want to uninstall it:
Don't worry, you can just choose "Other" and proceed. In fact, you can probably ignore it all and just click on "Uninstall ZeoSpace" now that I think about it!
In any case, might be nice to give the company some info so they can refine the product, if you're so inclined.
To proceed, click on Uninstall ZeoSpace.
Watch the progress bar on the bottom as it goes through its various steps.
At some point it'll look like this:
And finally, it'll be done:
Well played!
Oh, oops, one more step:
Okay, so click "Yes" and you're good to go, no more ZeoSpace.