I read online that the latest version of Android includes something called themed icons to change the color and appearance of icons on my home screen. Sounds cool. How can I try it out?
App development teams spend a lot of time developing the look and style of their programs, including the app icon. It should be immediately recognizable, easy to understand when quite small, and even thematically relevant to the features and functions of the program. This has been true for many years with both mobile and computer programs and even the streaming channel icons on your Smart TV are thoughtfully designed by the companies to help clearly communicate and differentiate.
Which is all well and good but with Android 13 you can now override them all and turn that rainbow of different icon colors and styles into a far more uniform experience, tapping into a color scheme that proves consistent throughout your Android experience. It's still in beta and that's with the very latest Android 13 release, so it's possible it simply isn't available on your phone yet, particularly if you have one from a company that takes a while to share OS updates.
Fortunately, I have a Google Pixel phone and therefore get the very latest Android releases the day they're released. It's not quite being an early adopter (versus running beta or developer releases) but it's pretty sweet to be able to check out new features before my friends with Samsung, LG, and Xiaomi phones.
FINDING THEMED ICONS IN ANDROID 13
Let's start with my current home screen. As you can see, I have a big space in the middle for the time and just to avoid the typical jam-packed screen layout:
As you can see, each icon has its own background and color scheme, adding up to quite a variety of styles. This even proves true of the "G" logo on the search box, with its typical rainbow color scheme, along with the microphone and camera icons that are also multicolor. Very colorful!
To change that, I'm going to go into Settings, then Wallpaper & style…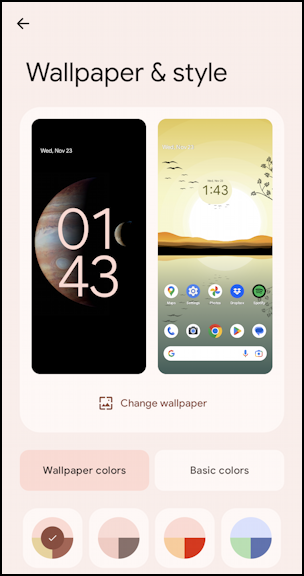 It's easy to change the wallpaper with a tap on "Change wallpaper" but that's not our goal. Swipe up to move a bit further down this screen…
ENABLE THEMED ICONS
Below the color circles are a few switches and settings: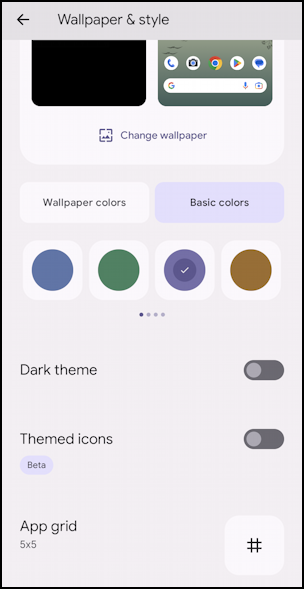 There's the setting we seek: "Themed icons". Notice it says "Beta". Tap on the control adjacent and you'll enable the change. If you look very carefully, the preview on this very screen will change to show the change, as you can spot in the below: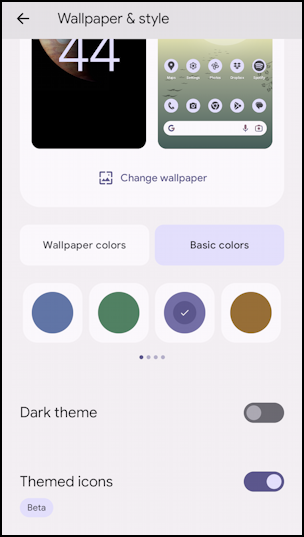 In this instance, I've chosen a purple "Basic color" and you can see that the background of all the icons in the preview have changed commensurately.
ANDROID 13 HOME SCREEN WITH THEMED ICONS
Swipe from the very bottom to go back to the home screen and it's quite a dramatic change: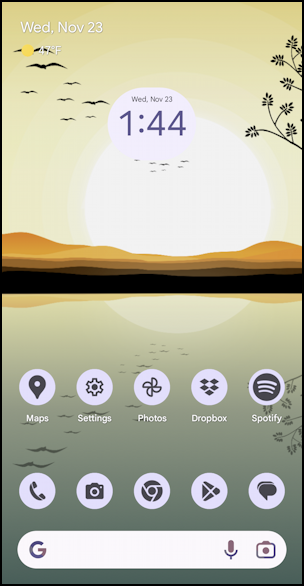 Notice that everything is now using this theme color, from the clock background to the "G" icon and related in the search box. Most significantly, all those bright, colorful app icons are now normalized and subdued in the color selected. A positive change? Some might say yes, some might say not so much.
Me? I say let's make 'em yellow to match the image color scheme!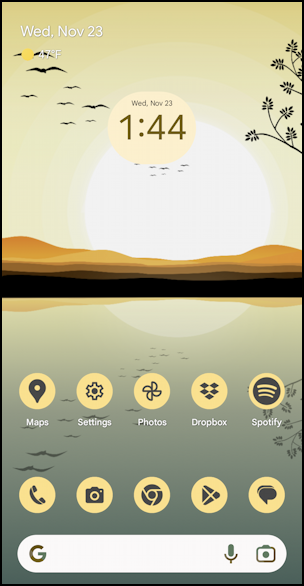 Quite a difference from the stock Android home screen view, that's for sure, and if your home screen is jam-packed with app icons, well, it's going to be an even more dramatic change. Love it? Let me know in the comments!
Pro Tip: I've been writing about Android forever! Please check out my extensive Android help area for hundreds more useful tutorials and guides! Thanks.