Every time I type in my name in Outlook it flags it as a spelling mistake. I know I'm spelling it correctly so how can I teach Outlook that it's not a typo or misspelling? It's quite annoying! I use Outlook.com in Microsoft Edge, if that makes any difference.
There's no question that individual and family names are one of the greatest challenges for a system that corrects spelling. Even voice to text systems typically trip over that challenge, though I've noticed that some like Siri seem to use your Contacts list as data for possible spelling options, which can definitely help. A name like Smith or Roberts is not too hard since there are dozens of sources of common names (for example, the US Census has a fascinating list of commonly occurring surnames that lists Smith, Johnson and Williams as the three most common).
If your name is being flagged, at least you know you're relatively unique in this regard, right? 😁
Unlike the first generation of spell checking systems that just blindly compared words against an online word list, the latest can learn spelling and remember new words identified as correctly spelled across invocation. Tell the system that your name is correctly spelled and you'll never see that pesky squiggly red line again. It's not a shared database, however, so anyone else who types in your name will still see it flagged as misspelled until they fix it for their account. Let's have a look…
TEACH OUTLOOK HOW TO SPELL YOUR NAME
It's actually pretty darn easy to work with the spelling dictionary in the Office 365 suite because MIcrosoft uses a common editor subsystem across all the programs, from Word to Excel to Outlook. Here I am typing in an email in Outlook and it's absolutely inevitable that Dr. Snorgdturifew's name is flagged as misspelled: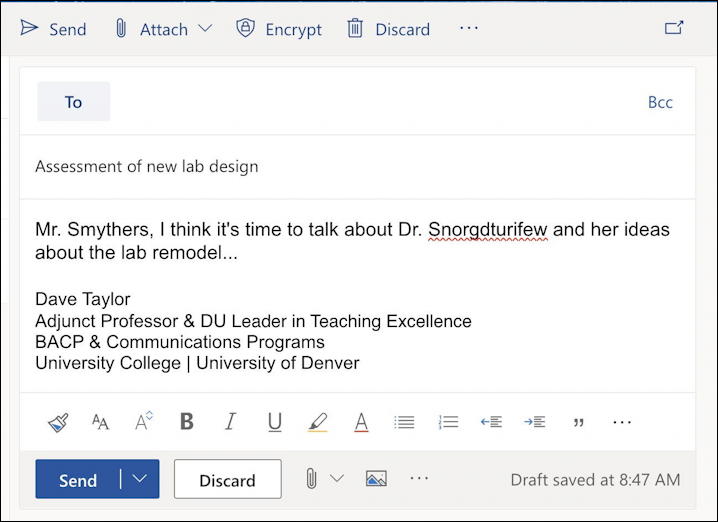 The squiggly red underline is your warning that the word doesn't appear in the spelling dictionary nor have you ever identified it as correctly spelled either. To remedy this problem, click – or right-click or, if you're on a Mac, control-click – on the flagged word. A small window pops up with suggested spellings:

Simply choose "Ignore all" and you've fixed the problem. Forever. Easy enough. As you can see, it's no longer marked as a misspelling:
While we're at it, let's have a quick peek at your spell check settings in Outlook.com too. Click on the gear icon on the top right (highlighted below) to pull up the settings menu: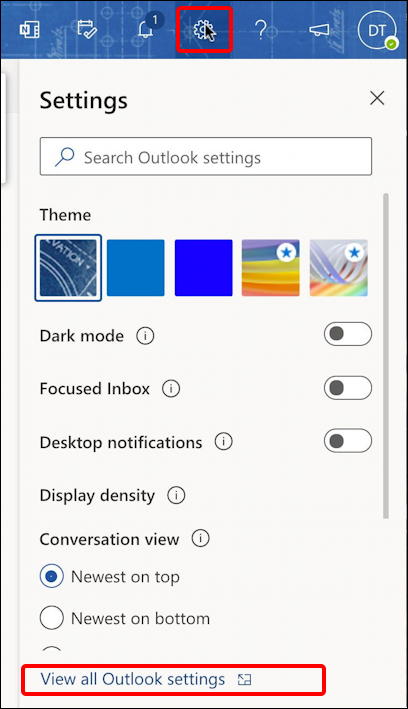 You can see the gear icon highlighted at the top, but once you get that menu displayed – and yours will be a bit longer, I pruned this image down a bit for space considerations – click to choose "View all Outlook settings" at the very bottom.
You'll then go into one of my favorite settings areas. Microsoft really just did a good job organizing and explaining each and every setting, though it is also daunting that there are sooooo many options. Once there, choose "Mail", then "Compose and reply" and scroll to the bottom of that list of options: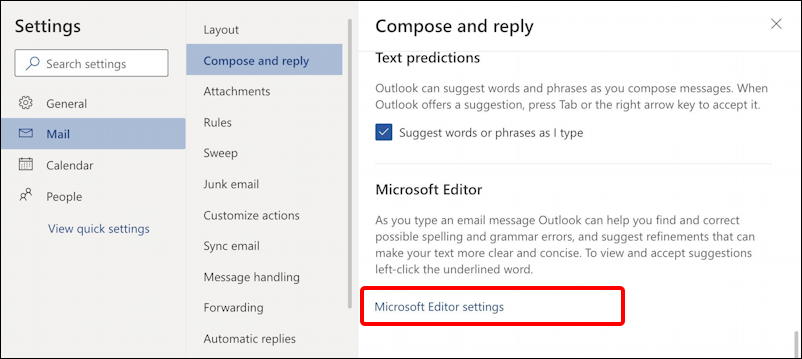 I highly encourage you to spend a few minutes looking through the exhaustive list of settings in the various categories to really tailor Outlook to meet your own needs. But for now, click on "Microsoft Editor settings".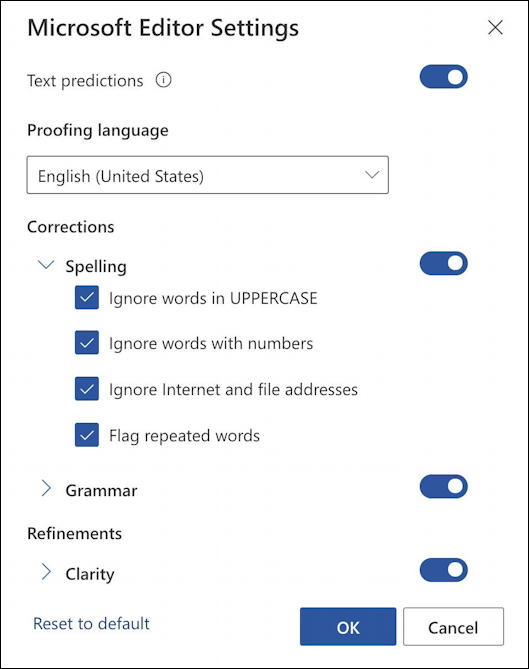 You can disable spell check if you want – though I recommend against it – or you can turn off specific aspects, including having it ignore all UPPERCASE (nice if you write about company names or technical specs), ignore words that embed numbers like Level5 or similar, ignore Internet addresses and file addresses (like flickr.com) and flag repeating words words, which can be helpful if you find that you do accidentally repeat some of of the words in your writing!
That's it. Set the preferences are you like, click "OK" to accept them, close all the windows, make sure you chose "Ignore all" with your specific name and you should be good forever!
Pro Tip: I've been writing about how to work with software like Outlook, Word and Excel for many years. Please check out my computer basics help area for many additional handy tutorials and how-to guides while you're visiting. Thanks!