Hi Dave! I'm wondering if there's a way on my phone to talk and have that be sent as a text message? Can you help out?
On the Android side, the answer is yes. On the iPhone side, the answer is yes and… and you can also send actual voice memos that aren't converted from talking to text message. But let's back up just a bit because I think many people haven't noticed that dictation systems have overrun our computers and from Windows to MacOS X, iOS to Android, you can talk to your computer and have that turn into text in just about any application.
Years ago, it seemed like fiction that one day dictation systems would be sophisticated enough that you could just talk to your computer and it would write a letter, produce text that would be the first draft of an essay, or even just "text" message back and forth with people. Today, however, you can do just that, even in programs like Facebook Messenger or Apple's Messages program.
So can you talk to text? Definitely. The trick is to know what to tap on your phone.
Let's start with the iPhone and iPad (which run the same operating system). Let's say you're  Messages and want to respond to a friend or family member. It'll look like this:
Well, minus the green and red circles. I added those to differentiate: The green circled microphone you can tap to record and then send a voice message. That won't be converted into actual text and they'll have to tap to play, which some people love and others find frustrating. The red circle'd microphone on the lower right, however, is the voice to text feature. Tap on that and you can just start talking. Speak slowly and clearly and watch what shows up as you go: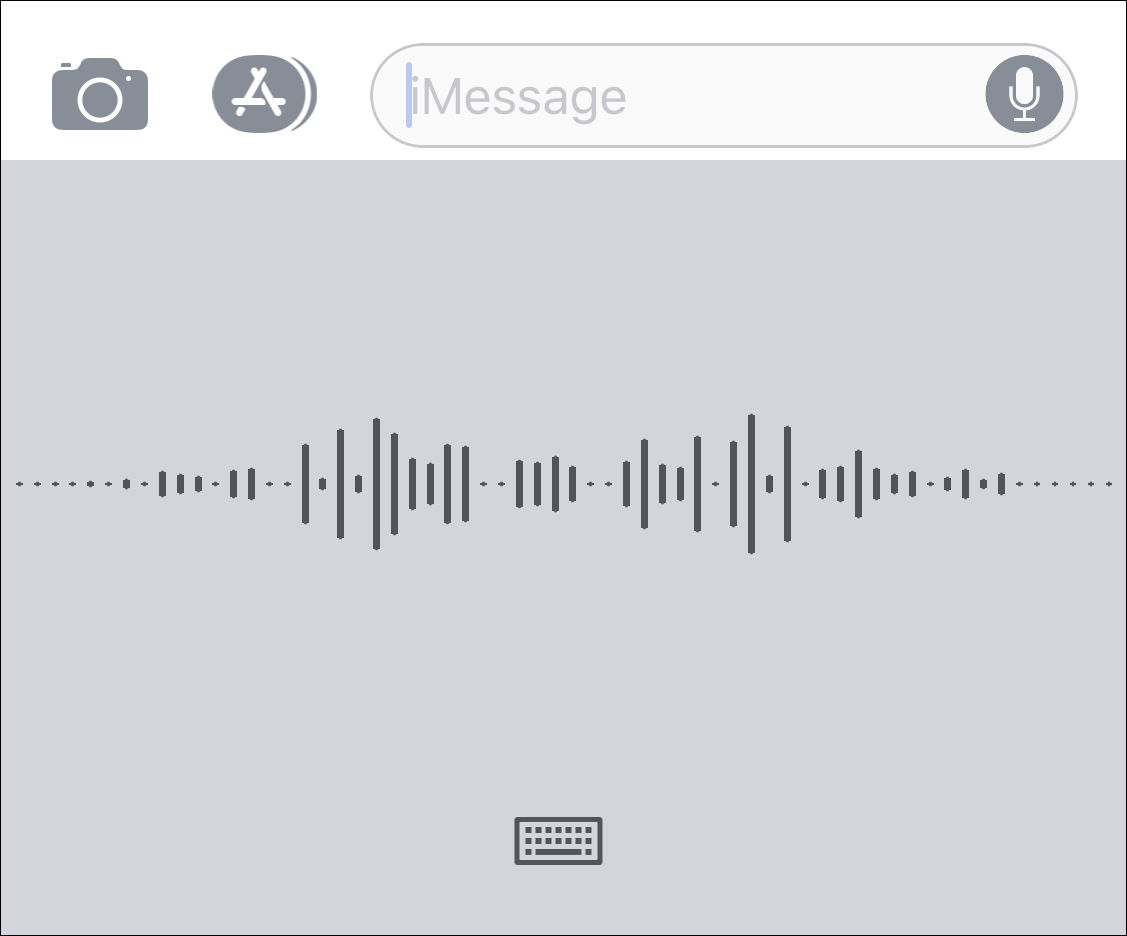 It shows a pretty cool waveform as you proceed, but you can ignore that because if you pause, it'll catch up and produce text that's its analysis of what you just spoke: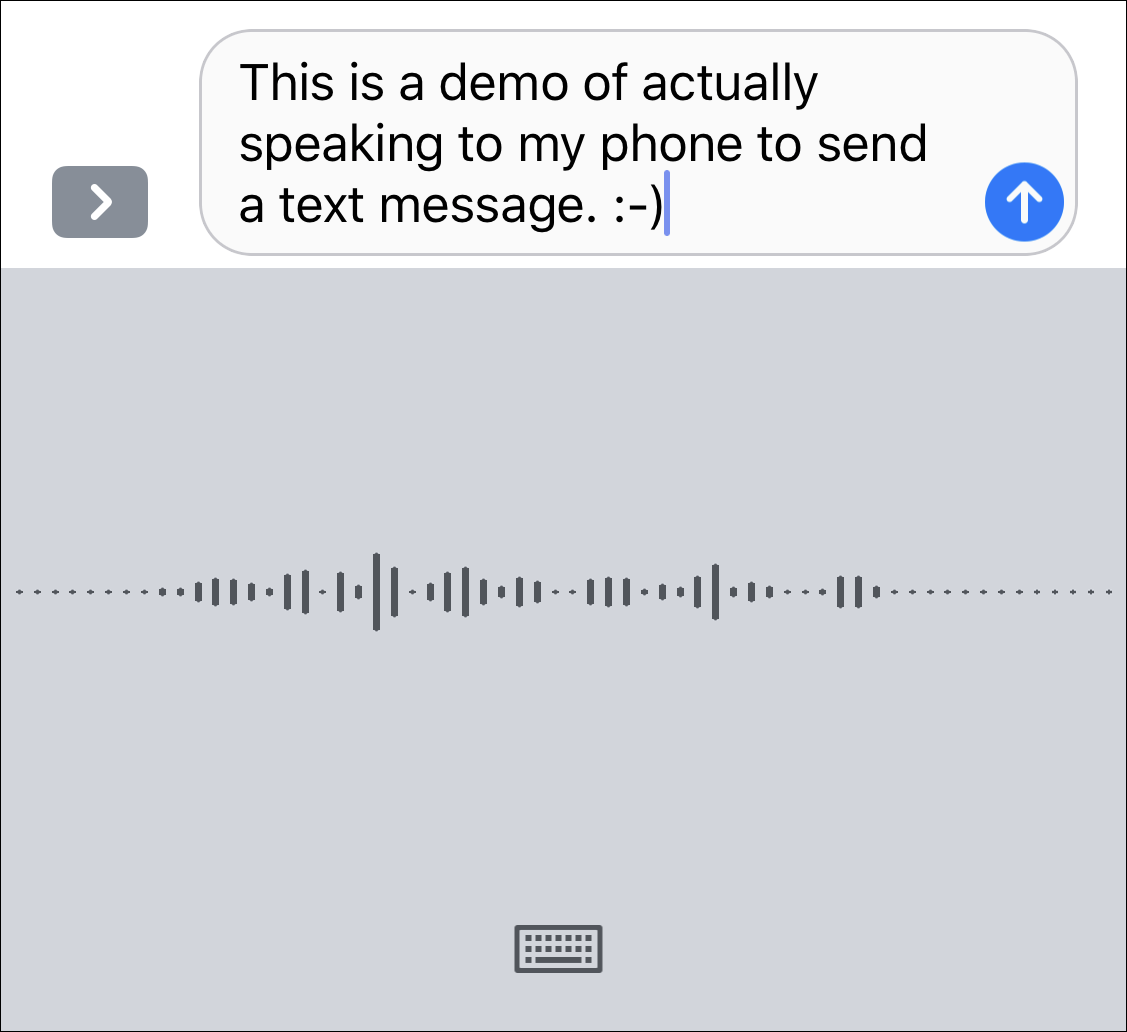 For the last sequence I said "smiley" and it knew what to do. Nifty, eh?
When you're done, tap on the tiny keyboard icon on the lower portion of the screen and it'll show you the text and give you a chance to edit it as necessary:
It's usually pretty good at interpreting what you say, but I definitely recommend you give it a quick read through before you send it. Sometimes the mistakes are fairly spectacular! 🙂
Ready to send it? Just tap the blue up arrow, as usual. Done.
Now, on the Android side, things are just a bit different… With Android you need to tap the power of Google so you'll want to utilize the tiny microphone just below the send "airplane" icon. As highlighted below: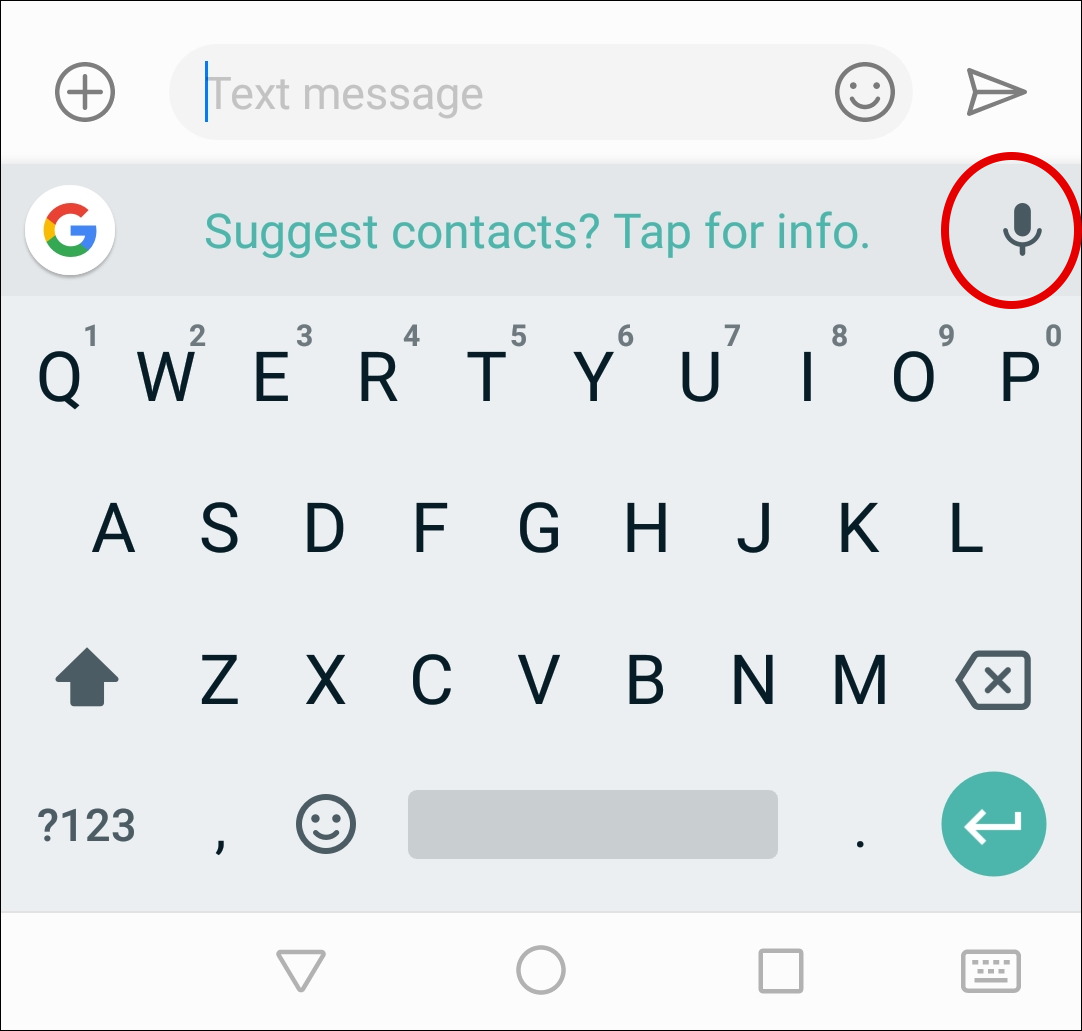 Now you can talk and it'll show you what it's hearing and analyzing as you proceed: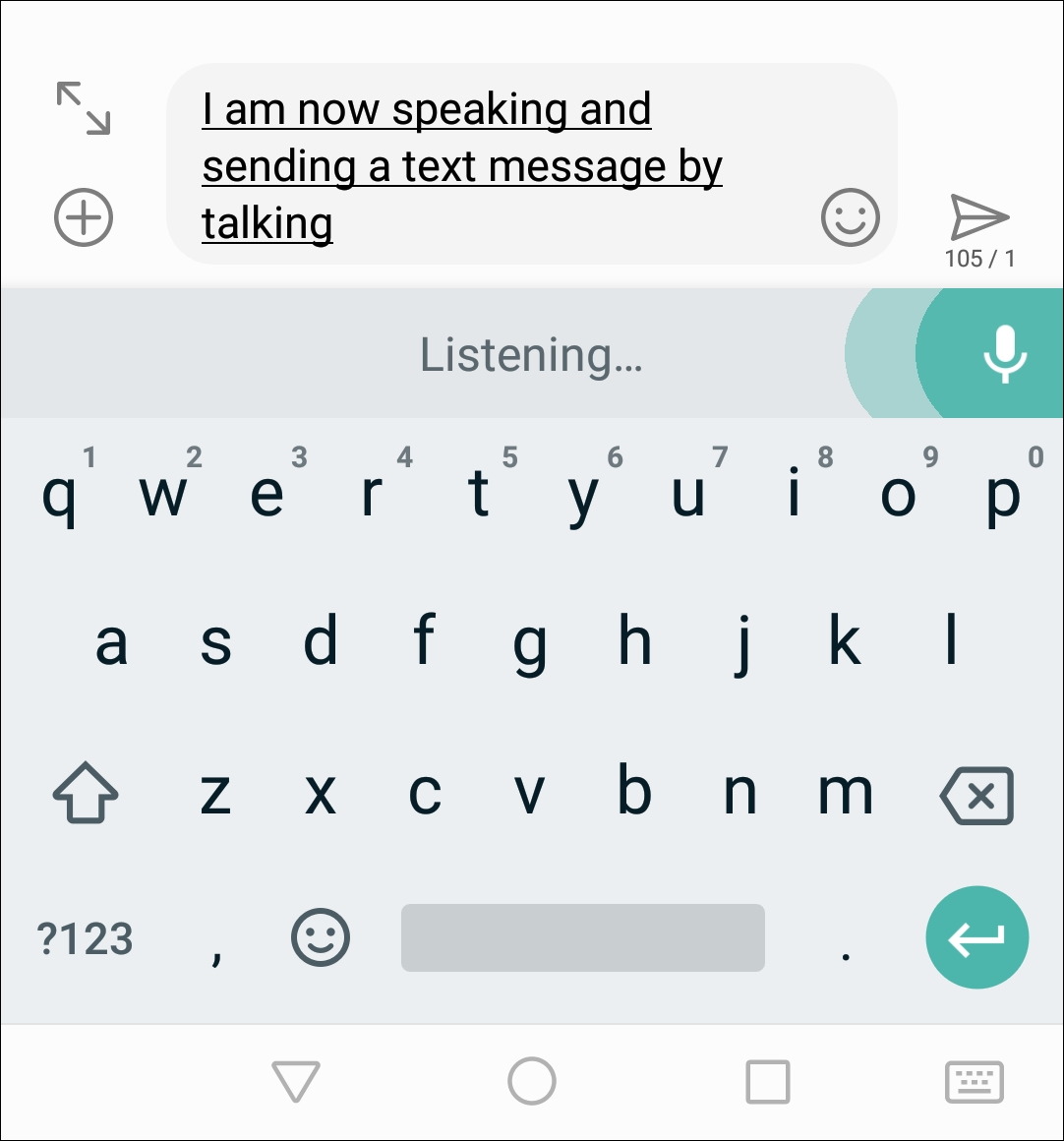 No cool waveform like you'd see with an iPhone, but that's okay, it's still listening. Try to include a smiley face, however, and, well, Android doesn't quite get "smiley":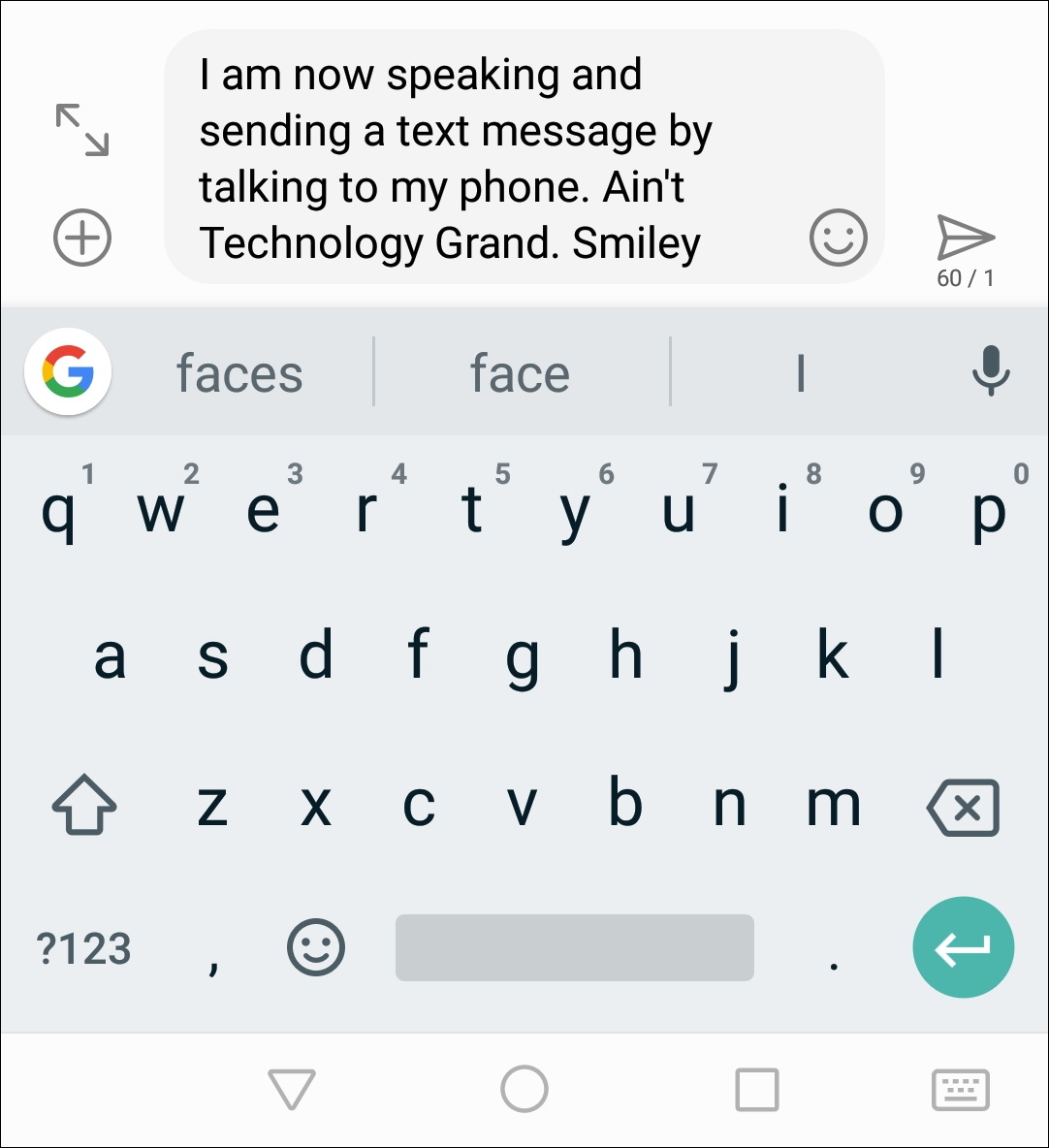 Also notice that Android capitalized "Technology" and "Grand" for reasons I can't explain. Oh well. If you're ready to go, a tap on the tiny airplane icon just to the right of the message sends it. Done.
That's how it's done, whether you're on an Android or iPhone. Surprisingly easy, actually!