I installed Linux on my old PC and am really liking it, finding it super fast on my older computer. One thing bugs me, though: How can I set a profile photo or picture for my account? Running Ubuntu Linux, if that matters.
You're not the first person to find that repurposing an older PC to be a Linux machine gives it a new lease on life! Because the requirements for Linux itself are so much more modest, the operating system can run well on computers that are way too small, old, or lacking in RAM to run Windows at even a reasonable speed. After so many years of evolution and development, it's also the case that if you know how to change a setting on a Mac or PC, you should be able to puzzle out how to do it in Ubuntu or other popular Linux distributions through the graphical interface.
While there aren't any cute little icons, most everything to do with configuring Ubuntu Linux is through the Settings window. Better yet, there's a search feature within Settings you can use if you can't quite seem to find the right link to click or tab to choose. For updating your profile picture, your best bet is to start by finding a photo you like, however. I'll grab an illustration from Hergé's great Tintin series from a quick image search and save it to the Desktop.
Now we're ready.
HOW TO CHANGE PROFILE PICTURE IN UBUNTU LINUX
Before you even log in, it's obvious in Linux if you don't have a profile picture or photo for an account: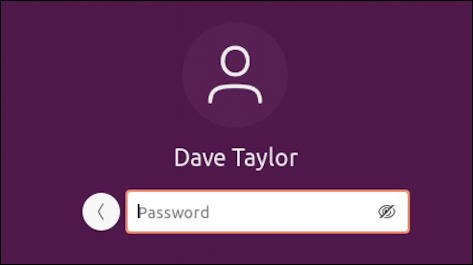 If you're using the system as a file or print server, that's probably fine, but let's fix things up anyway. It really is only 2-3 minutes of work, particularly once you have a photo you like ready to go.
Log in, then click on the tiny triangle on the top right. That brings up this menu: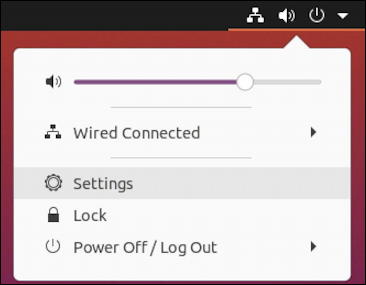 Choose "Settings" as a quick shortcut to the settings and configuration area (yes, there are other ways you can get there, this is just my favorite path). Once you're in Settings scroll down the left side until you find "Users" and click on it: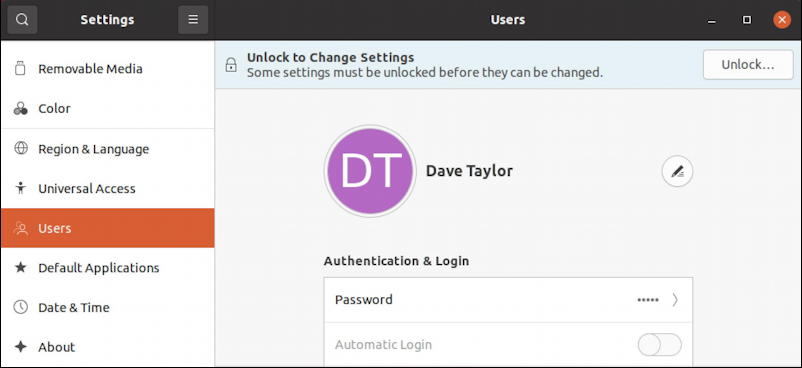 A ha! The purple "DT" shows that I do not yet have a photo or picture specified. Fixable!
To do that, start by clicking on the "Unlock…" button on the top right and authenticate yourself so you can make administrative changes here in Ubuntu Linux. It'll prompt you to enter the admin or root password: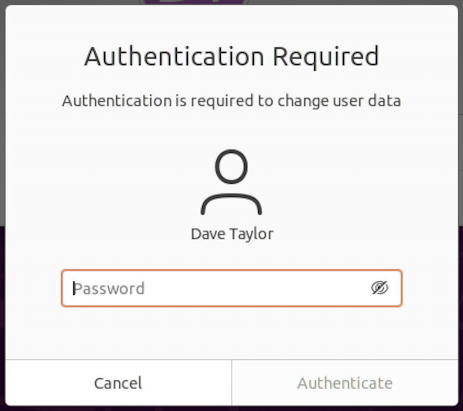 Since my account is an admin password, I can use that. If you don't know your admin password, well, what are ya doing modifying your settings? Just kidding, for 95% of Linux installations, you probably have one account and password pair for everything. Use that.
Once authenticated, you'll be back at Settings > Users, but the top warning bar will have vanished. Click on the circular icon where your profile picture will go. A new window pops up with an array of canned images, along with a few key buttons: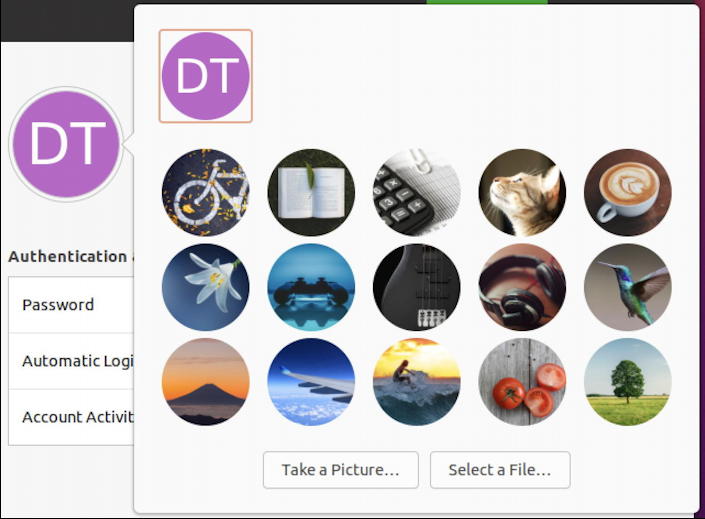 If you just want to have a cup of coffee or a tree as your profile picture, click and you're done.
Me? I want to use the image I previously saved from image search, so I'll click on "Select a File…" and choose the Tintin image.
Ubuntu will then offer up a crop box:
You can click and drag the corners of the select region to make it bigger or smaller, or click and drag the middle of the box to center it as desired over a portion of the image. All done and ready to proceed? Click "Select".
The image now shows up. Done! To verify, log out…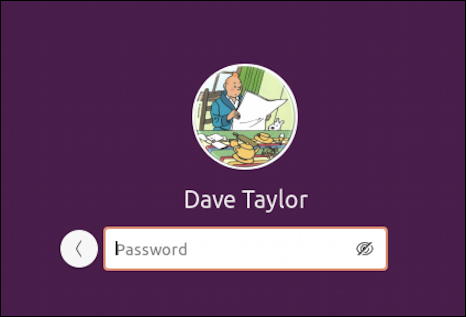 Definitely much better, and the fact that tiny little Snowy the dog shows up too is just an extra bonus.
Now, while you're in Settings, do have a look at all the options along the left side. There are a LOT of settings you can change and update to really customize your Linux system and make it perfect for your needs and preferences.
Pro Tip: I've been writing about Linux since it was a beta release from Torvalds. Please check out my extensive Linux help area while you're visiting, including a special section just on Linux shell script programming. Thanks!