Suddenly when I swipe left on Gmail messages on my iPhone nothing happens. Used to be that would delete the message, which was handy. Did Google just get rid of the swipe actions or is there a way to restore it?
The latest version of Google's venerable Gmail program for the Apple iPhone (iOS 13 and below) added some cool new features behind the scenes but it also seems to have stepped on the default settings for the app itself. You can see the new features mostly in the compose window but with over a billion active users, Google is unquestionably paying attention to the user experience with Gmail both for its Android users and for us iPhone fans too.
Which gets us back to default settings and how to be maximally efficient with Gmail on your smartphone. I'll show you how to restore those Gmail Swipe settings in a sec, but I just want to extoll the value of Gmail filters. I have over 50 of them set up for my account and it does a great job of filing and organizing my email as it arrives. This way I can focus on the most important messages, knowing other email is in its folder (okay, filed with its appropriate keyword) so I can check it as time permits. I have a lot of Gmail filtering tutorials on this site and encourage you to check 'em out too: Gmail Filtering Help on AskDaveTaylor.
Settings are accessed in Gmail for iPhone in a somewhat confusing spot, actually. On your home screen, tap on the so-called hamburger menu, the three horizontal lines on the top left, immediately adjacent to the 'Search mail' prompt. Then swipe upwards to go to the very end of the list of keywords you've set up (I have a lot because of all my Gmail filters!). You'll eventually get to here:
You can see a lot of email folders above, and that's a small subset of the ones I've set up for my incoming mail. Note that it's pretty darn easy to create new ones too: Just tap on "Create new".
But just below that is the entry we want: "Settings"…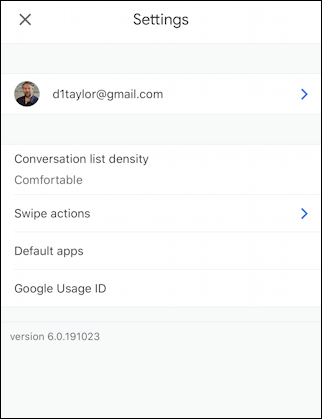 I've chopped some of these screens down to fit here; you don't need to see all the blank space, right? 🙂
In the above you can get to a number of preferences and settings by tapping on your email account ID, but look at the third entry. Yup, Swipe actions is where you can restore your favorite swipe behaviors. Tap on it.
By default there's no action set for either swipe. Oh, and do remember these only apply when you are seeing an index of your messages, not when you're actually reading a specific email message.
Let's set the Right swipe by tapping on that entry on the page.
Notice that there are some interesting possible combinations. For example, you could set up Swipe right to mark an email as read/unread and once you've read it you could have it move back into unread so it appears as new on your Desktop. If you have a folder for all non-critical email, as a different example, you could set your swipe behavior to Move to and select that folder.
My preferences are to Trash an email if I swipe right (that is, from the left side of the screen towards the right) and Archive it if I swipe left. Since this is the Right swipe, I'll choose "Trash", then use the "<" icon on the top left to set the other swipe too.
Now in practice here's how they'd work:
That's a right swipe, so it's heading to the trash. A left swipe?
Pretty straightforward once you know where to look for the Gmail settings and preferences area within the iPhone app!
Pro Tip: I've got a lot of Gmail tutorials and help pages here on the site. Please do check them out while you're here!