I help out with publicity for my brother's band and they like to send out tweets to followers while they're on stage. What we really want to do, however, is have them prepped and ready to go so I can just post them without a hassle. Is that possible with Twitter?
There are three possible ways you can solve the problem you pose with queued tweets: save them as drafts, ready to choose and post, schedule them with the Twitter scheduler, or use a third party program that offers these services. The latter will cost money but the first two options are built into Twitter and actually quite easy to to use. Even better, they're cross-platform too, so you can work on your computer to compose and fine-tune the tweets you want to send, save them as drafts, then access them from your mobile device the night of the concert. Add a photo of the band on stage and you're ready to post without having to worry about URLs, links, hashtags, etc.
But my favorite is really the Twitter scheduler, which I use to ensure that there are always interesting tweets posted to my @DaveTaylor account even if it's a day that I have other activities going on and don't have the time to actively focus on composing new tweets. You'll see in this post how I do that and how easy it all is with the new Twitter user interface on the Web. In fact, you don't need a Twitter app if you're using your laptop, notebook or desktop computer (Mac, Windows or Linux) because it's all done within the Web browser.
Start by going to the twitter tweet compose view. Either click on "Tweet" from the Twitter home page (once logged in) or just jump straight to the tweet composition view at twitter.com/compose/tweet. You'll be seeing this: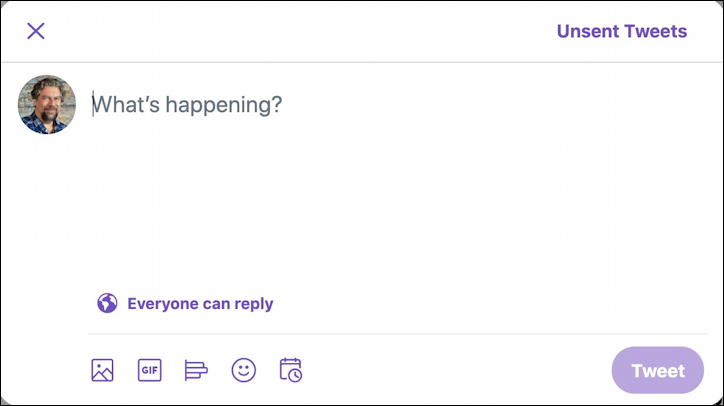 Since I just wrote an article for my friend's movie and entertainment site on film noir, I'll take advantage of our demo to add some additional visibility by posting about it.
Here's my tweet, including the link to the article and a few carefully chosen hashtags:
Twitter itself has scanned the page and pulled the image, article title and even a short blurb about the article too, all neatly added and ready to be posted as a visually interesting and engaging tweet. But… it's early and I don't want to post about a dark genre of cinema in the bright light of the morning. I want to post about my noir article late at night. Much more appropriate! One way is to save it as a draft, ready for me to pick back up and post, but before we get there, let me point out two things on this view!
HOW TO SCHEDULE TWEETS IN TWITTER
Before we get to scheduling posts or even saving them as drafts for later use, let's touch on a new feature that can be particularly helpful if you have trolls and other malicious people who tend to respond with hostility to your tweets. It's the ability to limit who can reply to your tweet. Just click on "Everyone can reply" and you'll have a few options:
Imagine being able to shut down the critics with just a click or two. So handy!
The other feature is that from this same view you can access the scheduler too. Just click on the tiny calendar with a circle icon along the bottom and a date/time scheduler pops up: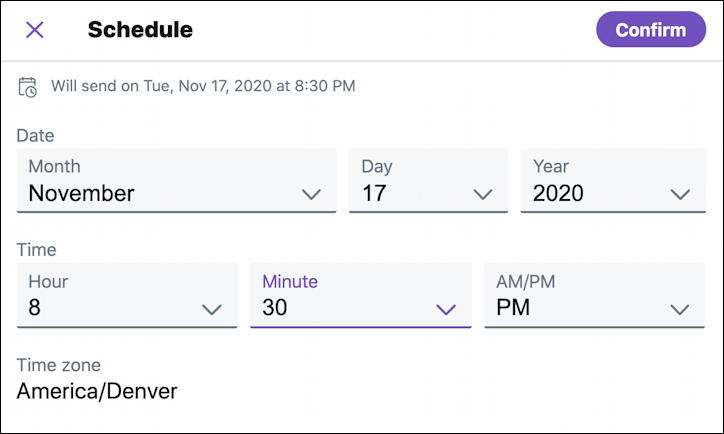 We'll come back to the scheduler in a moment. Instead of scheduling the tweet, let's just queue it up in the Drafts area so it's ready to have a photo attached and be posted with just a tap or two.
To move a composed tweet into the Drafts area, simply click or tap on the "X" on the top left to close the window. Since there's content, Twitter is smart enough to prompt:
Click on "Save" and y0u're done. That tweet you composed is now ready to retrieve and finish composing at any time, from any device including your mobile while backstage at the next rave!
HOW TO ACCESS YOUR UNSENT TWEETS
Now it's time to highlight something else on the original blank tweet composition window: "Unsent Tweets". It's on the top right of the composition window, as you can see: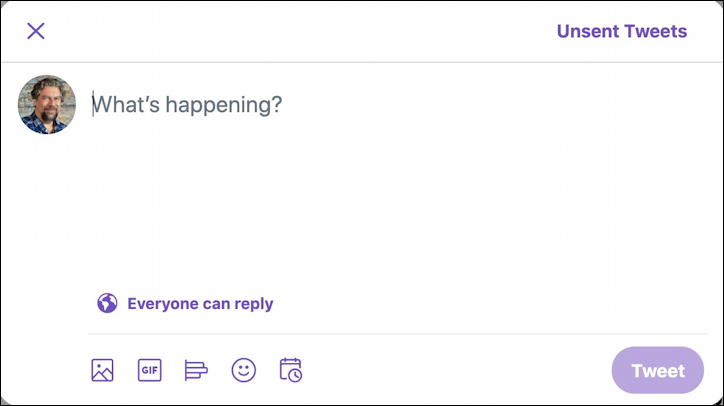 Now that you have a saved tweet in the Drafts area, this becomes much more interesting.
Click or tap on "Unsent Tweets"…
Looks like it lost all the images and preview but not to worry, this is just a more compact display for this particular view.
A click anywhere in the saved draft tweet and you'll be right back in the composition window, ready to proceed. This time, I'll click on the calendar/clock icon along the bottom and go back to the scheduler and queue up this tweet to post tomorrow, Friday the 13th, at 8.30pm.
Now the tweet moves from Drafts to Scheduled, so don't panic if you see this:
Because a click on "Scheduled" and you'll see the tweet queued up and waiting for the date and time to match:
Again, you can click on the tweet if you want to get back to the full view – or adjust the schedule! – but for now notice that in "Scheduled" view it confirms that the tweet will be posted on Friday, Nov 13 at 8.30pm. Perfect!
That's how you can plan ahead with your twitter posts so that you can have a library of the best in your drafts folder and have others queued up with the scheduler to post during concerts. Add in some live tweets based on the venue and crowd and you'll have a great flurry of content for fans of the band and new fans who are just learning about them. A job well done!
Pro Tip: I've been involved with Twitter since the very beginning — follow @DaveTaylor — and have been writing tutorials for about as long too. While you're visiting, please do check out my extensive Twitter help area for hundreds of other useful tutorials. Thanks!