I love listening to jazz while I program and am wondering if I can stream a jazz radio station while I'm working in Ubuntu Linux. I know there are radio streaming apps for Mac and Windows, but what about Linux?
You can definitely listen to any of thousands of different streaming radio stations while working in Linux, regardless of distro. In fact, you can go to the home page of just about any radio station – like KUVO Jazz from Denver, CO – and find a streaming button, link or feature. But that's rather clumsy unless you always listen to the very same station every single time. There are thousands of stations, why not bounce around a bit and listen to something more exotic from the other side of the Earth or your favorite city or region of the world?
Here's where it gets a bit confusing, though. Ubuntu Linux includes Rhythmbox as the default music application with the standard Desktop distribution, and it includes support for online streaming radio, but… but there aren't any choices loaded! Let's jump in, and we'll then install and check out the terrific open source program Odio which will undoubtedly meet all your streaming music needs.
Let's start out by having a peek at the "radio" options for Rhythmbox: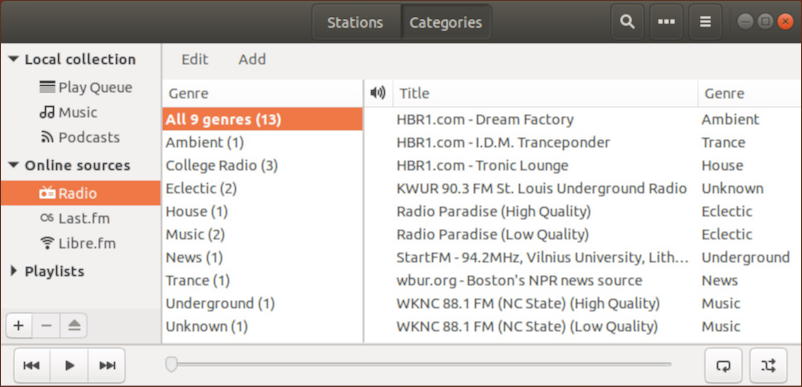 What a strange and limited set of options. 13 channels total. Where are the thousands available online? Where's a button to update this list to include more radio stations? Meh.
Instead, jump into the Ubuntu Software app and search for 'radio':
Spotify is a good choice, but it's music, not a radio station, so it's not quite the same. Odio, however, is a great piece of software, as you can see from its full 5-star rating. Click on it to install the program on your Ubuntu Linux system.
It's a quick install:
Then the first time you launch the program be patient. It loads up its full list of streaming radio stations and I found that took rather a while. Longer than a minute or two long, actually. Don't give up! Eventually it'll show up, ready to play:
As you can see, this is a solid, well written program that offers a simple and intuitive interface to a wide variety of content worldwide. Even on the page above you can see 60's music channels from Germany, USA, The Czech Republic and Russia. Impressive!
Choose a genre and dig in just a bit. You'll find, for example, that there are plenty of jazz options for you. In fact, you might want to check out Abacus Smooth Jazz radio from the UK, as I'm doing in this screenshot:
Notice in the middle that there are again stations from around the world. With a bit of digging you can find jazz stations from China, Africa, Asia, even Australia! The player controls are pretty basic on the right – and there's no track information, alas – but it's certainly easy to work with and you can adjust your system volume from right in Odio too.
Don't like the theme? There's a "dark theme" available too if you go to Settings on the left side:
And that's it. Oh! Since you're in Ubuntu, you can lock the Odio app icon to your quick launch bar by right-clicking and choosing "Add to Favorites" too:
Then your favorite music channel is just a click away. Easy enough, and Odio's a great program with lots of varied options!
Pro Tip: I've been writing about Linux since the very beginning of the OS. Please check out my Linux help pages and Linux shell script programming help too!